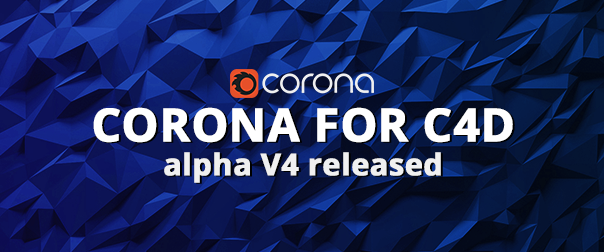 While we are finishing the new version 1.3 for 3ds Max, we are not forgetting about Cinema4D plugin – today we have the Alpha v4 version ready for you! Aside from the usual bugfixes and small features, it brings one major new feature: interactive rendering. You can download the installer for Cinema4D R14-R17 for Windows here.
Major New Features
Interactive rendering
Added C4D R17 support
Added Mask pass
Improved motion blur support
Improved layer shader support
Other Improvements
Added Corona compositing tag
Fixed Noise and Wood shaders mapping
Added support for camera mapping
Corona shaders now supported in subshaders
Added support for global material override
Added support for additional environment overrides
Fixed problems in Id pass (multipass)
Mac Version?
Unfortunately the OSX version of the plugin is still not done. We need to do some changes in the rendering core itself first before we start working on the plugin. We consider this a high priority goal, and we will start working on it right after the version 1.3 for 3ds Max is out.
But enough talk – download Corona for C4D Alpha v4 here: https://corona-renderer.com/download/ and let us know what you think about the new interactive rendering! Since it is the first published prototype of interactive rendering in Corona for C4D, we will need your feedback to make it truly stable and usable.