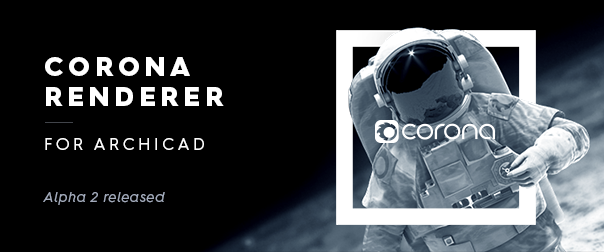 We are pleased to announce that Corona Renderer for ARCHICAD Alpha 2 is released!
We've been developing this version of Corona Renderer for a while; Alpha 1 was just for internal testing, but Alpha 2 is now ready for you to test!
Since this is an Alpha version, it is far from feature complete, and there are very likely some bugs in the software, so please keep that in mind (especially if considering using it for any commercial projects! You are welcome to do so, but be aware that there may be crashes, instability, missing features, etc.)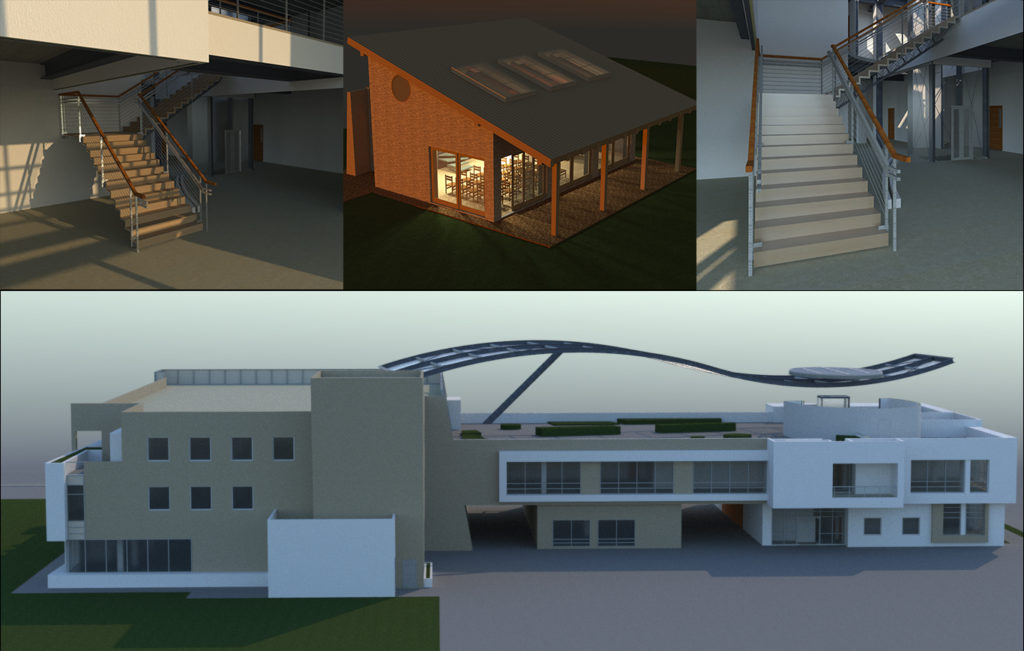 We need your testing and feedback to make Corona Renderer for ARCHICAD into everything you want it to be, and we appreciate any testing that you can do for us!
The plugin is already quite advanced and supports:
Interactive Rendering takes the guesswork out of setting up materials, lighting and scene composition, and removes the need for test renders.
The Corona VFB offers a wide range of post-processing effects without needing to use external software, with tone mapping, bloom and glare, vignetting, and more.
Denoising, which can reduce render times by up to 70%.
Corona Materials and Textures with a custom texture editor.
Support for native ARCHICAD geometry, lights, and materials.
Note: The current Alpha is for ARCHICAD for Windows; in the future, we may develop a version for  macOS (if you know any macOS developers, point 'em to our jobs page!)
HOW TO GET STARTED
If you want a quick introduction to getting started with Corona Renderer for ARCHICAD, we've created a tutorial for you to walk you through everything you'll need to get up and running:
DOWNLOAD
If you want to get straight to the download, you will find the latest version at:
Read about the first public release of Corona Renderer for ARCHICAD!

ALPHA 2 QUICK FACTS
Here's what you can expect in the first publicly usable version:
Interactive Rendering is supported
The Corona VFB has been implemented (with the same post-processing options as you may be familiar with from Corona Renderer for 3ds Max and Cinema 4D)
Corona Materials and Textures have been implemented, with a custom texture editor
All geometry from ARCHICAD is supported
Good support for native ARCHICAD lights
Corona Sun and Sky from the ARCHICAD sun
The basic ARCHICAD material is supported
Render Elements are supported
Corona proxy is now supported
WHAT IS CORONA RENDERER ANYWAY?
---

If you've not heard of Corona Renderer before, here's the quick guide to what it is. Corona Renderer is a high-performance (un)biased photorealistic renderer, which focuses on being:
Easy to Use
We put as much focus into making the software intuitive – with great results out of the box without having to change the defaults – as we do into the performance of the software itself. You can stay focused on being an artist or architect, and not have to become a technician manipulating scores of obscure parameters; we make it as close to "just press render" as it's possible to get!
Powerful
Corona Renderer keeps everything physically plausible, from materials to lights, which means it gives natural, realistic lighting, delivered with great rendering performance.
Affordable
If you are wondering about jumping aboard now and growing to love the engine (as almost everyone who tries it does!), we can assure you that keeping things affordable is one of our main aims for Corona Renderer – so when the commercial version comes out, it won't break the bank whether you are a hobby user, a small company, or a large firm with 10s or 100s of artists.
WHAT'S IN THE FIRST RELEASE
---
If you've used, seen or read about Corona Renderer for 3ds Max and Cinema 4D, these features will be familiar to you – however, if you've never heard of Corona Renderer before, below we give you a comprehensive introduction to how it will revolutionize your workflow!
Interactive Rendering
Interactive Rendering (IR) is a game-changer for your workflow, making sure that we make YOU faster as well as your renders (after all, your time is much more important than your machine's!)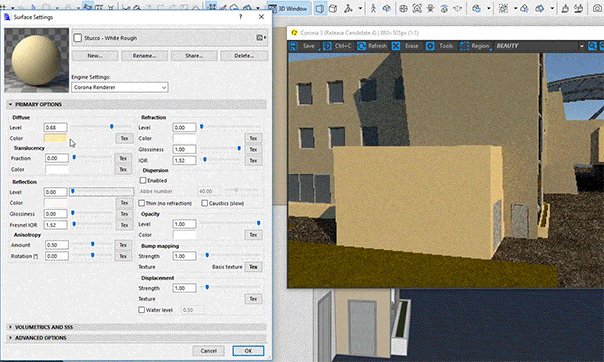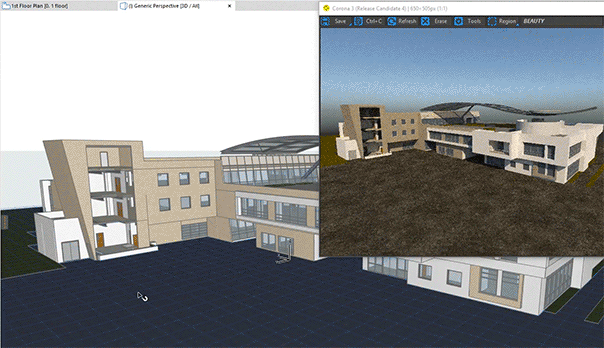 IR lets you see how everything will look in your final render, but with near real-time feedback, removing the need for repeated test renders. This means:
You no longer have to work on your materials just in some artificial preview window, but can see how they will look on the final model under the lighting conditions in the scene.
You can adjust your lighting to find just the look you want for the scene.
You can find the perfect camera angle to frame your shot.
You can move your objects around to get the perfect composition.
Denoising
Corona Renderer is a progressive renderer, which means it starts with a noisy version of the image which then cleans up with every pass of the rendering. Denoising is a feature that lets you stop rendering earlier and remove any remaining noise in a quick postprocessing step. You can see how it works in the image below, rendered for only 4 passes:
It's simple to use, does a great job of preserving detail while removing noise, and as a result you can often save up to 50% to 70% off of your render time!
The Corona VFB
The Corona VFB brings together many aspects of Corona Renderer into one convenient window.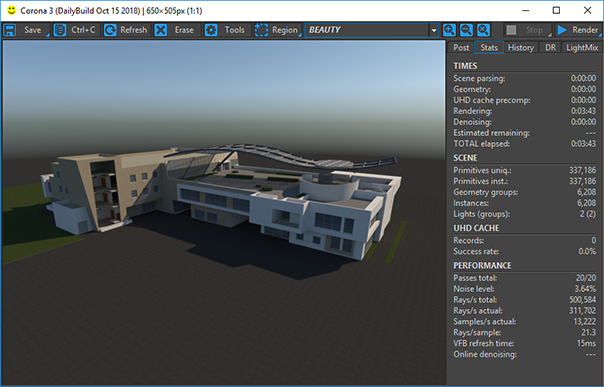 You use it for:
Viewing Interactive Rendering and final renders,
Adjusting all post-processing options before, during or after rendering (including during Interactive Rendering), such as all tone mapping, bloom and glare, applying a LUT, etc.,
Saving and loading post-processing settings,
Adjusting LightMix, and saving and loading LightMix variations,
Viewing render elements,
Setting the right denoising blend,
Saving your renders (both final, and results from Interactive Rendering).
Post Processing
Corona Renderer aims to reduce or even remove the need to open up some external image editor after rendering, and lets you adjust and tweak the image right in the VFB.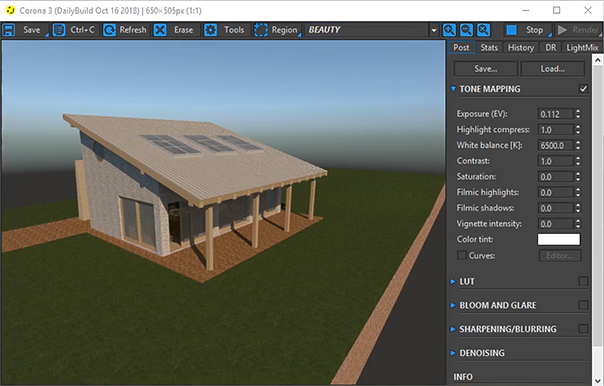 Even as you are rendering, you can:
Adjust Exposure, White Balance, Color Tint, Highlight Compression, Contrast, Saturation, Filmic Shadows/Highlights, etc.,
Add Vignetting,
Add Bloom and Glare,
Apply a LUT,
Create, adjust and save / load custom Curves.
Corona Materials and Textures
The Corona Material is a one-stop material that lets you create anything from stone to metal to glass to wood… whatever your project needs! We even have our own custom Material and Texture editors, including a range of objects you can use in the preview, plus you can rotate the preview to check how the material looks from any angle.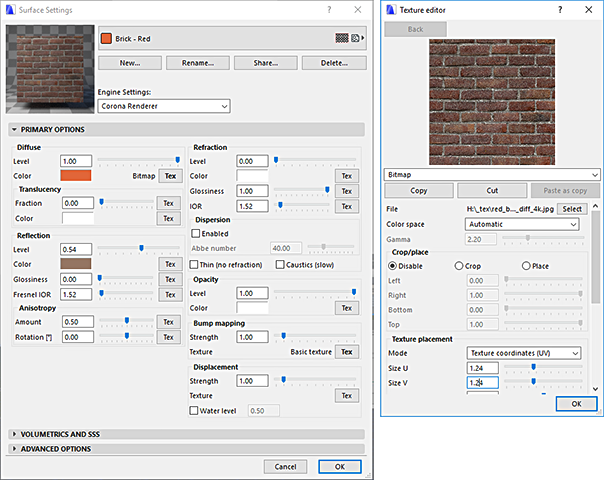 Corona Lights
Already in Alpha 2, we have the Corona Sun (based on sunlight in ARCHICAD and fully configurable), and partial implementation of the Corona Light (at present, IES and other advanced features have not been implemented).
The default sky can also be disabled, or overridden  with a texture so that you can use HDRI images to light your scene. Common methods for mapping textures to the environment are implemented.
Support For Native Geometry, Lights and Materials
All ARCHICAD geometry is supported, so will render as expected without having to make any adjustments, changes or concessions. Alpha 2 also has excellent support for native ARCHICAD lights, including non-physical "fakes" such as semi-transparent or missing shadows, no falloff, etc.
The Corona Image Editor
You can think of the Corona Image Editor (CIE) as a standalone version of the Corona VFB – save any render to the .CXR format (Corona EXR), and you can adjust that image at any time without having to re-render or open ARCHICAD.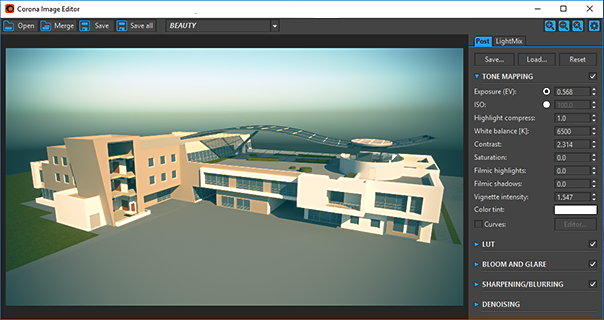 This includes all the post-processing settings, using LightMix, and adjusting denoising. You can also load and save post-processing settings and LightMix settings to exchange them freely in either direction between the CIE and the VFB in ARCHICAD.
Render Elements
Sometimes you need full control of a render in post-production, which is where Render Elements come in. They let you create special separate passes so that you can adjust various components in your image (such as tweaking reflection brightness, or the strength of bounced light), and you can use them to apply special processing too (such as masking out individual objects, adding depth of field or fog, etc.)
ARCHICAD does not natively support render elements, but Corona Renderer has a comprehensive range of them – in fact, Corona Renderer for ARCHICAD supports the same list of render elements as any other version: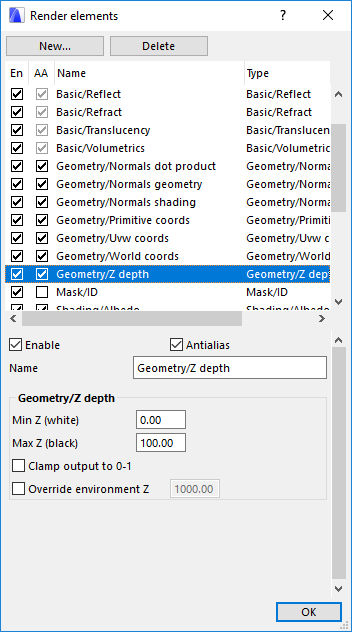 The full list of Render Elements is below:
Basic/Direct
Basic/Emission
Basic/Indirect
Basic/Reflect
Basic/Refract
Basic/Translucency
Basic/Volumetrics
Geometry/Normals dot product
Geometry/Normals shading
Geometry/Normals geometry
Geometry/Primitive coords
Geometry/Uvw coords
Geometry/World coords
Geometry/Z depth
Mask/ID
Shading/Albedo
Shading/Alpha
Shading/Beauty
Shading/Bloom and glare
Shading/Components
Shading/LightMix
Shading/LightSelect
Shading/Raw component
Shading/Shadows
Shading/Source color
Texture
Smaller features
Monochrome model effect – lets you override materials in the scene with a simple "clay" material, preserving properties of some materials such as opacity, reflections, refractions etc. as necessary:

Robust bump mapping and displacement.
ARCHICAD's Sun Studies and Fly-throughs are supported; motion blur is supported in Fly-throughs.
Help is available in-program, thanks to descriptive pop-up tooltips.
You can choose to only render the Render Elements, greatly speeding up render time by removing the Beauty pass (ideal for those times you discover you need a particular Render Element that you didn't create when you first rendered the scene!)
GIVE US YOUR FEEDBACK!
---
If (or at this point in development, more likely "when"!) you find a bug, or if you want to request a certain feature, or UI layout, or anything else, please visit the Corona Render for ARCHICAD boards on the forum.
When reporting a bug, please tell us:
Which version of ARCHICAD you are using
Which version of Corona you were using
The steps to reproduce the bug (or, what steps you were doing at the time the bug occurred)
Renders, screen grabs, or even videos that illustrate the bug (this can be useful for feature requests too, e.g. to show results from other render engines that you are trying to reproduce)
If possible sending the scene itself is always very helpful
DOWNLOAD
Now that you are excited after reading everything that is already implemented even at this early stage, here's that download link again!
WHAT'S NEXT
---
Just so you are familiar with the naming conventions, the next step will be work on daily builds for Corona Renderer for ARCHICAD Alpha 3. Once we have that stable and all the planned features for this next step are in place, there will be a final version of Corona Renderer for ARCHICAD Alpha 3.
We'll keep with Alphas, as many as we feel we need, until everything is nearing feature complete, and then move to Betas.
As to which features we'll implement next, a large part of that is up to you! Give us your feedback on what you most want to see implemented. Our current plans are to implement good proxies, import external 3D assets, and rework the Material and Texture Editor (probably using a nodal editor) – other than that though, we are looking to hear your suggestions!
We're very excited to be bringing Corona Renderer to a whole group of new users, and providing them with THE best rendering option for ARCHICAD! We'd like to thank you for signing up and providing us with your valuable time for testing and feedback – you're helping shape the future of Corona Renderer!
THANKS!
Jan Spacek, Tom Grimes, Jarda Křivánek and the Corona Team!