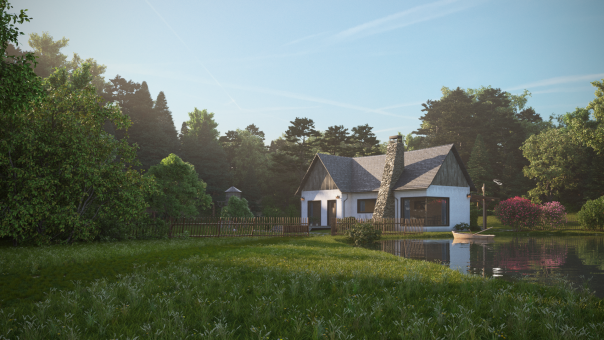 Designing immersive environments is now an even more exciting and rewarding experience, with the latest lighting features in Corona 10. The newest version of Corona offers caustics that maintain detail and realism even in 4K and higher resolutions, adding depth and complexity to your scene. You can now also adjust cloud lighting with Direct Color in Corona Sun, and with the Corona Lister, you can manage scenes more effortlessly than ever before.
In this blog post, we'll explore how you can create more immersive environments with Corona 10's lighting features and leverage them to their full potential.

Elevate scene lighting with improved caustics
The job of caustics in Corona is to accurately simulate the behavior of light, resulting in more realistic and detailed caustic effects. By simply toggling a couple of buttons, you can add a greater level of depth and complexity to the lighting in a scene, producing more convincing and visually appealing images.
Let's say you're rendering a glasshouse by the lake. The Corona 10's caustics allow you to depict precisely how sunlight reflects off surface water and refracts off surrounding objects. As a result, the house's exterior walls and surrounding greenery are illuminated in sparkling patterns, adding a realistic touch.
To achieve this effect, you would first need to add a Corona Sun and Sky as a light source to simulate the sunlight. Next, ensure that the water object in your scene is set up correctly and that you've modified it using the Subdivision and Displace modifiers with a noise map to give it that nice water quality. Then, you would develop the water material by adding reflection and refraction to it, setting the color to black, and enabling caustics on the refraction panel in the materials properties, as well as enabling the Corona "Fast Caustics solver" in the render settings to create caustics on the water.

The caustics simulation feature would take care of accurately depicting how the light refracts through the water and onto the surrounding surfaces. Control the caustics effect using the noise map size and adjust the settings as needed.
In Corona 10, caustics have been improved so that they work consistently across varying resolutions, so that now whether you render to HD or 4k or higher, the result will be just as clear and bright.
Artistically adjust cloud lighting with the Sun Direct Color
By using Corona 10's Direct Color setting for the Sun to artistically adjust the sunlight and cloud colors, you can enhance various visual styles in the sky and create unique atmospheres. You could create a dramatic or moody scene by adjusting the Direct Color to a darker shade or a cheerful scene by choosing brighter colors. What's more, is that the Sun's color directly affects the cloud's color as well, so both are in perfect visual harmony with each other.
This feature is extremely useful in landscape architecture or outdoor design to create photorealistic renderings of parks and public spaces. By manipulating the color of the Corona sun, you could realistically simulate the look and feel of different times of day and seasons and create powerful storytelling full of depth and emotion.
Another use case is film and media productions that require highly customized visual effects. With the Corona Sun's Direct Color feature, a skilled artist could adjust the lighting on a set to create a unique ambiance for a specific scene or mood. So what are you waiting for? Put your Wes Anderson suit on and summon those extraterrestrials down to Earth.
Manage complex scenes with Corona Lister
In archviz, it is common to have large scenes with many objects, lights, and cameras. With the Corona Lister in Corona 10, artists can now navigate and manage all of these objects, making it easier to create realistic and visually-stunning architectural visualizations.
For product visualization projects in which multiple light sources are often used, the Corona Lister can help artists manage all of the lights in the scene, allowing them to easily adjust and fine-tune the lighting to highlight different aspects of the product.
Going beyond lighting, the Listers also handle Scatters, and even all materials with Displacement, so you have easy access to find and adjust many aspects of your scene without hunting manually through every object and material. What's also great is that you can disable or enable all displacement effects simply by clicking the "Toggle All" option.
Light up your imagination in Corona 10
Creating captivating lighting in your scenes shouldn't be a challenge. With Corona 10's newest features, artists now have even greater creative control and endless possibilities to use lighting to create powerful visual storytelling, all with the same ease of use they've grown to love. We're excited to see how you'll use the features in your next project!