Exactly 3 months and 13 days after releasing Alpha V6 we are back with the fresh new version 7. We would like to commit to this fast-paced development also for the future releases – we hope to deliver up to three versions per year – so you will be always able to get your hands on the latest tech as soon as possible. You can download it here – or continue reading about the new features ;). We are also including a sample scene with Corona set up with this release. There is also a dedicated A7 thread on the forum.
WHAT ABOUT THE BETA?
---
In fact, this version was supposed to come out a little bit later, labeled as BETA. But due to the release of Autodesk 3ds Max 2015, we had to rush it a bit and shift some major changes to following release.
For this reason we have decided to keep name Alpha 7. This version might not be as glitzy as A6, but it is equally important. Apart from adding new features , we have also fixed some major bugs,  polished UI, and concentrated on the general workflow.
Because of this we have decided to ditch our Beta Premium plans. This way we can:
Keep Corona Renderer without price tag for as long as possible  (Alpha 7 is still FREE).
We want to focus more on developing the product itself, rather than spending time on unessential tasks ( like official guaranteed support which we had in plan for Beta)
We want to keep locked on target with our final release date for 3ds Max (Q3-Q4/2014)
MISSION STATUS
---
As you might have realised, we have finally established a company, called Render Legion. It is Independent, Self-funded and Bullshit free.


Corona Renderer for Cinema4D reached Alpha phase and it will soon be released for public testing.
We have grown our team of external contributors – Pavel Vojacek & Miro Kurcik are helping us with some useful scripts.
The list of supported renderfarms has grown to 6 and 1 more are in implementation phase
The results of the "The most wanted feature" poll clearly shows what you crave the most:  Multi-Layer Material, SSS, Adaptivity and Interactive rendering. So we will do our best to make that happen by the next release.
We are working on many backbone processes like website, support, licencing, pricing and so on.
We were nominated for 3D world CG AWARDS 2014
We are also including a sample scene with this release.
LICENCING
---
 Corona Renderer is still FREE TO USE, for any commercial or non-commercial jobs, without stuff like watermarks or resolution limits.
Alpha v7 is time-limited version, and will not work after 31. 12. 2014. After that date new activations will not be issued, and users will be required to update to commercial, student or possibly free licence.
Alpha v7 requires one-time online activation. This process is fast, simple, and free. For most users it is done automatically, with no input required.
The forum registration is no longer required to download A7. In fact, here is the download link ;).
MAJOR NEW FEATURES
---
AUTODESK 3ds Max 2015
Max 2015 is now supported. Its improvements of Nitrous have allowed us to drastically increase viewport performance of Corona Scatter.

---
 SmartProxy – .CPROXY
Added new, intelligent universal proxy format: .cproxy.
The format is cross platform (you will be able to use it in Cinema4D, Maya and standalone or in any other future platform).
Uses compression – it is 3x times smaller and therefore faster to read/load or upload to renderfarms (great for users with slow internet connection).
Proxies are now saved always in millimeters, and are properly scaled when loaded into scene using different units.
Older formats are still supported, and automated solution is provided to batch convert all existing proxies into the new format.
Point cloud is now area-sampled – points are distributed evenly

Contains  human-readable metadata, like the name of the source object and its material at the beginning of each file (script friendly)
---
VIEWPORT ILLUMINATION
Added viewport illumination from CoronaLights and CoronaSun to both D3D and Nitrous viewports
---
MULTI -THREADED SAVING
Significantly cuts down the time needed after each rendering to send results to 3ds max.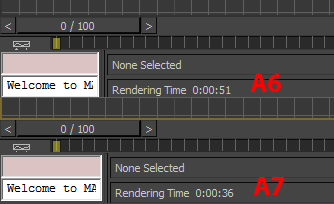 ---
SHADOW CATCHER
Added a new Shadow Catcher material for compositing rendered objects into real camera footage. The material allows compositing directly in 3ds max, or in postproduction, and comes with easy to use, integrated "Camera map per pixel" functionality.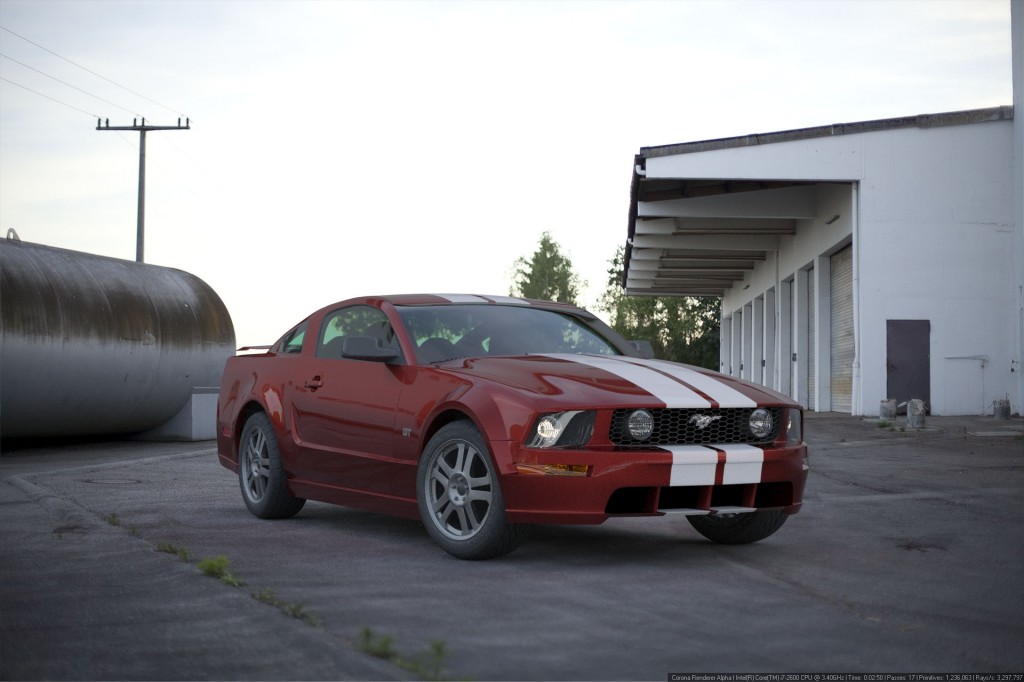 ---
SUPPORT OF PARTICLE FLOW
Added support for particle flow and simple particle systems, complete with true motion blur, particle age, and particle mblur maps.
---
COLOR MAPPING DIRECTLY IN VFB
Color mapping controls are directly in the VFB. They are also linked with the controls in render settings.
---
SPHERICAL & CYLINDRICAL CAMERAS
Added support for spherical and cylindrical cameras.  A script by Martin Geupel is available to create a web browser presentation with single click.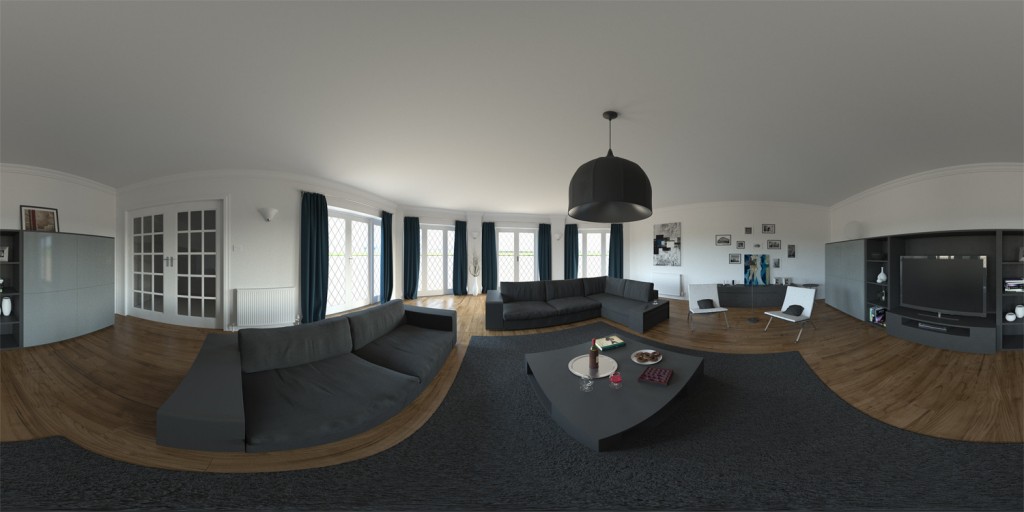 ---
QUAD MENU PROXY CREATOR
Officially bundled script by Pavel Vojacek for fast & convenient proxy creation from the quad menu: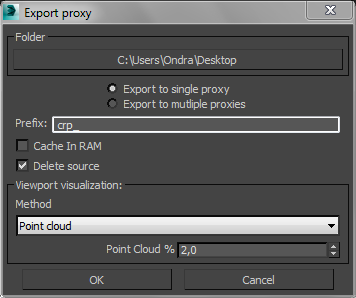 ---
SMALL IMPROVEMENTS
---
Updated material convertor by Martin Geupel is bundled with the installer. It allows fast & convenient material conversion. You can run it with MENU > MaxScript > RunScript > CoronaConverter_v019.ms. It converts 17 material types, incuding Standard, VrayMtl, and MR_ArchAndDesign.
Added the property "Invisible in masks" to CoronaMtl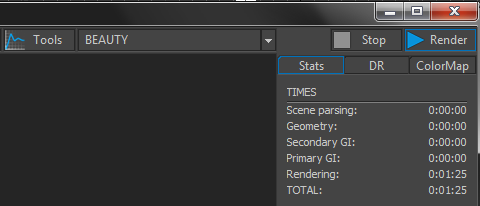 Small UI fixes and improvements
Default VFB internal resolution changed to 1, resulting in faster VFB updates and 75% less memory consumption
Added support for Shell material
Added option to use textures with CoronaLight object
Fixed occasional incorrect reflections when using portals
Default displacement value changed to 1cm
Added support for water level (height cutoff) to displacement
More visually plausible output of Kelvin temperature color in all lights/textures
Faster CoronaSky parsing
Added Corona display and selection filters to 3ds max
Added option to directly pick object from scene when creating proxies
 WORKFLOW TWEAKS
---
 Restored online interactive help for users without access to 3ds max tooltips (Corona Renderer for Cinema4D and Standalone users – Note that this help is generated automatically directly from 3ds max and will be updated with each new version)
All popup error messages now respect 3ds max silent mode – they no longer show when doing network rendering (via backburner, Corona DR, …). Error messages are instead printed into the 3ds max console/log
Improved the DR dialog, added ability to load IPs from file, added ability to save images from slaves to disk for debugging, sidebar is now displaying number of updates and passes from all slaves.
Improved HD cache save/load, added incremental pre-computation option.
Better viewport display of materials
Faster display of CoronaProxy meshes in viewport when using Nitrous
The state of render settings tabs and VFB sidebar is now saved into the .max file
Instant Cancel Render option without saving anything (Press and hold Stop button in VFB)
Added option to Save All Render Channels into separate files (Press and hold Save button in VFB)
Improved support for programmers/renderfarms: added string render options, new maxscript functions, and Corona EXR metadata.
MAJOR BUGS FIXED
---
 Massively decreased the incidence of self-intersection-related problems (light leaks in corners, fireflies on curtains, …)
Fixed crashes when running Corona with custom processor affinity
Fixed random crashes when using motion blur.
Fixed noise pattern not remaining constant when rendering an animation with a constant seed.
Fixed problems with different scatter objects randomly glitching in some frames.
Asset tracker no longer displays blank assets in Corona proxy/light
Fixed problem with pixel rendering pattern not being  random for extreme resolutions.
Improved HD cache accuracy in animations with textured scenes
Fixed custom bokeh images randomly not working
Fixed excessive memory consumption in some types of geometry-heavy scenes
This is all from us. You can tell us what you think in the A7 thread on the forum. We'd like to hear all your opinions, positive and negative.
Adam & Ondra