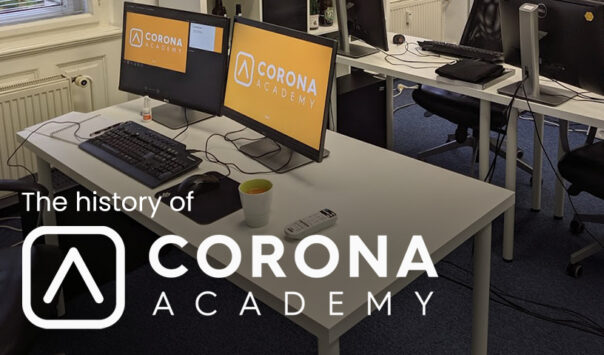 With the recent shift to the Corona Academy being an online video course, we wanted to give you a behind-the-scenes look at its development from its beginnings through to the current Online version.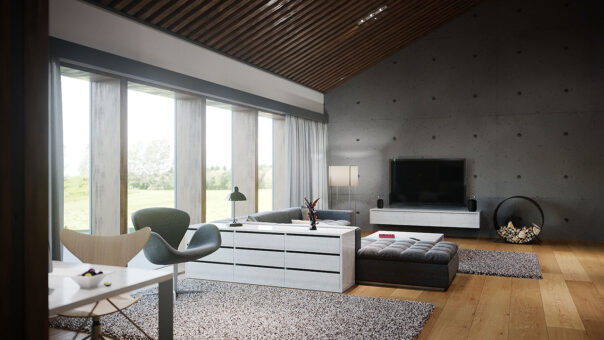 Corona Academy launched in 2016, but it took 2 years of preparation for that to happen – and of course things did not stop there! Let's go through the history of the Academy.
Getting Started
The first step, back in 2014, was to start work on a document that would act as a kind of script, detailing exactly what needed to be covered. The aim was simple – describe and talk about every parameter, option, and setting within Corona, and show how to put each item to use in practical examples.
That second part, "in practical examples", was important. We didn't want to show the parameters in the order you find them in the UI, but in the order you would need and use them when working on real world projects.
Creating the scenes
To achieve what we wanted, we had to have scenes we could use to showcase what we were talking about. There was an important limitation here, which made creating the scenes much harder than normal – we had to be able to share the scenes with the Corona Academy students, and they had to be able to share them with their students if they had become an Instructor.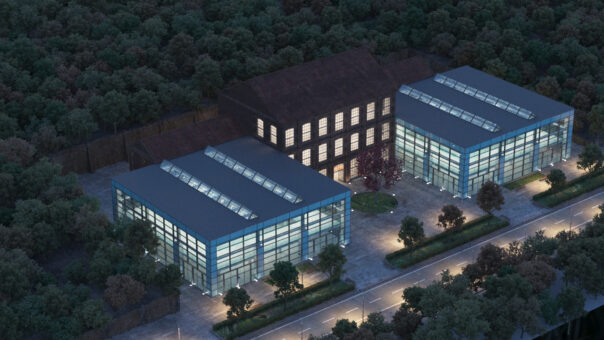 That meant no third party models, texture maps, HDRIs etc. that we did not have rights to redistribute (and that others could then continue to redistribute). Effectively, everything had to be created ourselves, or under a CC0 or equivalent license.
Due to this, we had to limit how many scenes we created to avoid too much of a headache with licensing, so we set out to create one interior and one exterior to match how we were dividing up the course.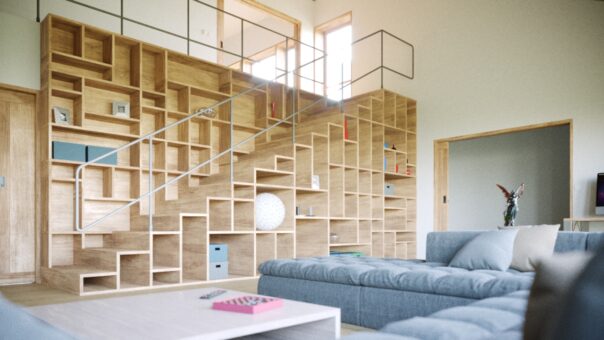 The other restriction for those scenes was that they had to have something in them that showcased every feature we'd talk about. Have you ever tried to create a scene and make sure it used every feature of Corona? It's not easy!
From document to book
We wanted users to have something substantial and tangible to take home with them, so our guide document couldn't be just an internal script – it had to be turned into a real, high quality printed book!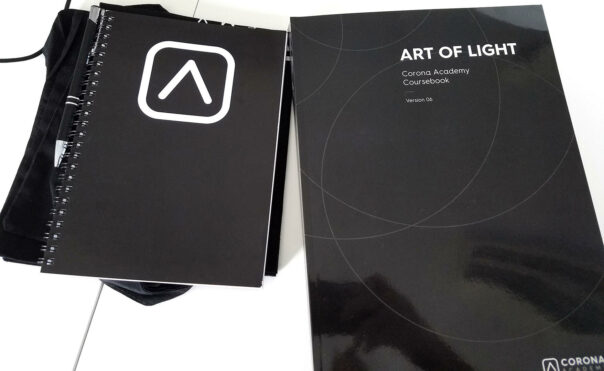 This meant going back and re-writing it, updating it from a general discussion to specifically referencing the actual scenes we'd created. We also had to capture images from those scenes to illustrate every point. Last but not least, we had to make sure it was properly formatted so that it could be printed, that it had a comprehensive index, and more.
It all reminded us of exactly why we don't have a printed manual 😉
Creating the presentation
This too had to serve two purposes – it was going to be what we used to guide the live presentation, and it was also going to be an asset that the students could take home with them in electronic form (so it still had to make sense even when someone wasn't talking through it).
Now do it all again!
All of that took us up to the first Corona Academy, which happened in November 2016.
But the Corona Academy did not stand still – every version of Corona brought new features, and the Academy had to keep pace with that. This meant going through the above cycle again at least once a year (every second Corona version), adding things to the scenes to show the new features, updating the book and the presentation, all while adhering to the same license restriction for the scenes, and keeping the document properly formatted for printing, etc.
So how many hours were we looking at?
For all of the above, it would have been a couple of thousand hours, but there was more to the Academy than that. There was also:
The instructors had to practice two solid days of presentation to be able to go through it live
We had to offer guidance to people on booking flights, hotels, finding their way around Prague
We had to re-arrange the office each time, stopping the developers doing their work the day before as we repurposed their machines for the the students to use, and repurposed one room for the classes and one room for meals and snacks (and then the same again after, when everything was put back to normal)
We had to book food and catering for everyone that was attending
We had to create the certificates for handing out, and ensure all the students had access to all the assets (scenes, presentation, etc.), and update the website with the list of newly certified users, instructors, and primary instructors, and some fun photographs from the event
On an ongoing basis, for those who ran their own courses, we had to administer certificates, update the website with their students, announce those courses on the website and the Facebook group
So, add several hundred more hours on a repeating basis, on top of what we had already.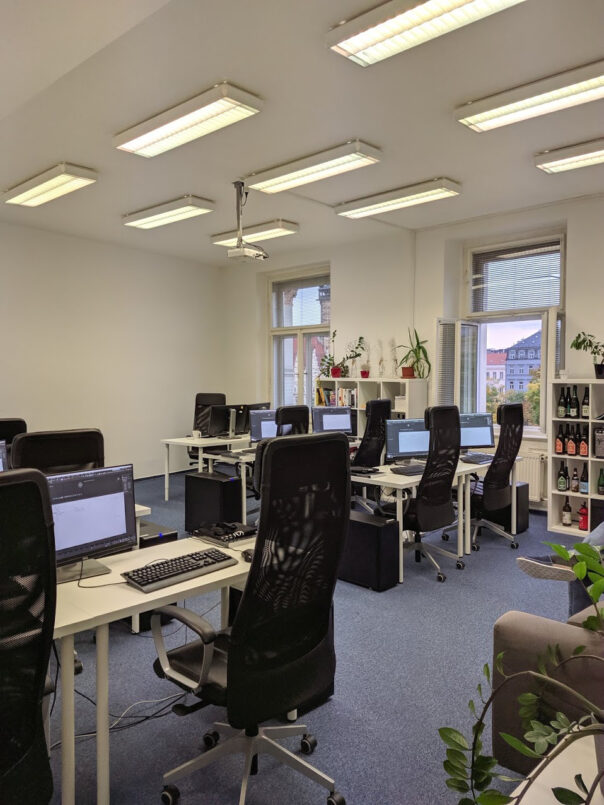 Going Online
We'll make no bones about it – the in-person courses barely broke even. Many people who attended the in-person Corona Academy did not go on to teach their own courses, and we'd priced the Academy in such a way that it just covered its costs with the expectation that instructor-lead courses would generate the "profit" side of things. After all, those who attended would also have to pay for flights and accommodation and perhaps take at least a day or two off work, so keeping the price as low as we could was also important to keep it accessible for those who came along.
After running the in-person courses from 2016 to 2019, it became clear that this was not sustainable, and we began investigating our options as 2020 began. The COVID situation limited people from traveling in 2020, so that was also something we had to consider as we carried out the review.

Clearly, we could reduce the costs of the Academy if we did not have to disrupt the development team by re-arranging the offices, pay our own travel and transport costs for getting our instructors to the event, pay for printing and reprinting a book (and the hours taken to make it), pay for food and catering, etc.
If we got those costs down, we could also reduce the price of the course to make it accessible to more people, and remove their travel and accommodation costs too. Online was the answer!
This certainly simplifies things, but it doesn't remove the usual cycle of updating the scenes and updating the documentation, and it added creating and editing video as additional work, as well as choosing a platform for this to be delivered that also included testing to make sure people were actually watching and learning. So this first cycle of the Corona Academy Online still has had upwards of 500 hours this year to get it ready.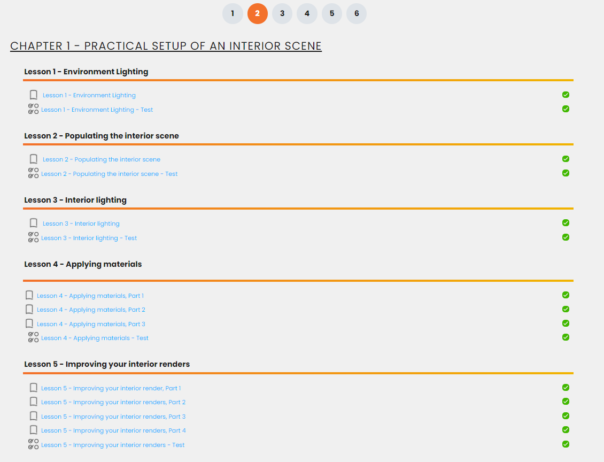 Coming up in the future, we will have to re-record all the videos which will have to use new scenes that cover all the new features that are continually added to Corona!
So the task remains a significant investment from us. On the flipside though, it will now be more accessible to more people than ever before – no more travel costs and time off work to be able to attend!
Don't forget to read more about the new online version!
The Future?
We believe this new approach will be very successful, but we will have to see if the Online Academy lives up to our expectations. It still takes a very significant investment from us to create the course and keep it up to date, so there will have to be enough people signing up for that to be worthwhile. It's our first time running an online Academy, and we will have to let experience be our teacher!