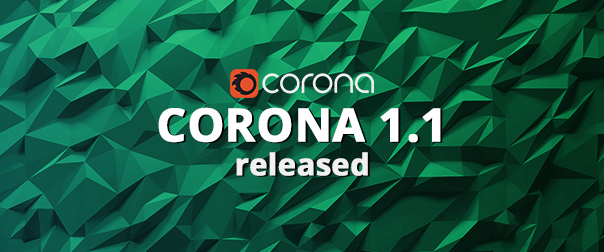 Here comes the version 1.1 for 3ds Max!
We really wanted to release this version much earlier, but other business-related tasks (hiring new people, establishing new offices, first Coronaut baby delivery, …) kept us from it. This version is not a huge update, but it adds some sweet features which we plan to develop even further in next releases.
Quick Facts
---
Corona Render 1.1 is freely available to all customers on FairSaaS (monthly, yearly), Box with Subscription and Educational/Student license.
Supports Autodesk 3ds Max versions 2011-2016.
Road map for the future development will be published next week.
Yes, and it is faster again.
Company News
---
Our team is now considerably bigger since the last blog post and we will soon start introducing new reinforcements on our blog. We have now 6 people in Prague, two in Prostejov and one in Lodz (Poland). Two more will join us in the next two months. Three people are now working on the core (two of which worked for WETA Digital), so you can expect some nice improvements.
We are also planning to release a roadmap for the future releases next week or week after, so you can see the progress in real time.
Support was also beefed up with one experienced Corona power user, who will soon start rolling out new tutorials and presets. Administration received much needed reinforcements as well, so there is a real chance that our e-mail reaction times will be better 🙂
We are still hiring and we are hungry for experienced developers – light transporters, researchers, plugin developers – willing to work from our Prague office or from home office – full time or part time. If you have what it takes and you are ready to work on something big, please drop us a line or two.
New Features/Improvements
---
Autodesk 3ds Max 2016 Support
3ds Max 2016 is now directly supported in the installer.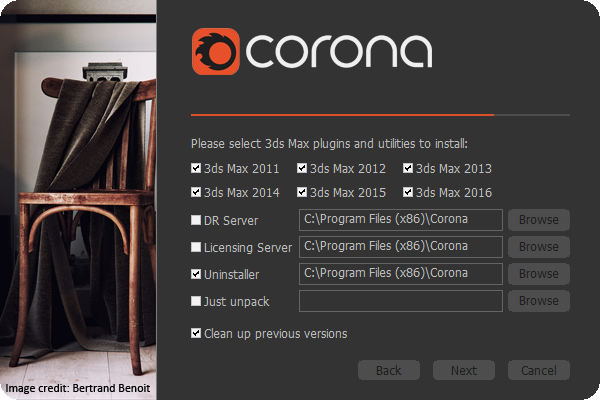 ---
Corona Bitmap
Corona Bitmap is a new shader, works similarly to 3ds Max, but faster. The Corona Converter can convert 3ds Max bitmaps in the entire scene with just one click, allowing to easily speed up rendering usually by 10-20%. Below are some examples from our real test scenes.


A4 Benchmark Interior scene – 9% faster

Interior Scene – 14% faster

Car Scene – HDRI – 30% faster

BTR scene – 20% faster

---
Particle Flow Re-worked
Corona Renderer now supports instancing, resulting in MUCH faster parsing and lower memory consumption. Particle flow can now be used with Corona as a scatter system, as shown in this landscape image with 17 billion polygons: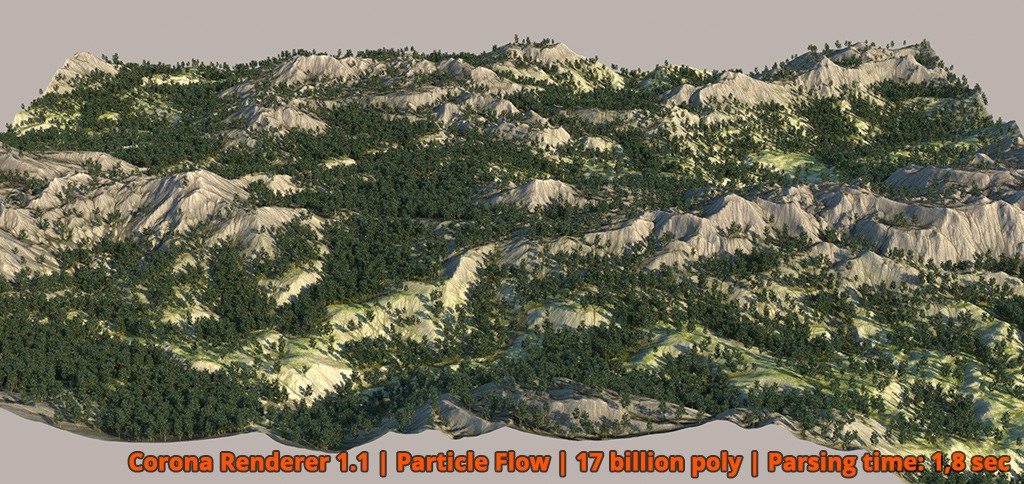 The Particle age map and true motion blur now work with any particle flow system, with any material operator (even static).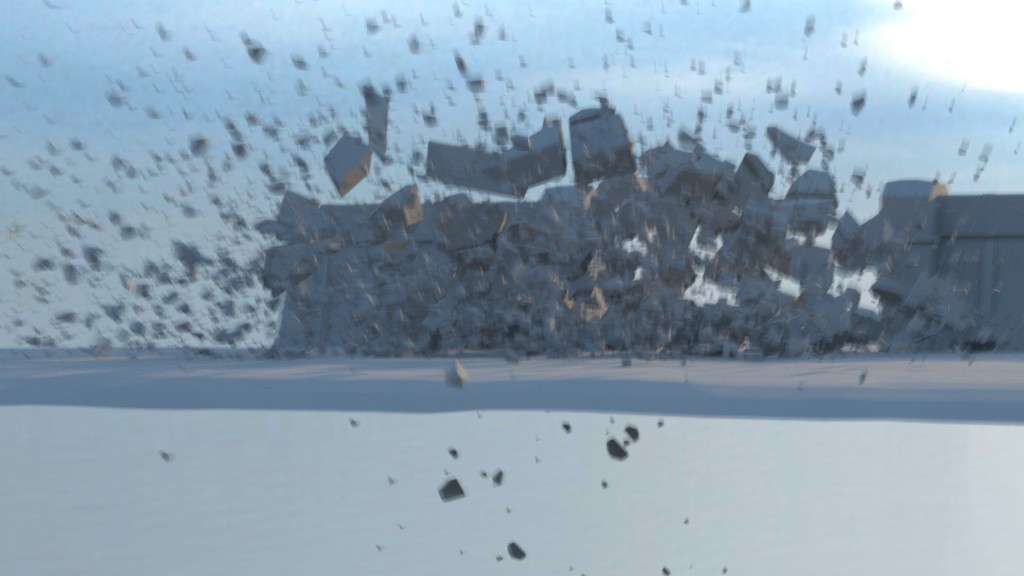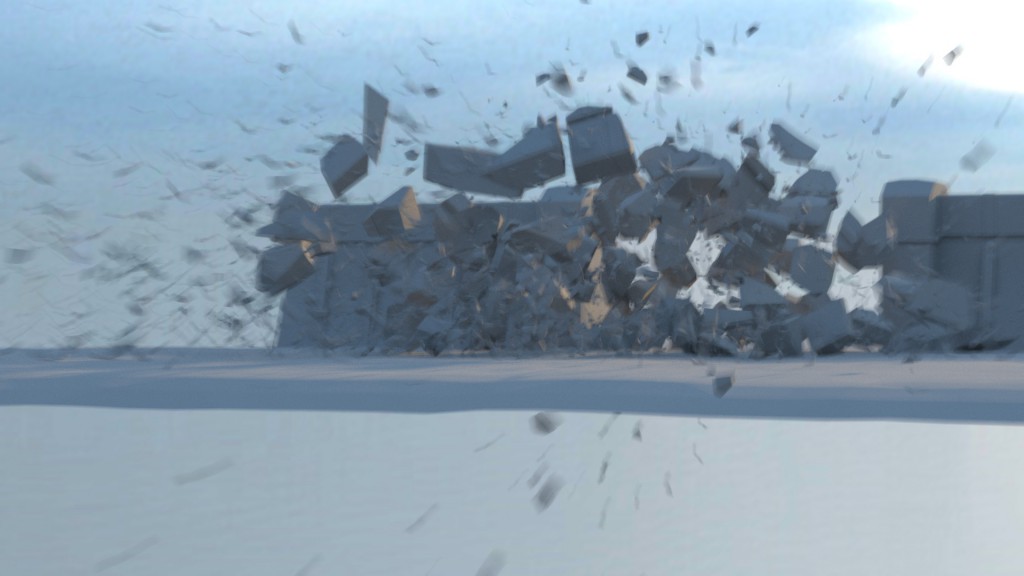 Smaller Improvements
---
Better error reporting: non-obtrusive, non-blocking, with option to surpress further messages.
Added ability to specify licensing server IP on render nodes
Corona dialogs (VFB, licensing, …) are now HiDPI-compatible
Glossy reflections are no longer darker on object outlines.
Added displacement switch to RayswitchMtl
Render passes now correctly output negative values
Bugfixes
---
Fixed random parsing crashes when using some specific 3ds Max features in the scene
Fixed freezes when using more than 1 interactive window
Fixed crashes when X-Ref-ing CoronaLight
Fixed crashes when adding/removing render elements during rendering
Fixed interactive rendering not starting when using Greeble
Fixed bug where Corona randomly saves black images
Fixed CoronaSun at 0° angle rendering black
Download
---
You can download Corona Renderer 1.1 after login in to your customer zone or directly from our download section. When upgrading from 1.0, please make sure you upgrade also the Licensing/DR server as well.
Cake
---
And another "Achievement Cake":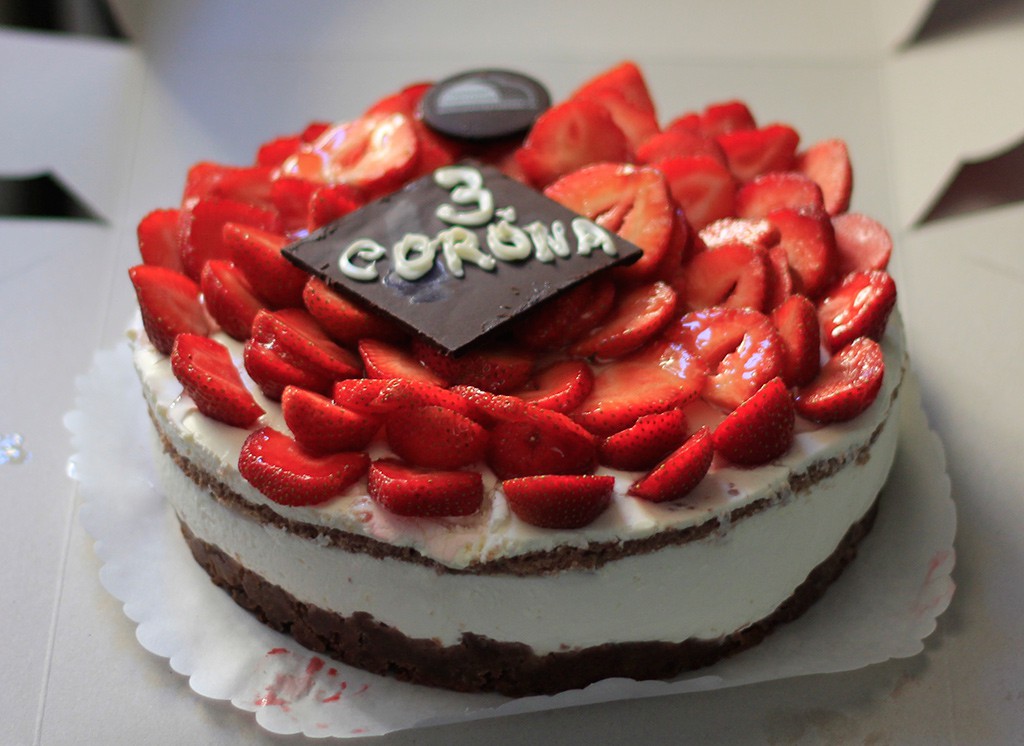 Adam, Ondra & Corona Crew