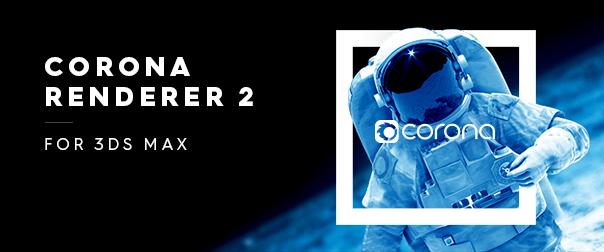 We're pleased to announce the release of Corona Renderer 2 for 3ds Max! For this version, we've focused on heterogeneous media; the first steps in V-Ray compatibility; around 110 new materials in the Material Library; the Corona Official Toolbar; overall reduction in memory requirements; a LOT of bug fixes; and stability & workflow improvements!
NEW FEATURES VIDEO
The New Features video is below for the tldr; guided tour of what's new in this release:
Read more for full details on the update and the download link!
DOWNLOAD
If you want to download and install while you read, you will find the latest version at:
Demo Refresh: If you have tried Corona Renderer before and your 45-day trial expired, you will be glad to know we have automatically refreshed the demo period to give everyone extra 14 days! Simply download and install Corona Renderer 2 from the link above, and activate the demo license right from within Max, so you can try out all the new features for yourself! Enjoy!
QUICK FACTS
---
Reminder: We changed how we name our releases – this is Corona Renderer 2 rather than Corona Renderer 1.8!
Heterogeneous media (Phoenix FD, FumeFX, OpenVDB, new "Inside Volume" mode in the CoronaVolumeMtl)
The first phase of V-Ray compatibility
5-15% lower memory usage in most scenes
Advanced camera/bokeh effects
New material override options to preserve certain materials
Updated Material Library (over 110 new materials!)
Corona Toolbar
Improved denoising of bump maps
A focus on tweaking, debugging, and lots of small feature improvements

…AND MORE!
Full details later on the page, but first:
COMPANY NEWS
---
VERSION NUMBERING HAS CHANGED!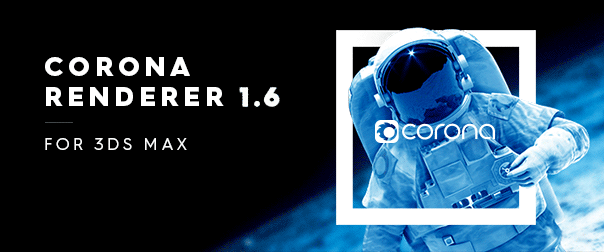 Just in case you missed our announcement about that in 2017, we want to remind you that we have changed how we number our releases. Every release of Corona Renderer brings with it many new features and major improvements, and we realized that really we should never have used a "point numbering" system. We decided now was the time to bite the bullet, throw out the old point numbers, and switch to naming each release with a whole number increase!
That means this release is Corona Renderer 2, and not Corona Renderer 1.8. Our next release will be Corona Renderer 3. We will continue to release smaller fixes and vital updates as hotfixes in between main versions, if necessary.
Please note that this in no way changes how fast development goes, or how often we release new versions – it's a "cosmetic" change to the name only!
OUR TEAM IS GROWING!
Thanks to the merger with Chaos Group, we've been able to expand our team as planned. This is all part of our continuing plans to develop more, and develop faster, so please welcome our new Coronauts to the team:
Ivan: QA specialist (better make sure you write good bug reports)
Ben: C4D support specialist (helping you out with your C4D problems)
Dmitrij: C4D developer (fixing your C4D problems)
Tereza: Project Manager – Hiring & Legal (keeping everything ship-shape and above-board)
Pavlina: Administration Assistant (keeping us organized)
Leos: Product Manager (cracking whips & overseeing things)
David: Project Manager – Development (assuring there is no chaos in the office)
Miro: Developer (coding and consuming caffeine)
Jan: ArchiCAD integration (preparing to addict a whole new group of users to Corona)
We're not done expanding yet, though. If you'd like to be part of the Corona team, be sure to keep an eye on our jobs page – maybe we'll be welcoming you in our next blog!
CORONA RENDERER FOR CINEMA 4D
The team has grown with the addition of Dmitrij. At the time of writing, the focus of the team is on implementing our node editor for materials. This is a big task, and as the feature is new, it's something of an "all or nothing" rather than incremental – we don't want to release it until it is stable and working well, and we will get that out into your hands as soon as it is ready!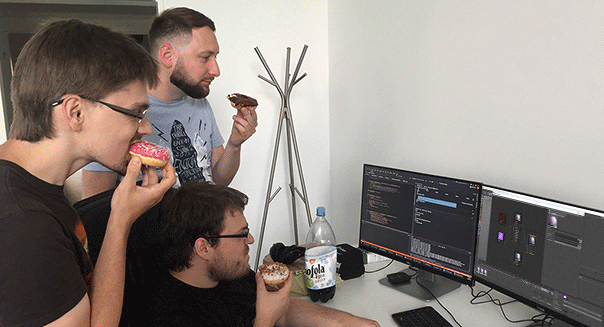 CORONA ACADEMY
Just a few weeks ago, Corona Academy 07 set a record for the number of attendees, with 14 Corona experts sharpening their Corona knowledge. In fact, it was so many that while setting up the room, we tripped the power breakers due to having so many computers up and running in one room!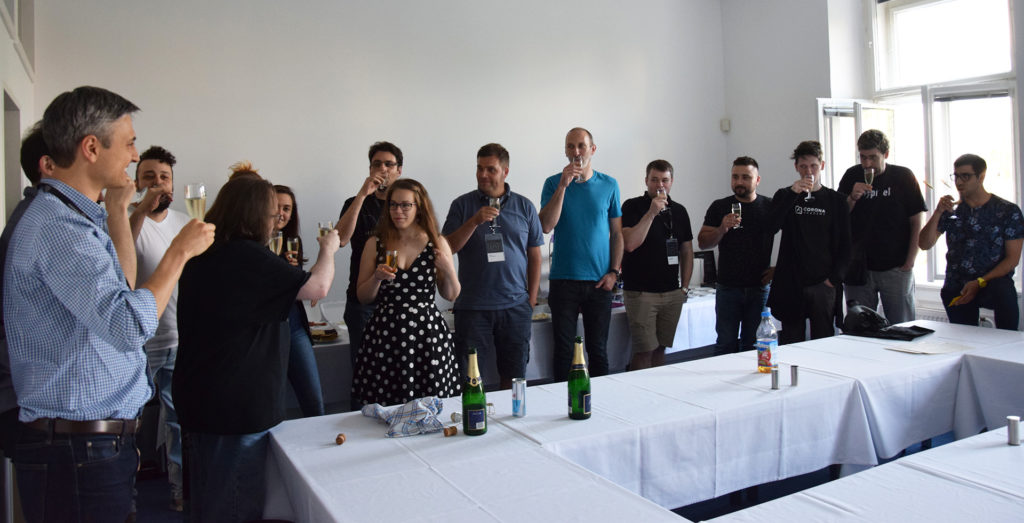 Some Corona Renderer 2 information was already incorporated into the classes, and we'll be updating and improving upon the Academy content as always. If you would like to attend an Academy, or a course by any of those who have been Certified, watch the Corona Academy page for news.
Now let's see what's new in Corona Renderer 2…
MAJOR FEATURES
---
Added support for heterogeneous media shading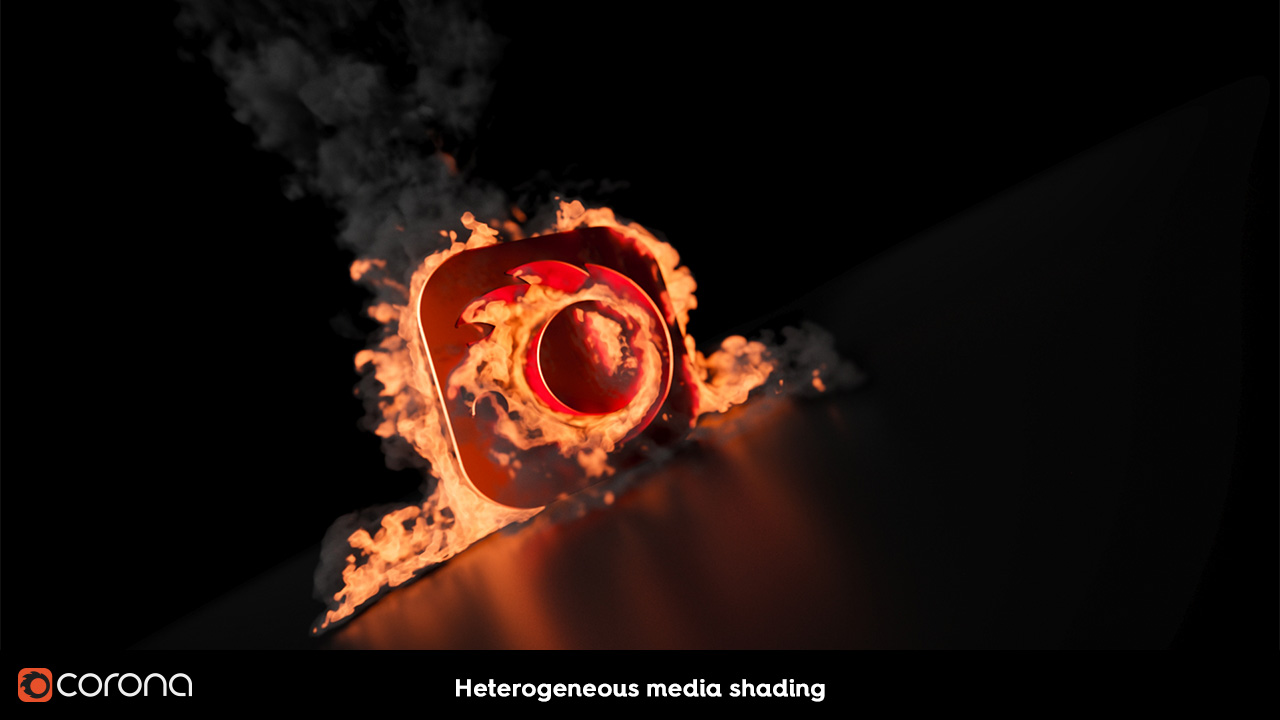 Support has been added for heterogeneous volumes, which means Corona Renderer now supports Phoenix FD, FumeFX, OpenVDB, and 3ds Max texture maps. This includes full support for multi-bounce GI inside the volumes and motion blur, so now you can render smoke, fire, liquids and more in your favourite render engine!
Details for  each individual application are shown below:
Phoenix FD
The same technology that lets Corona Renderer create 3D volumes using the CoronaVolume material also enables rendering of volumes from other specialist simulation plugins, such as Phoenix FD.
Limitations:
Supports only Phoenix FD 3.10.00 or newer (3.10.03 required for using in Interactive Rendering)
Foam rendering is currently not supported (there is no API for this in Phoenix FD yet, but we will be working on it)
Isosurface rendering mode is currently not supported
Full details on any Volumetric FX limitations on the Helpdesk
Useful links:
FumeFX
Again, the same underlying functionality allows Corona Renderer to render FumeFX simulations.
Limitations:
Supports only FumeFX 5.0 or newer
Motion blur, space warps, illumination maps and the channel data shader are currently not supported.
Full details on any Volumetric FX limitations on the Helpdesk
CoronaVolumeGrid (OpenVDB support)
For a quick guide on using the Corona Volume Grid, see: How to use the Corona Volume Grid?
Corona Renderer can work with OpenVDB files. These are files which allow you to store "voxels" in a 3D grid, along with optional additional data such as density, velocity, temperature, etc.
OpenVDB files can be created in a variety of software, for example SideFX Houdini, Phoenix FD, Blender, etc. These can be loaded and rendered using the CoronaVolumeGrid object, which then allows you to set Absorption, Scattering and Emission properties for the VolumeGrid. These properties can be driven by the density, velocity, temperature, and other extra data contained within the OpenVDB file.
An example is shown below – Pavel Ševeček's (one of our developers) video shows an impact simulation, where an asteroid with radius 1000km collides into an asteroid with radius 2000km. It was computed with an SPH (smoothed particle hydrodynamics) solver that he developed as part of his PhD studies at Charles University, and the results of the simulations were saved as OpenVDB grids and rendered with Corona Renderer using  CoronaVolumeGrid:
The CoronaVolumeGrid object will detect when Emission data can be interpreted as temperature, e.g. for OpenVDB files exported from Phoenix FD and other software.
Useful OpenVDB links
Below are just some links that may be useful for OpenVDB – you can search online for more tutorials for any external application you want to use for creating simulations:
3D volume material (e.g. using native 3ds Max noise maps)
The CoronaVolume material now has two modes, the old "On Surface" mode, and a new "Inside Volume" mode.
This new mode allows the CoronaVolume material to render actual volumes inside objects, rather than just calculating the result at the surface of the object. It can work with native 3ds Max noise maps, in Object or World XYZ mode, which calculate noise in 3D space.
The potential uses are limitless, allowing you to create low lying mist, clouds, ice, and more, either used on its own or in combination with things like the CoronaDistance map. Previously, with the old mode, creating low-lying mist would require you to create specific geometry for it – now with the new Inside Volume mode you can use a CoronaVolume in the Global volume material slot, and with some CoronaDistance and noise magic, get the desired result!
You can compare the Global volume material approach below, where only the new mode gives the desired result:
The test video below, made during the development of Corona Renderer 2, will give you some initial ideas on the many ways you can use this functionality!
Added support for core V-Ray features:
Are you a freelancer who keeps finding those perfect assets for your project… but they are V-Ray scenes, and you don't have V-Ray installed so can't use the converter?
Are you a studio that uses both V-Ray and Corona depending on a project's needs (or even depending on department)?
Do you use V-Ray but want to try out Corona Renderer in your existing scenes to see what all the fuss is about?
If so, then the good news is that now you can render V-Ray assets (created in V-Ray 3.60 or newer – assets from earlier versions may also work, but this is not guaranteed) without having to run any sort of conversion – even without V-Ray being installed!
So far, Corona Renderer supports:
VRayLight (plane, disk, mesh and sphere)
VRayMtl
Limitations:
Supports only assets created in V-Ray 3.60 or newer (assets saved from earlier versions may work, but it is not guaranteed; we will look into the possibility of adding support for assets from older versions as part of the ongoing updates and improvements to compatibility with V-Ray!)
Include / Exclude list for VRayLight requires V-Ray to be installed

Full details on any V-Ray Volumetric FX (VRayVolumeGrid) limitations on the Helpdesk
Corona Camera, new bokeh controls:
The Corona Camera now adds advanced Bokeh controls for Center Bias, Vignetting and Anisotropy.
Positive values of Center Bias expand the bokeh into rings, while negative values compress the bokeh highlights. Positive values of Vignetting give a harder edge to the Bokeh toward the outside of the image, while negative values create a harder edge to the Bokeh highlights toward the center of the image: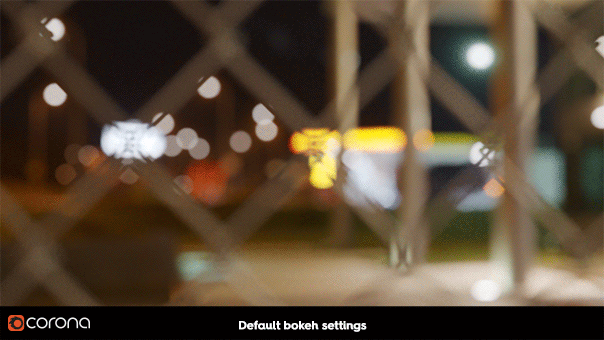 Anisotropy affects the aspect ratio of the bokeh effect, with values above 0 stretching it horizontally, and below 0 stretching it vertically: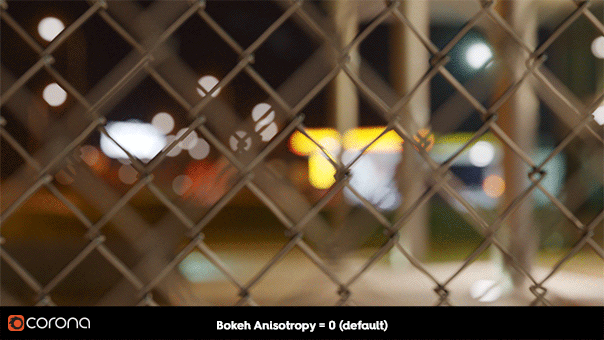 In the short videos below, you can see the parameters being animated to watch how they affect the result:
As well as being added to the Corona Camera, Corona Renderer now works with these parameters from the native 3ds Max Physical Camera too.
"Affects exposure" checkbox for custom (texture) bokeh
You can now specify whether using a custom texture map to define the bokeh will affect the exposure or not. When checked, the shape of the texture map may let in more or less light than the default circular aperture. When unchecked, exposure is unaffected by the custom map (the same as in earlier versions of Corona Renderer).
Bladed bokeh now has the same area as the circular bokeh
In earlier versions of Corona Renderer, the Bladed bokeh option had a different area than the default Circular bokeh, and this has been corrected. Also, the rotation of Bladed bokeh is now consistent, independent of the camera view.
Material Library Updates: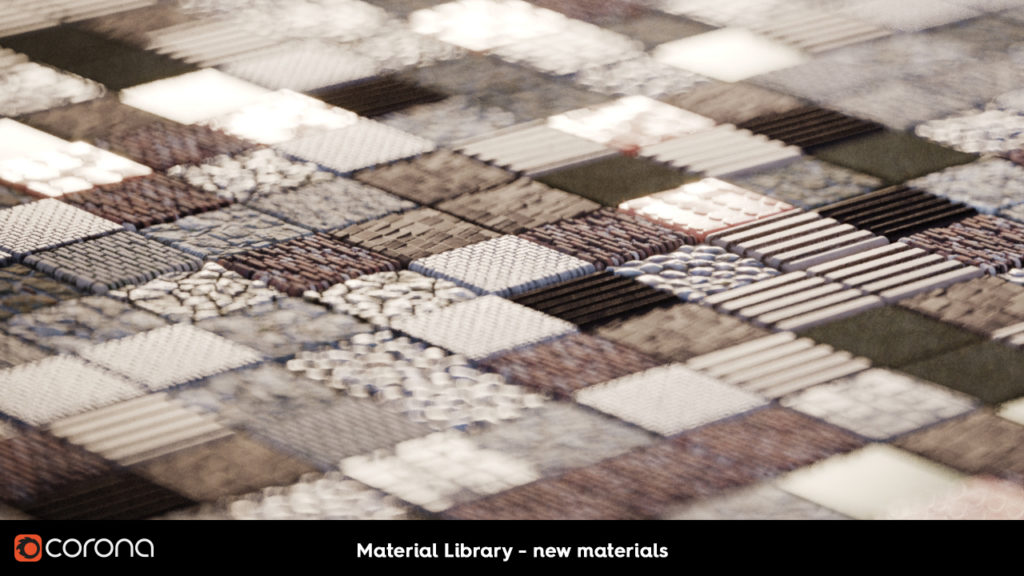 We have updated the Material Library, mostly based on your feedback regarding tiling. Here is the changelog:
Added around 110 new materials
Real World Scale is now used in most materials.
(e.g. materials which follow specific direction – such as wood)

CoronaTriplanar map is now used wherever it makes sense.
(e.g. materials which have the texture applied uniformly regardless of the surface curvature – e.g. scratches, dirt)
Resized and fixed tiling of Wall, Concrete, Leather, Metal, Rubber, Stone, and Wood materials.
Fixed the scaling of CoronaTriplanar maps used in Fabrics and Leathers.
Previews are now rendered in a larger resolution
Fixed unit-dependent properties (such as displacement and absorption) changing depending on the selected system and display units. (now if it's 5cm, it will always render as 5cm, regardless of the units setup!)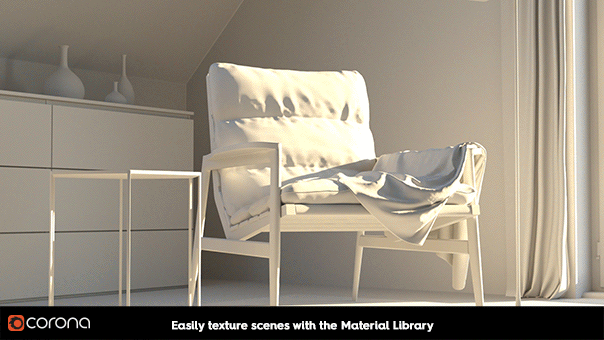 Additional notes:
Any scenes created with materials from the older library will continue to render as before; these changes will only be seen when dropping a material from the new library into the scene, so full compatibility is maintained with your existing scenes.
"Foliage" category renamed to "Nature", since it includes bark and soil (any Favorites set in this category will be reset due to this change)
The Material Library data files have been moved to servers with more bandwidth, allowing for much faster downloads.
SMALLER IMPROVEMENTS
---
SPEEDUPS AND MEMORY
Memory Savings:
Decreased memory consumption of all scenes by 5-15%
An example is shown below:
Motion Blur
Parsing of Motion Blur is now faster and takes significantly less memory.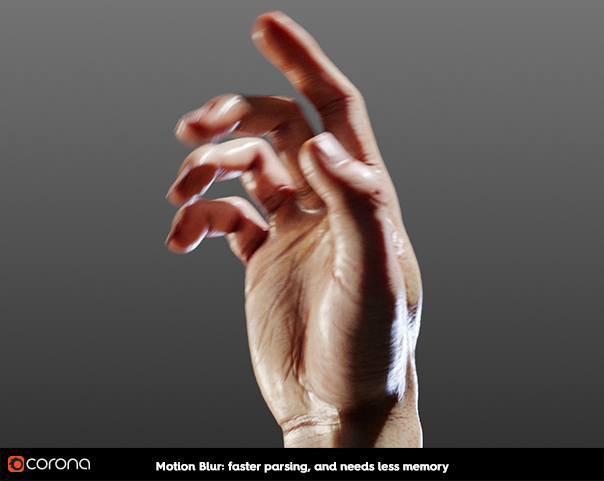 In the scene above with over 14,500,000 polys, the results were as follows:
RAM usage: 6.3 GB in Corona Renderer 2 vs 12.8 GB in Corona Renderer 1.7.4
Geometry parsing time: 7 s in Corona Renderer 2 vs 11 s in Corona Renderer 1.7.4
Overall parsing time: 36 s in Corona Renderer 2 vs 40 s in Corona Renderer 1.7.4
Of course, results can vary based on different scenes, objects, and motion blur types.
Significantly faster rendering of the Corona Shadow Catcher Material in "For compositing" mode:
Scenes using the shadowcatcher material in "For compositing" mode will render much faster due to two improvements:
Improved performance when rendering the shadowcatcher material itself
Adaptivity oversampling dark areas fix (see below)
The difference can be seen in the image below:
Fixed adaptivity oversampling dark areas:
Previously, adaptivity could over-sample darker areas, at the expense of processing lighter areas of the image. Adaptivity has been improved to avoid this, so that lighter areas of the image now show less noise, which results in faster rendering:

Improved denoising of bump maps:
The denoiser is now more intelligent when it comes to denoising bump maps, resulting in sharper and clearer results which preserves detail where bump maps are used:
CoronaOutput texture map split into CoronaColorCorrect and CoronaToneMapControl:
Previously, the "Affected by Corona VFB tone mapping" option was a part of the CoronaOutput map, along with controls to adjust brightness, saturation, etc. However, most users only needed one or the other of these options, making both sets of controls in one map clumsy to use – 50% of the time, the default settings were not the ones you needed!
The CoronaOutput map has been removed and replaced with two maps for these separate functions:
The Corona Color Correct lets you adjust the brightness, saturation, etc. of a texture map, and have it still affected by all VFB post-processing – for example, if you want to change the gamma or saturation of a background image: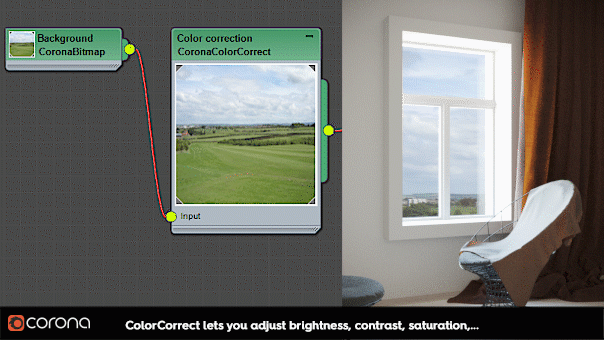 The Corona Tone Map Control  lets you specify that a texture map should not be affected by VFB Exposure, Tone Mapping, etc. – for example, required for when you want a backplate to be untouched by camera exposure: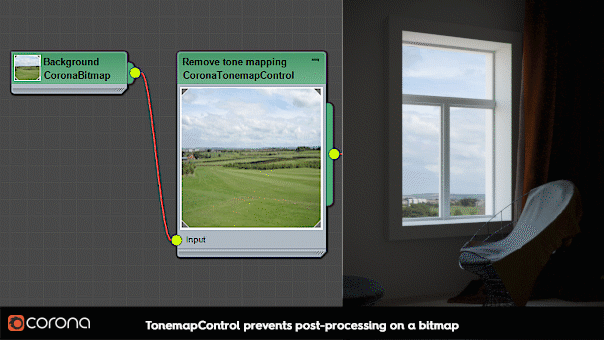 If you need to use these two functions at the same time (as formerly with the Output map), it is also possible to use both of the maps (ColorCorrect plugged into TonemapControl) to both adjust the appearance of the texture and exclude it from the VFB post-processing.
Material Override Settings to preserve certain materials:

Material override options are now in a pop-up dialog, accessible from the Scene tab of the Render Setup window. The Material Overrides now let you exclude glass materials, light materials, portal materials and / or unsupported materials. Note that Corona will determine what counts as a glass material based on the material's combination of Reflection and Refraction settings (primarily, any material where Refraction plays a significant contribution to the look of the material).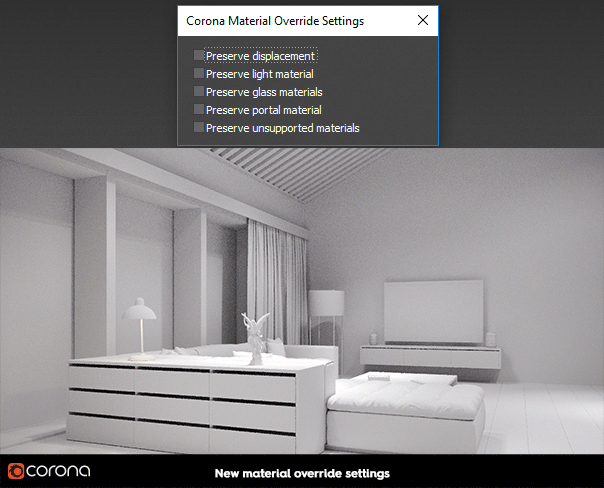 Speed-up of IR restarts in scenes containing environment lighting:
The light is no longer reparsed whenever geometry changes. Only changes in geometry with portal material will trigger the reparsing.
Switched to Visual Studio 2017 compiler:

This gives up to 5% performance gain in rendering.
Martin Geupel's Corona Converter script updated to version 1.42:

Fixed errors in VraySSS2 material conversion with old V-Ray versions
Added support for VRayColor2Bump
Added simple VrayBumpMtl conversion
Fixed displacement checkbox in VraySSS2 Mtl
Corona Image Editor:
Added bloom & glare virtual element which can be viewed and/or saved separately. This element is always automatically saved by "save all" functionality.
Corona Standalone:
Corona Standalone now supports hair rendering
Added support of lens distortion to the Standalone
General:
The UHD Cache is no longer reset in IR when only the current camera or viewport has moved or rotated, resulting in better IR speed
Multimap can now be created with just one map allowing to apply hue randomization and other options to just a single map
Optimized sampling of volumetric media (homogeneous and heterogeneous)
Added Subdivision Quality (screen/world size) override to the CoronaDisplacementMod modifier
Added console mode for installer and uninstaller:
The installer and uninstaller can now be run with various command line parameters to automate the installation process.
For more information, see: How to perform silent installation/uninstallation?
Faster IR start
Added CoronaUserProperty map
Useful only for power users and maxscript experts, this offers a way to assign some value to each node to use for shading.
Removed compatibility with Alpha 6 and older versions of CoronaScatter
Implemented anamorphic factor in the native 3ds Max Physical Camera
Lens breathing/Zoom is now taken into account when calculating the aperture size when using the native 3ds Max Physical Camera
Corona now respects LUT_xD_INPUT_RANGE when loading *.cube LUTs
UI CHANGES
---
VFB Related:
Interactive no longer starts with temporarily full render resolution for first time. This fixes excessive lag when starting interactive for the first time while having big render resolution set.
Lights from a LightSelect element can be now selected/deselected via menu accessed by right-clicking the corresponding checkbox in the LightMix tab in the Corona VFB: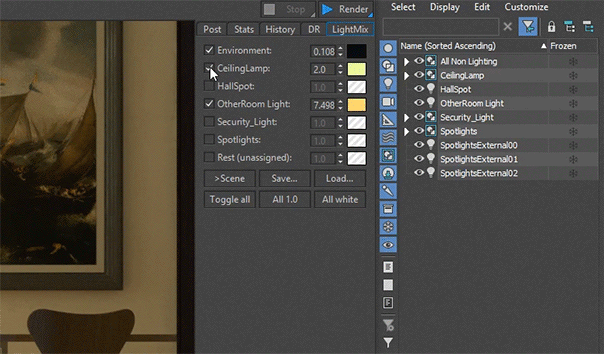 Pixel probe (right click on image in VFB and CIE) now displays an error message with explanation when a NaN is found
Pass and noise limits are now displayed in VFB stats tab (when set)
New keyboard shortcuts in VFB and CIE:
CTRL + arrow keys for scrolling
CTRL + PAGE UP/DOWN for switching render elements
General:
Added Corona toolbar to 3ds Max:This is named the Corona Official Toolbar, to avoid conflicts with other 3rd-party toolbars. You can move any button in the toolbar via ALT+drag&drop. You can even remove it by dropping it outside any toolbar
Added a checkbox to Corona Camera to show/hide clipping planes in viewport
CoronaLight viewport lines are now drawn on both sides for two-sided lights
DR server now displays local IP address
"Export + Render" button in devel/experimental rollout is now disabled when a render is running
Added localization for button tooltips in Error window and VFB history tab
Material Library's "Select in scene" feature now also selects objects which have the material applied in Hair & Fur modifier.
Scripting:
Added a maxscript function "showLightMixSetupDialog" to CoronaFp interface for showing the LightMix setup dialog
Estimated remaining render time can now be accessed from maxscript using "CoronaRenderer.CoronaFp.getStatistic 8"
Full information at our using Maxscript with Corona Renderer wiki
OTHER CHANGES
---
Noise Level between versions:
We've made multiple changes to adaptivity (as listed in other parts of the blog) and this means that Noise Level is not the exactly same in Corona Renderer 2 as in 1.7 and earlier. We've balanced it as best as we can, but be aware that a Noise Level of 4% in Corona 2, for example, may well be of higher quality than the same noise level in an earlier version (and so may take a little longer to render to that Noise Level).
Removed compatibility with 3ds Max 2012:
Providing support and compatibility for older versions of 3ds Max takes extra development time and manpower. Due to the very small number of users still using this version of 3ds Max, and in order to move forward with all the new features,  functionality and software that we have planned as quickly as possible, we are discontinuing support for 3ds Max 2012.
Removed official support for 3ds Max 2013 – 2015:
Corona is still provided for these versions of Max, but due to the nature of 3ds Max licensing, we do not have access to these versions for testing. This means these versions are not officially supported as we cannot guarantee that they will work correctly, nor can we guarantee any bug fixes for those versions (unless the problem also happens in the newer versions).
Legacy version of Corona Renderer plugin was removed from the installer:
Today, around 98% of all installations are on machines capable of running the Full Speed version, and we feel that this is the right time to discontinue the Legacy version.
This change will allow the vast majority of our users to benefit from faster development and build times, and a smaller size for the installer. We apologize to those who are affected – the Legacy option remains in place for all versions up to and including 1.7 Hotfix 4
All CPUs supporting SSE 4.1 will run the full speed version.
Important Note: We will continue to support running the Licensing Server on legacy CPUs (the computer won't be able to be used for rendering). When running the installer on a legacy CPU, it will show which items can be installed (typically, just the Licensing Server).
BUG FIXES
---
Below is an overview of some of the more major bugs we resolved this time around – the completionists among you can check out the full list of bug fixes!
Notable Bug Fixes:
Fixed vertical shift changing FOV of the Corona camera:
The Tilt & Shift controls now work the same way in the Corona Camera as in the native 3ds Max Physical Camera (this fix was also back-ported to Corona Renderer 1.7.4.)
Note: When you load a scene with an older version of the Corona Camera, a Legacy checkbox is added to the controls and is enabled by default. This ensures backward compatibility with older scenes (you will still get the same field of view as when you saved the scene).
For convenience, the Legacy checkbox is not displayed on any new Corona Cameras, or for older Corona Cameras where Tilt and Shift were not actually used (as it is redundant in both cases).
Albedo, SourceColor, and RawComponent elements now properly display shading from Corona Skin Material
All Corona spinners now reset to defaults, not to zero (in Corona render settings, materials, command panel, etc.)
Fixed Lightmix bake to scene breaking instancing (previously, one of the instanced lights would become unique on using the >Scene functionality)
Fixed "Only remove fireflies" denoising mode not removing fireflies
Fixed Corona IR crash when XRef objects are used
Fixed incorrect results produced when single map is plugged into multiple UVW randomizer maps
Fixed camera target moving slightly whenever CoronaCamera moves
CoronaColorPicker, fixed that this was not working with:
– Substance map
– Standard 3ds Max Lights
– the 3ds Max color palette
CoronaColorPicker color changes are now properly registered by the Undo system
Corona Image Editor:
CIE no longer applies tone mapping to render elements that should not be tone mapped: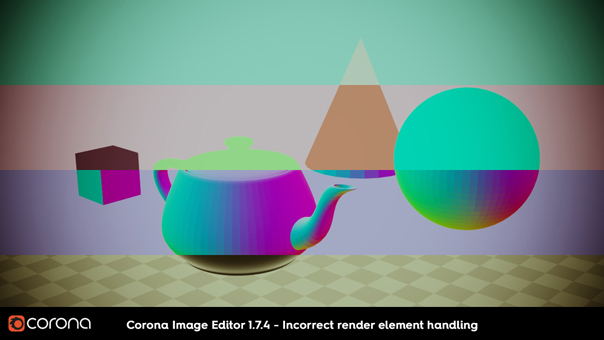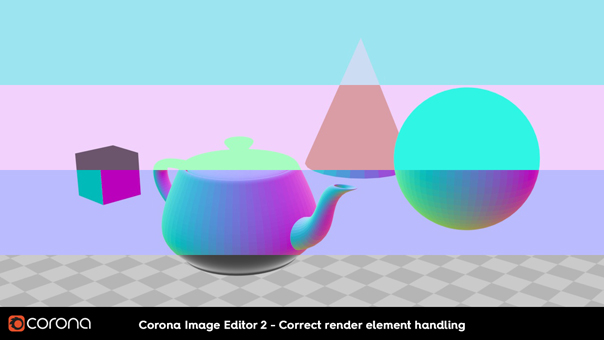 Spinners in VFB and CIE now properly validate keyboard inputs
Fixed render elements with non-ASCII characters being displayed incorrectly in CIE
Fixed wildcard expansion in command-line version of CIE. Now -e argument does not get expanded which fixes CoronaImageBatch script
Fixed CIE to correctly compute resulting alpha channel while merging multiple images
Corona Proxy (.cgeo):
Fixed Proxy Exporter script altering normals of the original object
Corona Proxy Exporter script (by Martin Geupel) updated to v0.07: fixes bug when exporting collapsed proxies which under some circumstances caused the original model(s) to be altered
Note: a proxy created in Corona Renderer 2 may not load in earlier versions of Corona.
Distributed Rendering:
Scene copies left on disk when DR master crashes are now properly cleaned up during next DR session
Noise level is now recomputed at the end of the rendering after final results from all DR slaves are gathered
Fixed noise level sometimes rising when rendering with DR
Fixed Fall off map submaps sometimes not being loaded in DR
Scatter:
Scattered animated instances no longer appear and disappear when both Avoid collisions and Temporal consistency are enabled – instances which are non-colliding at the "Rest pose frame" are now allowed to collide at other frames
All parameters of newly created CScatter objects are now reset to their default values
Fixed spline scattering so that it correctly respects the Offset (now entered as percentage amount of the Spacing). The change affects only new scenes. For old scenes it can be enabled by disabling the "Legacy mode" checkbox in the Scattering rollout.
Number of scattered instances displayed in the viewport is now set as an absolute amount instead of a percentage amount
Scattering density in Surface / Bounding Box scattering is now entered as a number of instances per square or cube of a given size (defined by the edge length of the square or cube)
Improved tooltips
Other Bug Fixes:
Fixed denoising a region being potentially slower than denoising the whole image
Fixed crash when changing a tonemapping parameter of a CoronaCamera that is referenced from another object (for example ForestPack)
Fixed camera target moving when changing shift parameters
Fixed Corona Camera automatic tilt not working correctly in animations
Fixed UI slowdown with complex materials displayed in the viewport
Fixed CoronaColor not working correctly when "input values are in linear color space" was used together with negative HDR values (yes, it is possible to use negative HDR values to specify very saturated colors)
Fixed various geometry parsing crashes
Fixed Basic SSS materials so that they render as expected when any tone mapping is used
Fixed hair & fur parsing causing crashes when username contains non-ASCII (cyrillic, etc.) characters
Fixed VIZPARK materials/maps not being listed as compatible
Replaced LUT log curve with the curve used by V-Ray
Corona Standalone is now installed by default (may be overridden by selecting custom installation), and installer now associates .scn file extension with Corona Standalone, so that double clicking any scene export file will automatically launch standalone
Fixed bump converter not working correctly with procedural maps and some geometry types such as geosphere, cylinder or extruded circle
White balance of Physical camera is now applied correctly – setting the temperature of camera equal to the temperature of the light will result in white image (previously the white balance was applied as color tint)
Fixed viewport display of shader trees containing Corona texmaps after opening a scene
Maximizing the VFB for the first time after IR is launched now works correctly, and the VFB now stays maximized when rendering is restarted
Fixed crash when CoronaLight was used with CoronaDistance map
Fixed LightMix not working properly with lights set as ShadowCatcher illuminators
WHAT'S AHEAD?
---
Even with all the work on preparing Corona Renderer 2, we've still been preparing for the next version and beyond. Some of what we have been working on was unveiled at our KeyNote speech at Total Chaos 18, including intelligent caustics, improved light sampling, possible integration with ArchiCAD and more – you can watch the full presentation below:

We'll also be presenting more information about our ongoing research at SIGGRAPH 2018 in Vancouver, so we hope to see you there on the other side of the pond!
Another thing to look forward to is that V-Ray will be getting the ability to render CoronaMtls, as the other half of increased compatibility between the two engines. Watch for news about that from Chaos Group as things progress – you can see progress so far in the video below:
If you would like to stay in touch with us by receiving a few emails every year about the major new releases (we promise we have never and will never send you spam!), you can subscribe to our newsletter by following this link.
And as always, you can also keep an eye on what we are cooking up on the roadmap.
DOWNLOAD CORONA RENDERER 2
---
Did you get carried away reading, and forgot to start your download? If so, here's that download link again, to save you from wearing out your scroll wheel!
Thanks!
"Nothing is constant but change" the saying goes, but that's not quite true – while there have been a lot of changes since the last release, the one thing that has stayed the same is the incredible team of people that make Corona Renderer what it is. So to our devs, support, business partners, forum moderators, translators, beta testers, advisors, partners, resellers, our pals at other Chaos Group offices around the globe, and of course our users, we'd like to say a big –
Thank you!
Adam, Ondra, and the Corona Crew