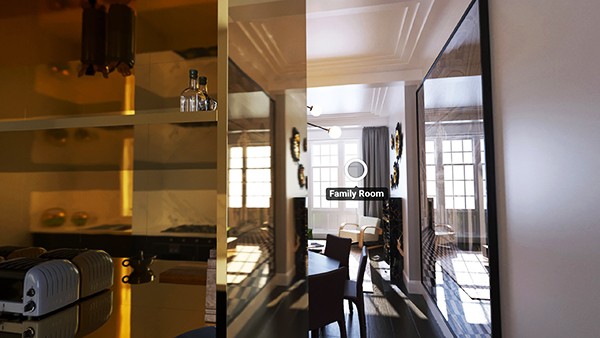 There have been quite a few changes to CoronaVR recently, including:
– The ability to link CoronaVR to your Google Drive for easy synchronization of images between your PC and mobile device
– So that you can easily choose to sync either or both versions of the app to GoogleDrive, the Gear VR version of the app has been renamed to "Corona GearVR" (the Android version keeps the same name "Corona VR")
– The ability to add an icon to run the Corona GearVR version right from your mobile device desktop
– The Corona VrWarp helper object in 3ds Max to create walk-throughs without using any external software
– Improvements in image quality and performance
Full details below!
Read more!

Google Drive sync (GearVR and Android):
Both the Gear VR and Android versions can now be sync'ed with your Google Drive, allowing you to save your renders to a sync'ed folder on your PC and then access them from CoronaVR without having to manually move the images to your phone (though you can still do that if you want).
Here are the one-time steps to set it up –
You will need a Google Drive account – it is free to set one up if you don't already have one.


 

Important note: for your privacy, the app will ONLY have access to a folder called #CoronaVR and nothing else on your Google Drive. The access to that folder is read-only.


 

Authorize CoronaVR to access that folder on your Google Drive by visiting this page on your phone and click the "Link GDrive" button:  http://theconstruct.co/coronavrgdrive


 




Confirm offline access on the next screen. Remember, this access is only to the #CoronaVR folder and not the rest of your Google Drive folders, which will remain private:


Be sure to launch the app from the link on the next screen –


 





 

This will prompt you to choose which version to sync (if you have more than one version installed):


 



Now, so long as your PC is set to sync with Google Drive, you can simply save your renders to the #CoronaVR folder in your Google Drive location on your PC, and they will be accessible from CoronaVR on your mobile device.
One thing to note – if you add new images to the #CoronaVR folder, you will need to restart the CoronaVR application for it to sync with those new images.
Syncing both the Gear VR and Android versions:
You can sync both the Gear VR and Android versions to Google Drive if required. Follow the process above to sync either version. and then follow the steps below to sync the other version of the app with Google Drive.
First, go to Settings -> Apps -> Default apps: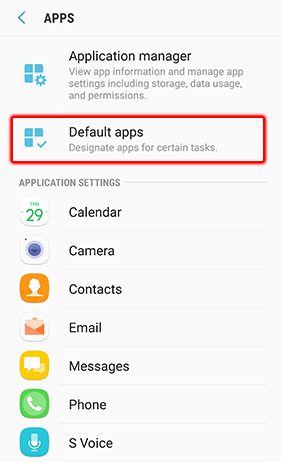 Next, choose the Set As Default option: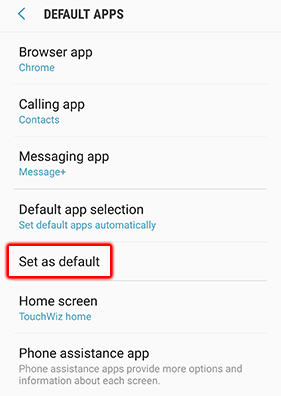 Click on whichever version of CoronaVR you synced (the image below shows when the Gear VR version was previously synced):
And on the next screen, choose "Clear Defaults":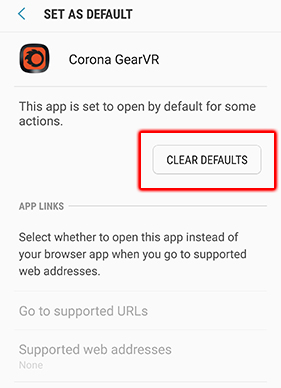 Now you can repeat the synchronization process as before, only this time choosing the other version of the app at the prompt on the final screen.
Run the GearVR version straight from your phone's desktop:
Easy is always best, and now you can run the CoronaVR app for Gear VR direct from a shortcut on your phone's desktop without having to go through the Gear VR / Oculus environment first!
(Android users already have an icon on the desktop that runs the app directly, so these steps are only for Gear VR users)
Here are the steps to set that up:
This will open up a page as seen below – open the Chrome menu (highlighted) and choose "Add to Home Screen"


 

First, open the Chrome menu as seen above

Then choose "Add to Home screen"

Set the name you would like to use for the icon on the next screen (suggestion would be to use "Corona GearVR" to keep it easily distinct from the Android version on the desktop) and click "Add" when done:


 




 

And your icon is created! In the future, it is planned that you will be able to customize the image used as the icon.


 



Now when you tap the icon, the Corona GearVR app will run directly with the prompt to insert your phone into the Gear VR – as soon as you do, you will be straight in to CoronaVR without going through the Gear VR / Oculus home environment (you can still access it from the Gear VR / Oculus home environment if you wish, of course).
Corona VrWarp helper:
The Corona VrWarp helper object (named CVrWarp in 3ds Max) lets you create a walk-through using only 3ds Max with no external editor required.
Simply set up your Corona VrWarp objects, render to Corona JPG, and move those images to your Google Drive #CoronaVR folder (or manually move them to the Downloads folder on your phone), and you are done!
This will work with the Gear VR and Android versions of the CoronaVR app (and future versions for other platforms such as iOS and Daydream).
A video tutorial is available below:
This offers several advantages compared to adding the Warp Points manually in the desktop editor. First, the Warp objects can automatically detect how far away they are from any camera and so will appear with the correct depth in the CoronaVR app. In an external editor, you will need to manually calculate what the distance should be and enter that yourself.
Next, you only need to create a Warp one time, and it will appear in every relevant image. For example, if you have a Warp Point that is visible from three different cameras, you simply create it once and it will appear in the three renders from those cameras. With an external editor, you'd have to manually add the same Warp Point three times, once in each image.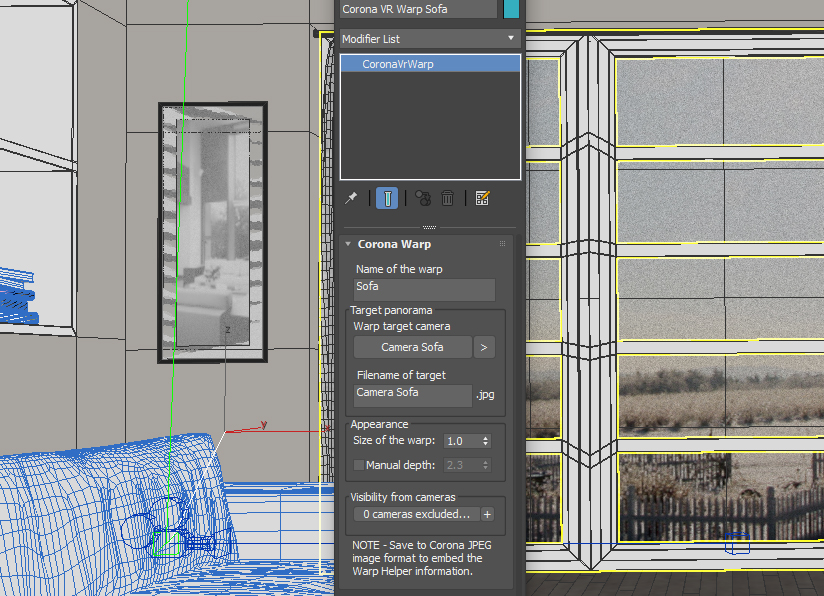 Last, it means you can create new views, or re-render existing ones, and know that the necessary warp points will already be embedded.
You can still use the desktop Warp Editor to adjust or edit those Warp Points if needed, without having to re-render.
Improved visual quality:
The CoronaVR app has updated to offer improved performance and improved visual quality.
A quick note for those using the Android version – you may choose to disable automatic adjustment of brightness (which may get enabled during an OS update) to avoid the dimming of the image when the phone is inserted into a Cardboard viewer.
Sign up now!
If you want to use CoronaVR, full instructions for Android and Gear VR can be found at:
http://corona-renderer.com/vr
We're always interested to hear from you if you have a VR project you would like to tell us about, so feel free to get in touch, or share your work on our forums:
https://corona-renderer.com/forum/index.php