Good news everyone! Render Legion is working with theConstruct.co to provide one-click, integrated solution for distributing virtual reality tours!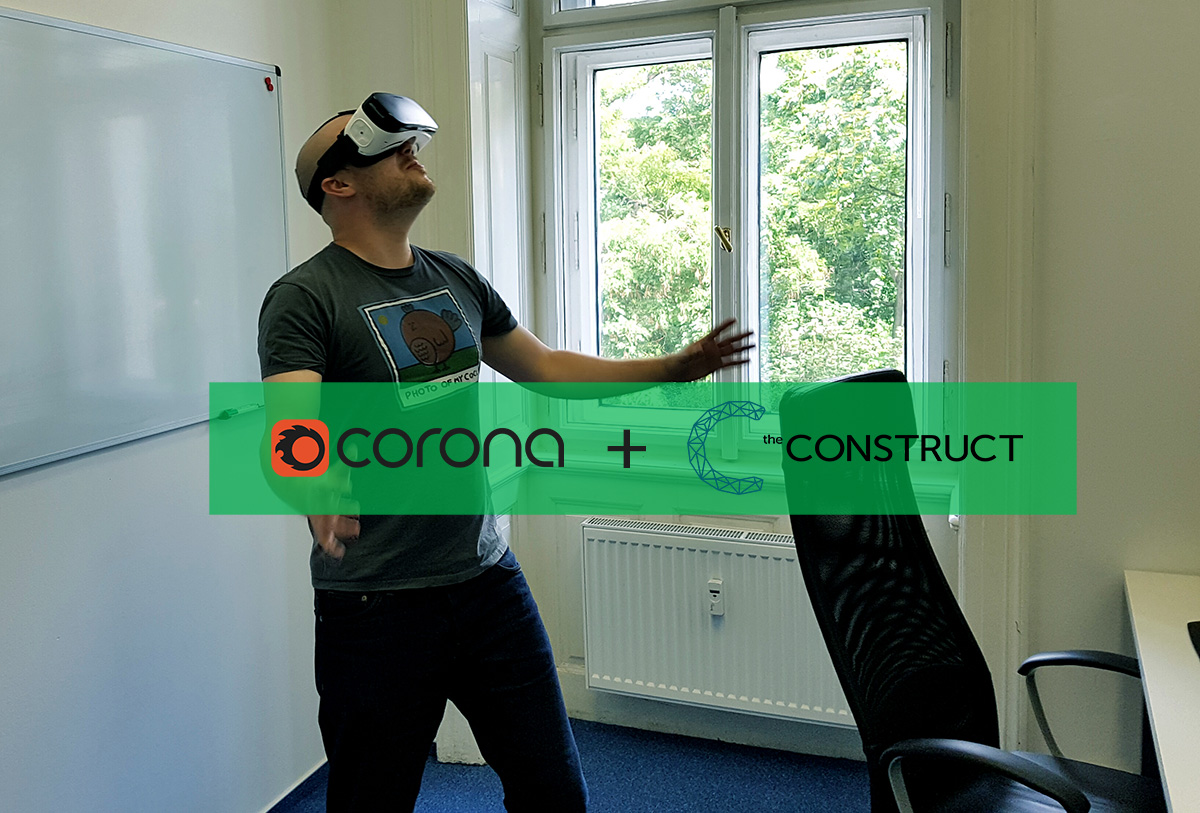 2016 is shaping up to be the year of Virtual Reality! It has been around for 15+ years, but only now is it finally looking usable and widely accessible. New mobile VR devices like Samsung Gear VR or Google's upcoming DayDream will make it easier than ever to deliver a simple and quality VR experience to everyone.
We plan to stay ahead with this popular technology, so we'd like to introduce you to the "Corona VR" project, which is co-developed with the promising young startup theConstruct.co.
---
Quick summary
For those who cannot wait to read in full, here is a summary:
Simple VR workflow with a mobile phone app which will allow you to create, view and edit Corona VR panoramas and virtual tours.
You do not need to use any additional third party authoring software to create a virtual tour. You can do it directly from the Corona Renderer for 3ds Max and C4D.
It supports Samsung Gear VR (currently in closed-beta) and Android & iPhone with Google Cardboard (in closed beta soon).
Mobile app is developed by theConstruct.co, and it will be sold as a separate product by theConstruct as well.
There will be a free and paid version in the future.
It is in closed beta now, and we are accepting submissions to join the beta team (more info below).
---
What is it?
Corona VR offers a simple workflow which will allow you to create, view, edit and publish stereoscopic panorama images directly from inside Corona Renderer in the form of virtual tours on mobile VR devices like Samsung Gear VR and on Android & iPhone with Google cardboard.
Our idea is to let you create virtual tours inside the Corona Renderer plugin, specify the hotspots (warps) and other attributes prior to pushing the render button, and then seamlessly transfer these VR tours to your mobile device using Dropbox, Doogle drive, a weblink, or ftp. This way you will not have to deal with any third-party authoring apps like KRPano, making the whole process quicker and cleaner.
The app itself does not require you to write a configuration .xml file, as all the important info about warps etc. will be automatically stored in the EXIF header of each panoramic file. If you need any additional editing of your panoramas, you can do this simply by editing the EXIF header by hand, or by using the on-line VR editor / viewer which will also be unveiled soon.
---
Who is it for?
We think that the biggest interest and benefit will be for architectural visualisers, architects, designers, real-estate developers, and of course their clients and end consumers of virtual tours.
---
State of the Project?
We have a stable working prototype which we have been internally testing and designing with the guys from the.Construct for the last couple of weeks. Right now we are entering the closed beta stage where we would like to get real-world feedback from you. You will get a chance to help us to design and shape the application to meet your needs and turn it into your ideal VR solution.
NOTICE: The project  is in early BETA STAGE. Nothing shown in Beta is final, and things will almost certainly change.
---
How can I join the closed beta?
Simply go to theConstuct sign up page and fill in all necessary information. Depending on demand, we may not be able to accept every applicant, but do sign up if you have a genuine interest in VR technology!
Note: Those who showed their interest during our 3ds London and EUE presentations  in June 2016 will receive their invitation soon. No need to register again. 
---
FAQ
Why mobile devices?
Mobile devices are easy to use, cheap, portable and give you genuine freedom as there are no wires, cables, tracking sensors – and above all, you do not need a computer.
Yes, we hear you, the computing power of mobile devices is less impressive than a stand-alone computer, but our app is only displaying stereoscopic VR panoramas which do not need that much computing power anyway. That means there is no benefit to using devices like the Oculus or HTC Vive, and a lot of disadvantages when it comes to dragging your PC over to your client for them to experience your VR!
What do I need?
Corona Renderer for 3ds Max or Cinema 4D
Samsung GearVR (preferred) or an iPhone & Android phone with Google Cardboard
Who is developing the app?
theConstruct is developing the mobile apps (for Samsung Gear VR and Android & iPhone) and the online editor. Render Legion (Corona Renderer) is developing various VR helpers which will the app use.
Who is dealing with support and how?
Both – theConstruct and Render Legion will use our bug tracker and our forum for tracking and resolving the bugs and feature requests.
How much will it cost?
Pricing has not been specified yet, but we can say there will always be a free version which will satisfy the needs of the VR enthusiast.
Who will be selling the app?
theConstruct will be selling the app through their own sales channels. Render Legion contributes features and supports the marketing effort, but does not own or sell the app.
When will it be complete?
There is no fixed release date yet as the product is still in development. We anticipate it will be complete and available to general public sometime before the end of the year, though that is subject to change.
In closing
We are excited to do our part in the growth of VR, and look forward to you joining us on this journey into all that this new technology will offer!
 Adam, Corona & theConstruct Team