Today, we bring you a tutorial/making-of article about the sample Corona for C4D scene written by Thomas Vournazos. Thomas is the founder and lead artist of Slahcube, a visualization studio based in Zurich.
---
I don't have the patience to make super extra detailed blog posts, so I will try and make this post a bit basic and easy to follow. I'm already using Corona for some months, and although still on the start, things look promising.  This scene was actually a vray scene that I worked on some months ago for a commercial project, so I had only to work on some material conversions and some mood concepts to check how Corona would pull it through.
I almost always work with HDRIs, because it is the only way i can check easily my light  set-up. CoronaforC4D actually has a quite flexible way on dealing with HDRI. I often after some rough modeling with a white material and a fast check with some HDRIs I have. I tend to keep my whites quite low, around a 165 – 180 value in some cases at this point.
For the HDRI, i created a sky object and i attached a Corona material with an HDR texture in the emission slot. For this particular scene i used a Peter Guthrie map, the 1934. I also played with some afternoon ones but at the end i decided to stay with the 1934.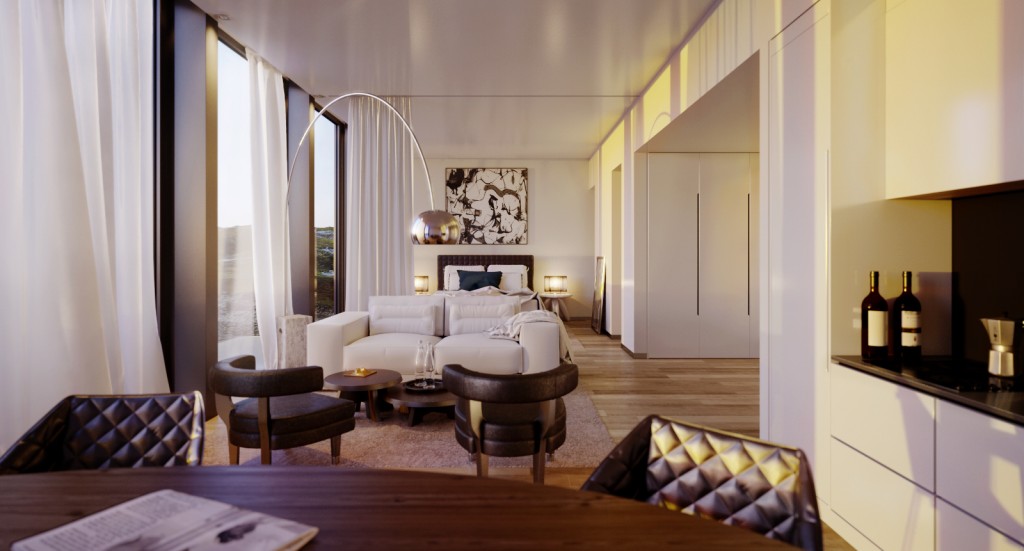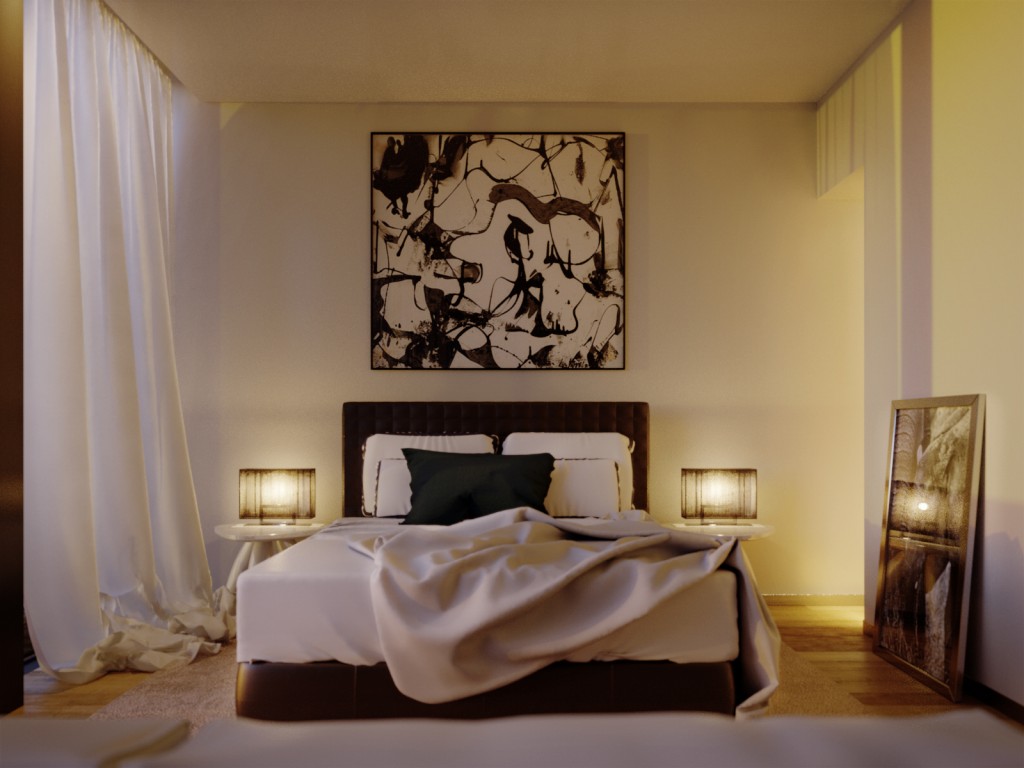 Almost always, I attach a filter to the HDR texture , so that i can have a bit more control (in this case I only lowered the gamma down to  0.8). The exposure is kept at zero. Nothing more here: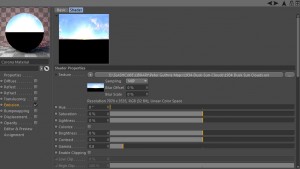 For the artificial lamps, i used Corona lights and again played with the temperatures of the lights and their intensities. Below is a top viewport screenshot of the lights.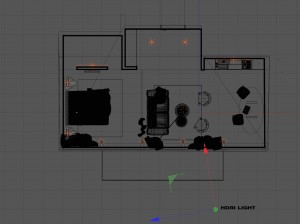 So, two entrance lights, a living room light for the ground lamp, four window lights for the window spots, two bed lights for the two lamps in the bedroom, a closet light for the closet and a kitchen light for the kitchen shelves. I used the same names for the actual corona lights, so below you can see all details for the lights above, including sizes, color temperatures and intensities.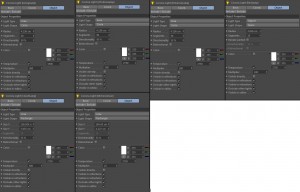 I like to control my exposure with the cameras options, so the same thing happened here. I enabled the photographic exposure from the Corona exposure and color mapping and played with my camera's exposure. Most often, i start setting my exterior light and then move onto my other sources. It makes things easier for me. Here are two examples from the scene (with HDRI only and lights only):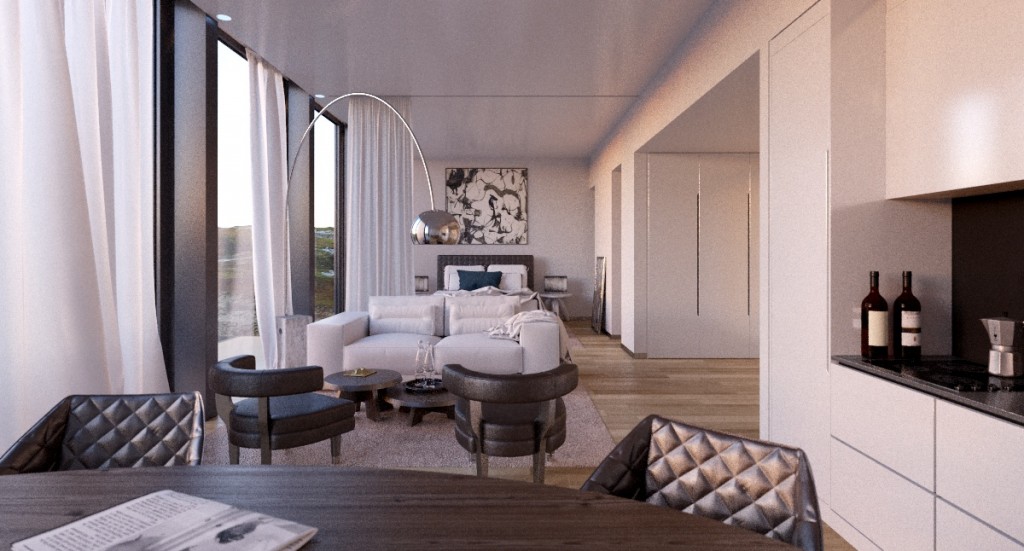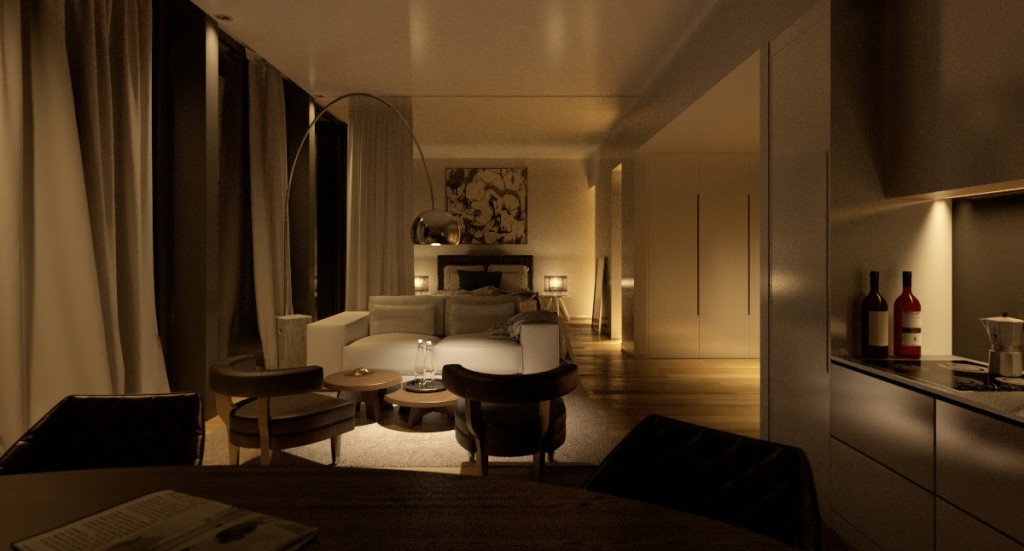 These are just right out of Cinema, so it helps me set up light balances for the final mood. Playing with lights in Corona is also one of my favorite parts these weeks!
Here are also my camera settings. Setting your camera correctly is crucial. So I spent time finding the correct settings that i wanted.


I think the most easy part of the process is the render settings. I don't want to mess too much, so I only take care my color mapping and my RGB curves in the Corona settings. All settings were left to default more or less, progressive renderer was chosen, and the rest you can see below.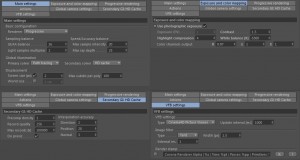 As i said, nothing crazy or strange. Just a good balance between artificial lights and sunlight, along with a good composition and camera proper setup..and you're DONE!
I always enhance my images in PS. But on this one i had really few layers. Unfortunately, my PSD is gone so I don't have screenshots of it. But basically, i added some light haze on the highlights via painting with Screen option, dodged a bit some lights to make them more warm in places, increased my contrast and balanced my overall color with some Color Balance. I finished it up with some Vignette and some Vibrance, again only in places i wanted. The raw render is not too far away from my PS image.
Here the raw render and the final one:
As far as I'm concerned, Corona can help a lot during  the setting up process. As long as you have a basic idea about composition and exposure set-up, then Corona can take most of the technical part over.
Hope that this could be useful to all. Anyhow, if you are interested or having questions, message me. I would be glad to help you out.
Cheers,