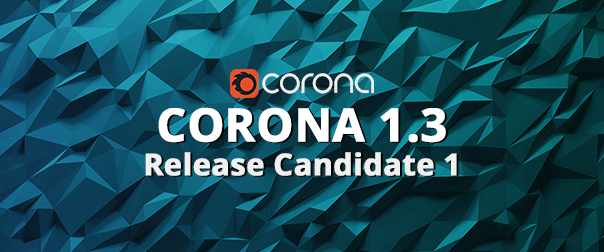 We have just released the first release candidate (RC) build of Corona 1.3. This is a daily build that we intend to publish as version 1.3, unless some previously unknown bugs are discovered. And we need your help with searching for any hidden problems to make sure the 1.3 version is as stable as possible.
To reward our beta testers, we have decided to do a little giveaway – we will reward the best five bug reports with free 1 year Corona FairSaaS license (1WS + 3 NODES). All other meaningful bug reports will be rewarded with 50% discount for a 1 year FairSaaS license.
edit: The contest is now over and winners will be announced soon.
How it works
Download the latest release candidate build here. It can be used with any FairSaaS, Box+Subscription, Student, or demo license. If you do not own a Corona license and you already used up the trial period on your computer, contact us to get free extension of the trial period.
Backup your work to be 100% safe
Test the build with any of your previous scenes, current work, or just with for-fun experiments
If you find any previously unknown bug, report it here: https://corona-renderer.com/bugs/
After 1.3 is released, we will announce the winners and contact them
Terms and conditions
Only meaningful reports will be rewarded. This means only reports of non-trivial, fixable, previously unknown defects caused by Corona Renderer are eligible. The report must provide enough info to help us with tracking the problem (a bare minimum is usually good description what is the problem, when it happens, and a scene or minidump – see our guide on bug reporting).
Only bug reports for RC builds before the official release of version 1.3 will be rewarded.
We reserve the right to unilaterally determine which bug reports are meaningful and which are not.
We reserve the right to give away less than 5 free licenses, if not enough eligible bugs are reported.
The free license can also extend an existing license or be exchanged for another reward, but only after mutual agreement between the winner and us.