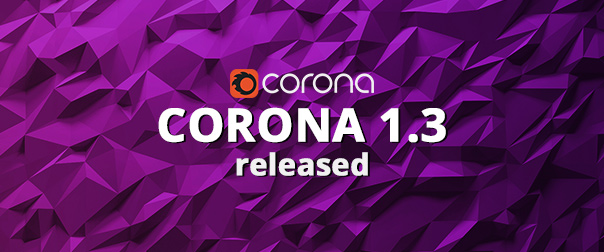 Here it comes: our biggest update so far. We are proud to present you the Corona Renderer 1.3 for Autodesk 3ds Max. It took us long 96 days, but we are sure it was worth the wait. The whole team did a tremendous amount of work in past months on this release and I would like to say thanks to everyone involved in this process. Thank you.

Quick Facts
---
Yes, it is faster again in some specific scenarios.
Corona Renderer 1.3 is freely available to all our customers on FairSaaS (monthly, yearly), Box with Subscription and Educational/Student license.
Supports Autodesk 3ds Max versions 2011-2016.
Company News
---
As you might have noticed, Evermotion is now offering Corona Renderer compatible models. We are very happy with this move as it marks another important step towards establishing Corona Renderer as "the" render engine in archviz field. I hope I don't have to mention that positive sales numbers from these two initial model collections will speed up introduction of further collections (hint: buy ;)).
We will also have our historically first advert in 3D World magazine (issue 202 – on sale 4.11.2015). The reason why I mention this is that it also contains 10% discount code which is applicable to every single license which we offer. You can buy the magazine also in digital format.
We have successfully started our reseller program with partners that respect our values and ethical and pricing policies. The list of the resellers will be published soon (in days).
We have started re-thinking and re-building some parts of our website. There will be many changes ranging from content, navigation, translations, to customer zone and sales system. It is a huge task which will most likely take a big amount of time and effort. Our new UX specialist, Jirka, is currently working on it. You can check some changes we already implemented: a new "Tutorials" section has been introduced, and Gallery now has filtering by category. In matter of days we will also make the "Pricing and Licensing" page multi-lingual (EN, RU, UA, ES, IT, DE, FR), and we will add a "Resellers" page.
Ondrej has announced betatesting giveaway in our previous post. The winners of the free licenses will be announced and contacted in the next couple of days.
New Features
---
Animated Corona Proxy
We added animation support to Corona Proxy. It uses the same .cproxy format as the old static proxy.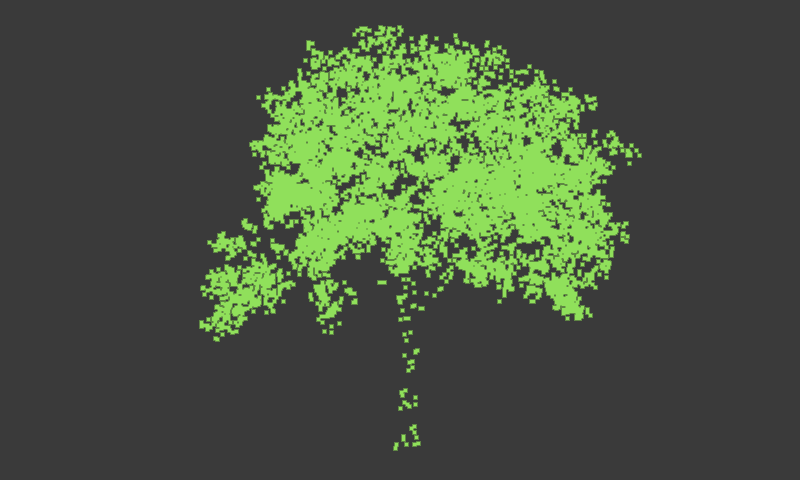 Anisotropy Improvement
Reflection anisotropy is now in object space by default (highlights are rotated when rotating the object). UVW-space anisotropy can be optionally enabled.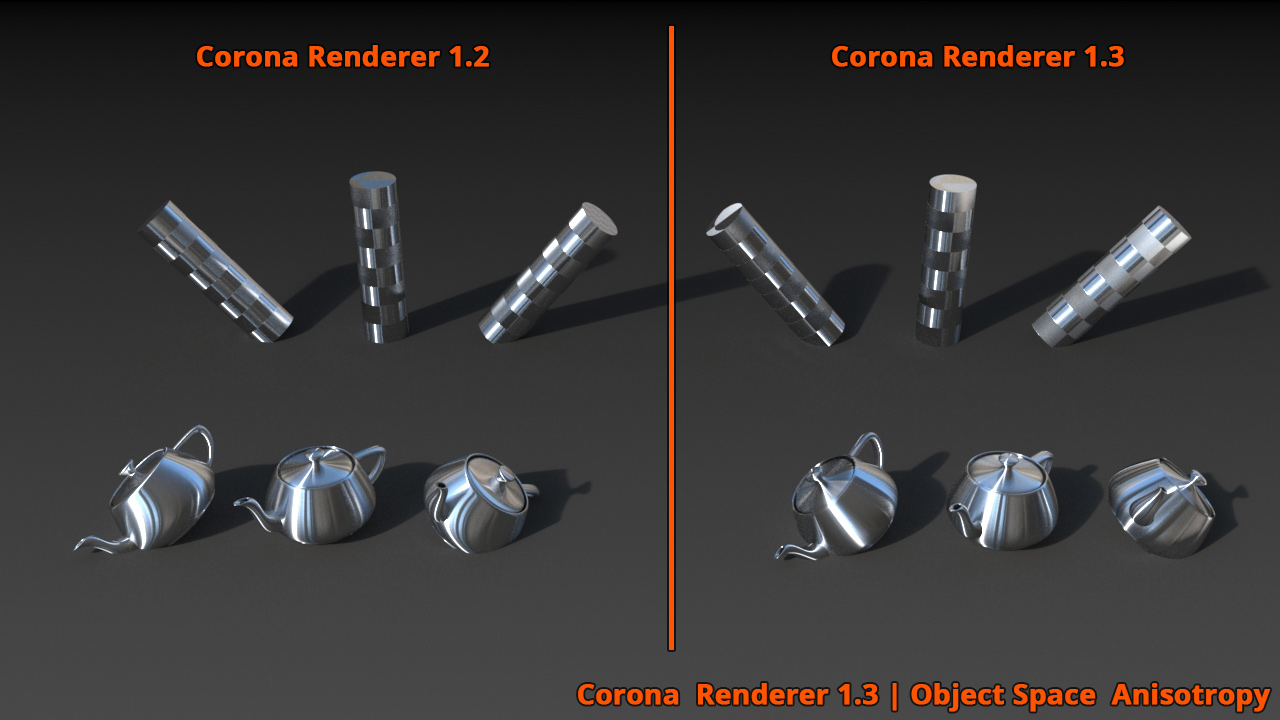 Added Corona Layered Material
Our new Layered Material works like 3ds Max Blend material, but it combines multiple materials instead of just two. This for example allows quick setup of complex rusted or worn-off materials.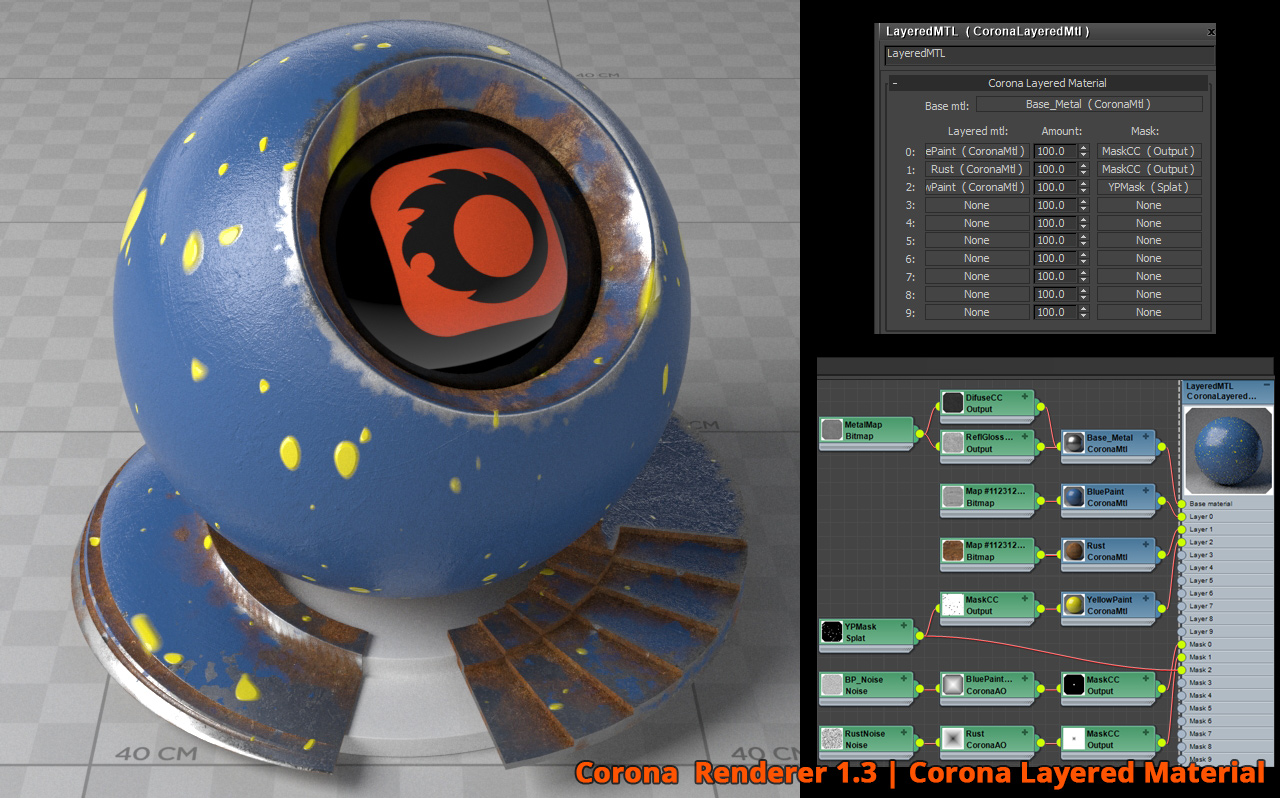 Optional Render Elements Anti-Aliasing
Render elements can now have anti-aliasing enabled or disabled individually. Both elements with and without AA can be rendered in a single shot. Also the "Render elements without AA" checkbox was removed as it is no longer needed.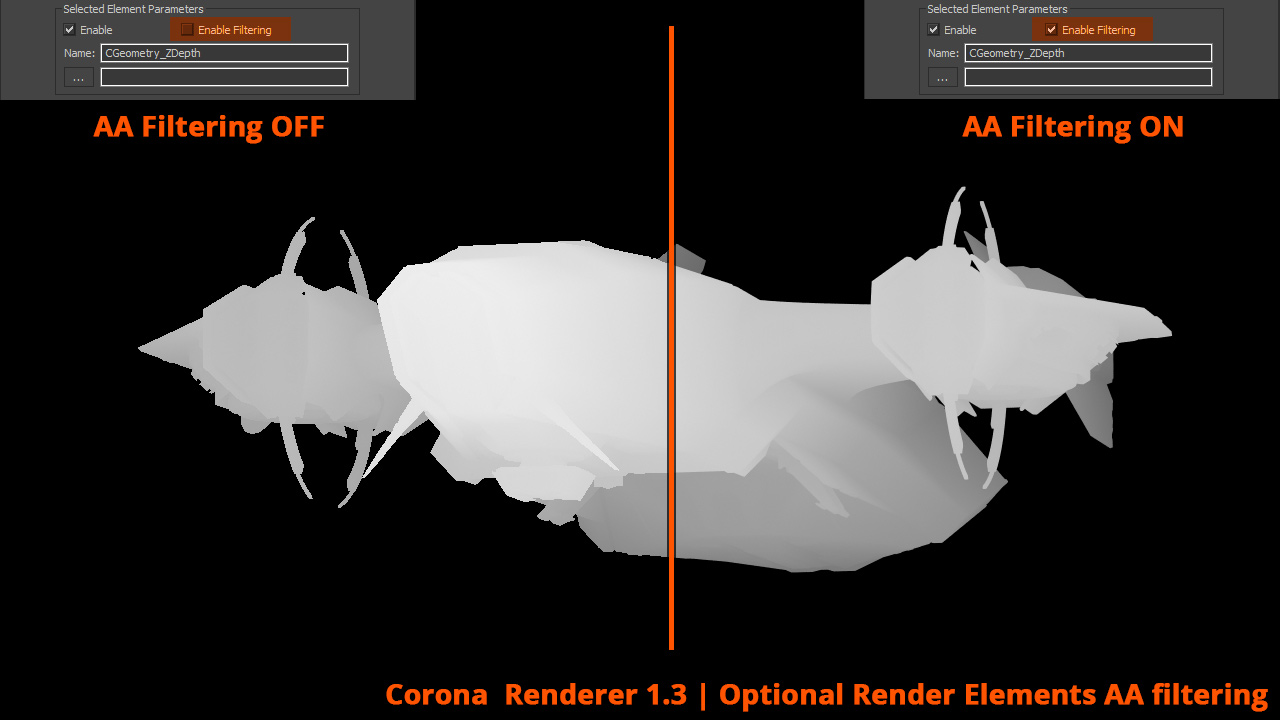 Vector Displacement
We continued improving the displacement mapping after the 1.2 version by adding vector displacement support (using the 3ds Max vector displacement map).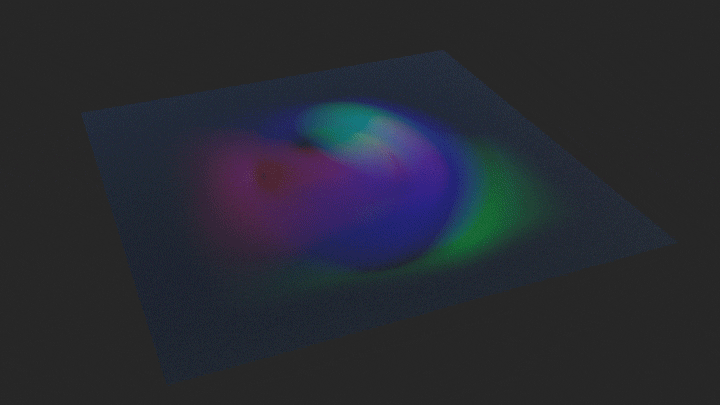 Advanced Render Selected
Added advanced "Render selected" option – render mask by an include list, object ID, or viewport selection. Excluded objects are not rendered directly, but they still show in reflections/GI. This option is suitable for tweaking a single object in the scene without having to compute the rest. It can render the selected objects both on top of black background (for compositing) and on existing render (for previews), based on the "clear VFB" option.
Error Reporting with Online Help
The error window was completely reworked to give a clear overview of all problems and to allow better filtering of issues. Errors now have a "Learn more" button that opens our support portal page with more info on each individual problem, and a button that selects the problematic object in the scene, or corrects the problem.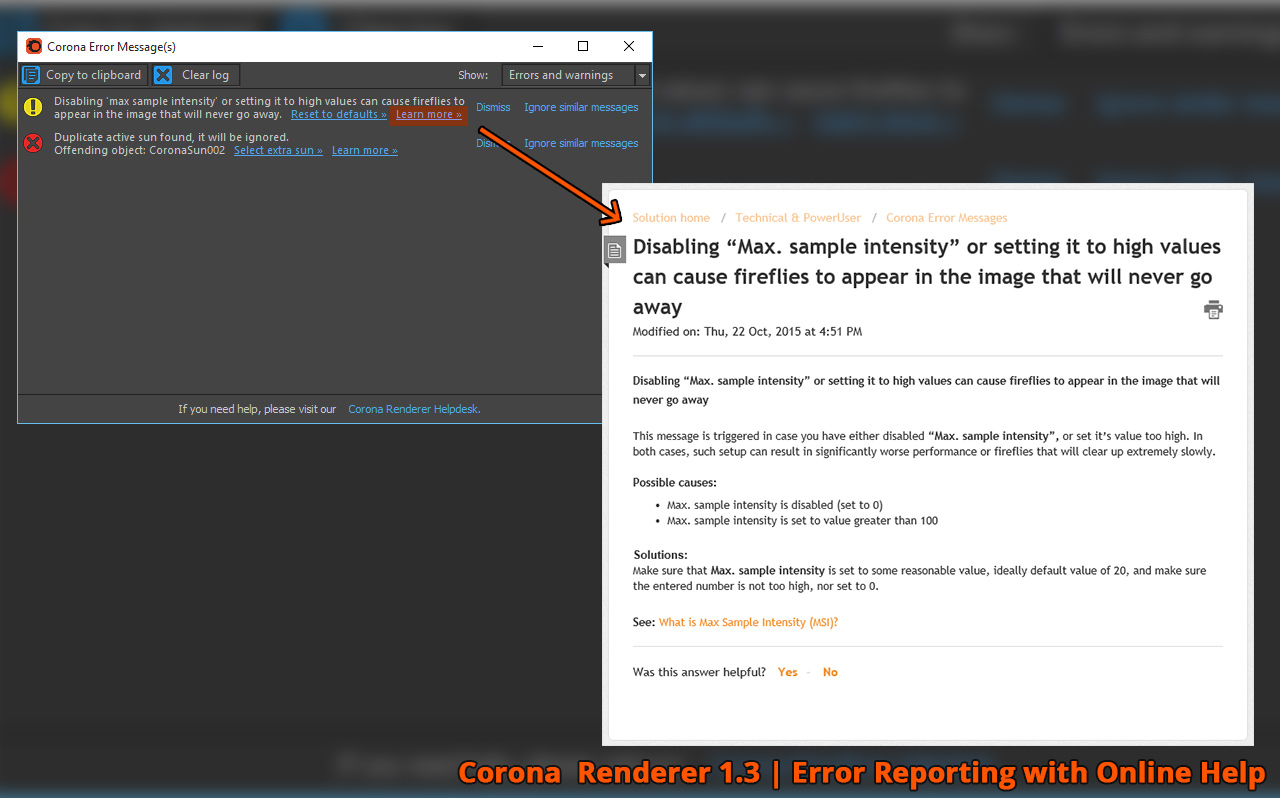 Also many new error types are now reported, such as:

Having "Bitmap paging" or "Fault Tolerant Heap" turned on (both can cause massive slowdown when rendering)
Incorrect 3ds Max gamma settings
Unsupported maps/materials, missing textures, …
Using unsupported 3ds Max features that cause unexpected behavior, such as multipass camera effects
Running low on RAM
Finally, some error messages are now forwarded from DR slaves to the master PC – such as missing texmaps, missing Corona license, Corona version mismatch, or missing Backburner. This makes debugging distributed rendering much easier.
Corona Scatter – Collision Detection
Much denser packing of scattered instances is now generated when "Avoid collisions" is on and the instances are randomly rotated. We also added the "spacing" parameter – it relaxes the self-intersection constraint a bit, making it possible to densely fill an area with almost non-intersecting instances.
Interactive Rendering Improvements
Interactive rendering now respects the currently selected aspect ratio. It also supports the region/blowup modes.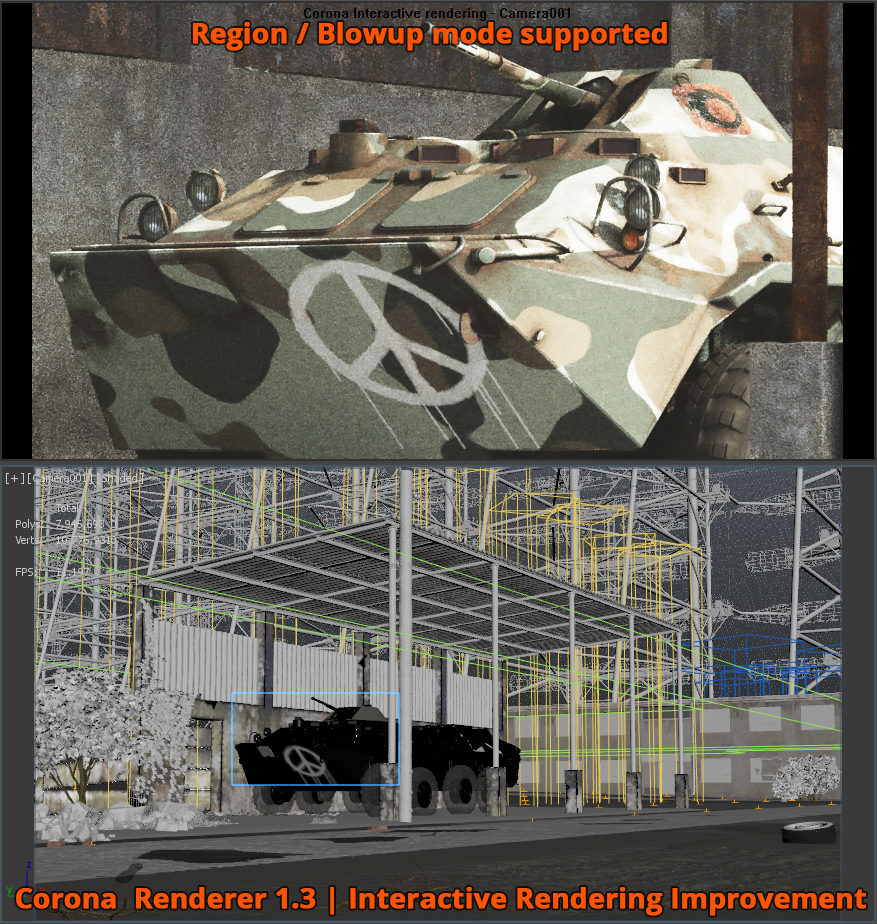 64+ Threads Support
Corona Renderer now correctly works with more than 64 threads without any workarounds such as running DR on the same machine.
Better Backburner Support
Corona built-in distributed rendering now works when submitted through Backburner.
Smaller Improvements
---
Displacement Improvements
We removed the visible transitions between displacement tessellation levels.
Rounded Edges Is Now a Separate Map
Rounded edges option was moved to a separate map, and now has an include/exclude option. More improvements are coming up.

Compatible Materials/Maps Displayed Only
Only compatible materials/maps are now displayed when picking new materials/maps in the material editor.

Other Improvements
Displacement improvements

Decreased polycounts with no loss in quality due to improved out of frustum culling.
Precomputation can now be cancelled.
Displacement is now properly updated during interactive rendering, when the displacement texture is modified.
Displacement now reports running out of memory and stops the render instead of crashing.

UHD cache

Number of records created when precomputing animation in multiple frames is no longer limited to 200k.
When loading cache file fails, new cache is computed from scratch instead of reverting to path tracing.

Interactive rendering

After doing regular render during interactive rendering session, the interactive rendering does not immediately start over after finishing the render (which previously caused the render to be overwritten).
Corona VFB can now be maximized when doing interactive rendering.

Generally faster scene parsing.
Fixed light leaking happening when using reflective materials in some specific situations, and fixed black spots happening on reflective objects at grazing angles.
New colored opacity handling system: opacity color is now always interpreted as a color. Opacity map is evaluated as mono (unless loading old scene with legacy checkbox on, then it is evaluated as color). This is to make the usual scenarios work in 3ds Max.
Future-proofed the loading of scenes from different versions – there should be less problems when reverting from new version to old one (starting with reverting to 1.3 from future new build)
Updated the Corona material converter to version 1.20 and proxy exporter script to version 0.04, both of which bring various improvements.
Improved IES lights sampling, resulting in less noise.
Increased anti-aliasing quality of the first pass.
Various improvements in licensing server/activation system based on user feedback.
Made clearing VFB more consistent and fixed several of the use-cases related to it.
Added additional bump map option to CoronaNormalTex.
Submaps of Corona materials/maps are now displayed in track view.
RaySwitch and layered materials are now created with a default CoronaMtl as sub-material.
IOR value lower than 1 in textures will now render as 1/value, so you can use LDR maps without using output manipulation. This is to improve compatibility with applications such as Substance Painter.
UI changes
---
Improved the Corona "About" dialog

Improved the Activation Dialog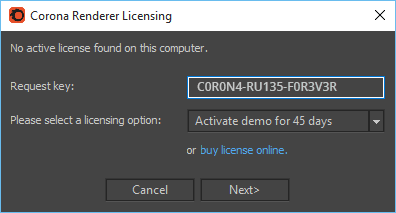 New Corona VFB Icons
Improved docked interactive VFB idle screen
Better icons in the installer
Texts in licensing/DR servers can now be directly selected and copied
Render dialog tabs now remember their position when the dialog is closed and re-opened
DR tab in VFB is no longer immediately cleared when rendering stops
Pressing start button in Corona VFB now works more like pressing F9 in that it renders only a single frame in the current time, not the entire animation
Right-click pixel probe values in VFB are now more precise (1.0 instead of 0.99994)
DR server is now being selected to be installed by default
When renaming Corona Sun/Light, the target is now renamed too
Bug fixes
---
Combining Different Light Types
Fixed slow rendering when different light types were combined in a single scene.
Fireflies when Using Lights Inside Volumes
Fixed bug causing fireflies when using rectangle/disk lights inside volumes.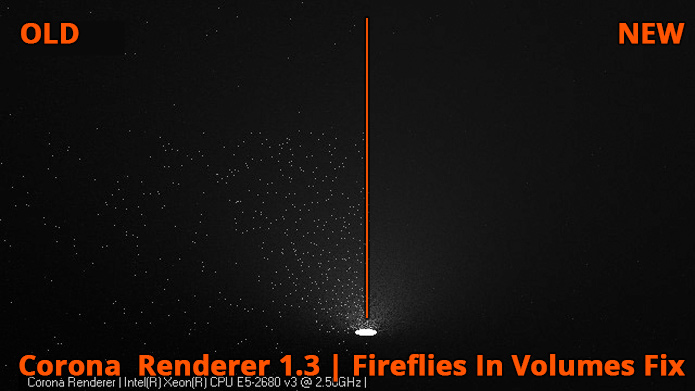 Self-Intersections Fix
Fixed self-intersections with extremely thin triangles.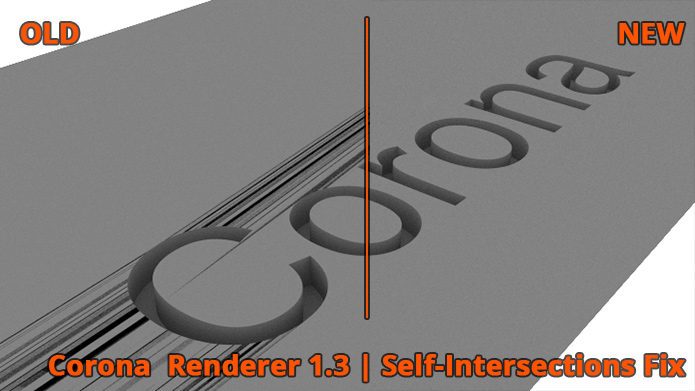 List of Various Bugfixes:
Fixed excessive noise when the same map is in scene environment and also reflection environment override.
Removed/massively reduced flickering when using textured corona lights in animation.
Fixed a bug causing interactive rendering to restart immediately after it is launched for the first time.
CoronaMultiMap in instance mode no longer changes color when editing scene in interactive mode.
Displacement now works if plugged to any slot of CoronaMultiMap.
Fixed Corona MultiMap not respecting input textures alpha.
Fixed Incorrect bitmap screen mapping when using crop render mode.
Corona RaySwitch/Layered materials now allow "show map in viewport" for nested sub-materials.
Fixed hang ups in some specific cases when CoronaAO is used.
Fixed Self-illumination sometimes giving incorrect reflected intensity. Now it should always give same results regardless of PT/AA samples.
Fixed Google Chrome freezing up when Corona is rendering.
Particle Flow crash fixes.
Fixed freezing of interactive rendering/3dsmax when editing materials in mtl editor.
Fixed black pixels (NANs) caused by faulty texmap plugins and by displacement used with faulty (non-manifold) geometry.
Various CoronaBitmap fixes: incorrect mapping when CoronaBitmap was used as direct visibility override environment map and seen through thin glass, UI freezes when changing the bitmap, loading of 32-bit targa files, …
Fixed Corona Scatter working incorrectly when offsetting its pivot.
Fixed Corona Light wrong intensity in Lights Explorer and State Sets.
Estimated remaining time is now correct when rendering with DR.
Fixed error causing a DR render slave randomly behaving like master.
Cancelling batch render will no longer save empty frames of the rest of the sequence.
Pressing Ctrl+Shift+Escape to start Task Manager will no longer cancel Corona rendering if VFB is focused.
Fixed color selector in 3ds Max Mult/Sub material sometimes randomly jumping left and right with Corona material.
Fixed a bug causing interactive rendering to re-tessellate objects when changing material parameters not related to displacement.
Fixed the most common source of "interactive renders image twice after a change" problems.
Download
Are you hyped now? Then go ahead and download the new version here: https://corona-renderer.com/download/
What's Ahead?
---
Before the version 1.4 is released, we will have to rewrite parts of Corona Renderer to make it MacOS and Linux compatible. Yes, it will allow the C4D version to run on Mac.
We are aware of bugs in the current Corona for Cinema 4D version, and we are currently finishing the Corona for C4D Alpha 4.1 hotfix. It should come out in days.
Our researchers, Jakub and Petr, are also making significant progress on de-noising, adaptive sampling, and efficient rendering of huge amount of lights. We are expecting to have all these features ready in 1.4, and to have them available in daily builds in matter of weeks.
We are also rewriting our standalone application to make it more powerful by supporting the Corona Proxy format and being able to export/import 3ds Max shader networks.
We will also be moving our office again – our tech office is becoming too tight (and cold). Next blog post might be from our new place (fingers crossed).
We have started full-time development of the Sketchup plugin. Michal Prokš has joined our team to develop the plugin. Once we will have something usable, we will let you know.
Thanks
Thanks again to everyone involved in Corona Renderer – to our devs, support, forum moderators, translators, beta testers, advisors, partners, resellers,  and our users.
Thank you!
Adam, Ondra, and the Corona Crew