We are proud to present to you Corona Renderer 1.4 for Autodesk 3ds Max! This release focuses on significantly reducing your render times (just check the stats that have been reported below) and speeding up your workflow, as well as increasing stability. The team has worked hard on this, and I'd like to thank them for taking Corona to the next level.
Quick Facts
---
Faster: denoising can reduce render times by 50 to 70% (see Recent Spaces' blog post here).
VFB History with A/B comparisons to quickly check results from different lights, materials, render settings, etc.
Adaptive image sampling that automatically focuses processing on tricky areas, resulting in even faster rendering.
Corona Renderer 1.4 is freely available to all our customers on FairSaaS (monthly, yearly), Box with Subscription and Educational/Student license.
Supports Autodesk 3ds Max versions 2011-2017.
Company News
---
Before you dive into this lengthy blog post, I would like to give you a short company update.
Our team is bigger again – Tom Grimes and Kerry Adams joined our team to help us with marketing and e-commerce related tasks. Tom will not only be handling all our marketing output, but most importantly he will be in close touch with communities to ensure that we know (and do) what our users want. Tom used to work for Caligari Corporation (trueSpace) as a Marketing Specialist until it was acquired by Microsoft in 2009.
Kerry is our external consultant who will help us with e-commerce and functional web re-design. Kerry was (and still is) involved in multiple projects, and the most well-known companies he has worked for (that we can mention) are Avast! and JetBrains.
Corona Academy is also moving forward so you can expect the first sessions later this year. Currently, we are updating all of the materials to reflect the changes introduced in version 1.4.
We are also planning to visit and speak at several conferences around the Europe this year. Here is the list of (semi)-confirmed events for the time being:
3DS London User Group –  London, 1.6.2016 (presentation)
End User Event 2016 – Utrecht, 16.-17.6.2016 (presentation)
AVD 2016, Gothenburg,  15.9.2016 (presentation)
SOA Academy Day 7 (?), Italy
New Features
---
Denoising
The new denoising feature analyzes noise in the 3D space, so is not just a 2D post-process. You can use it to reduce the number of passes needed to get a noise-free image, with render time reductions of 50 to 70% reported to us by third parties in commercial usage (not by arbitrary measuring tools or carefully crafted test scenes!). It will also remove fireflies from an image, and can be used only in that mode if required.
It is seamlessly integrated into the core as one-click solution. The denoising level can be interactively adjusted in the VFB after rendering is complete, so that you are not locked in to the level set in the rendering options. This lets you check and adjust the blending between the regular and the denoised image without having to re-render.
Compare the results below, where both versions of the images were created using the same preset render time.
Adaptive Image Sampling
This balances out the rendering calculations over the image to focus more processing power on tricky areas like shadows, so you don't find yourself with a clean image but still needing more render passes as you wait for one problem area to clean up.
A note – with the introduction of Adaptive Image Sampling, it is now more useful to use the new Noise Limit for your renders than the old Pass Limit, to ensure consistent quality for every image or frame in the least amount of time.
VFB History and Comparison
You can now save your render to a history buffer, and perform an A / B comparison in the Corona VFB on any two images from that buffer (including region renders). Ideal for speeding up your workflow when comparing settings, materials or lighting.
Interactive and Multiple Render Regions in the Corona VFB
It's now easy to add as many render regions as you wish to the Corona VFB, speeding up your workflow when you need to check multiple areas at once in either interactive or regular renders.
You can also move the regions at will in the Interactive renderer mode so that they act as a "sample brush", letting you paint-in areas which you want to refine faster or inspect at better quality.

Efficient Handling of More Than 255 lights
Corona now handles scenes with more than 255 lights without problems and with no penalty to render time.
Texture Baking Added
You can now use the Render To Texture option to bake your textures for exporting your models to real-time applications such as VR or games.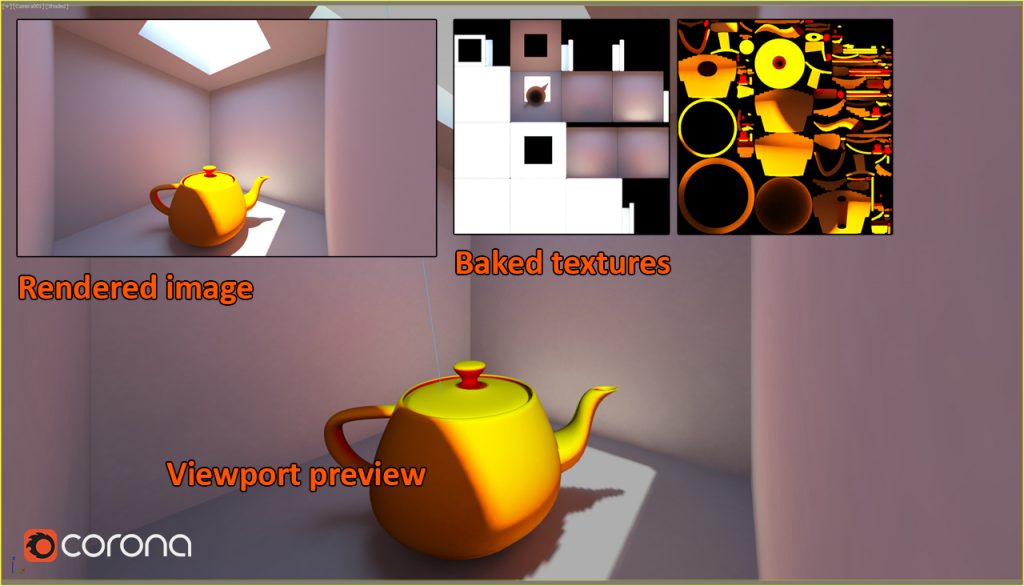 Virtual Reality Camera Added
Enabling this option in the Corona camera modifier will let you render your stereoscopic panoramas in equirectangular format. This is our first implementation of the VR camera and we plan to develop this functionality further as we move forward. Look for an additional announcement regarding VR in the near future in a separate blog post!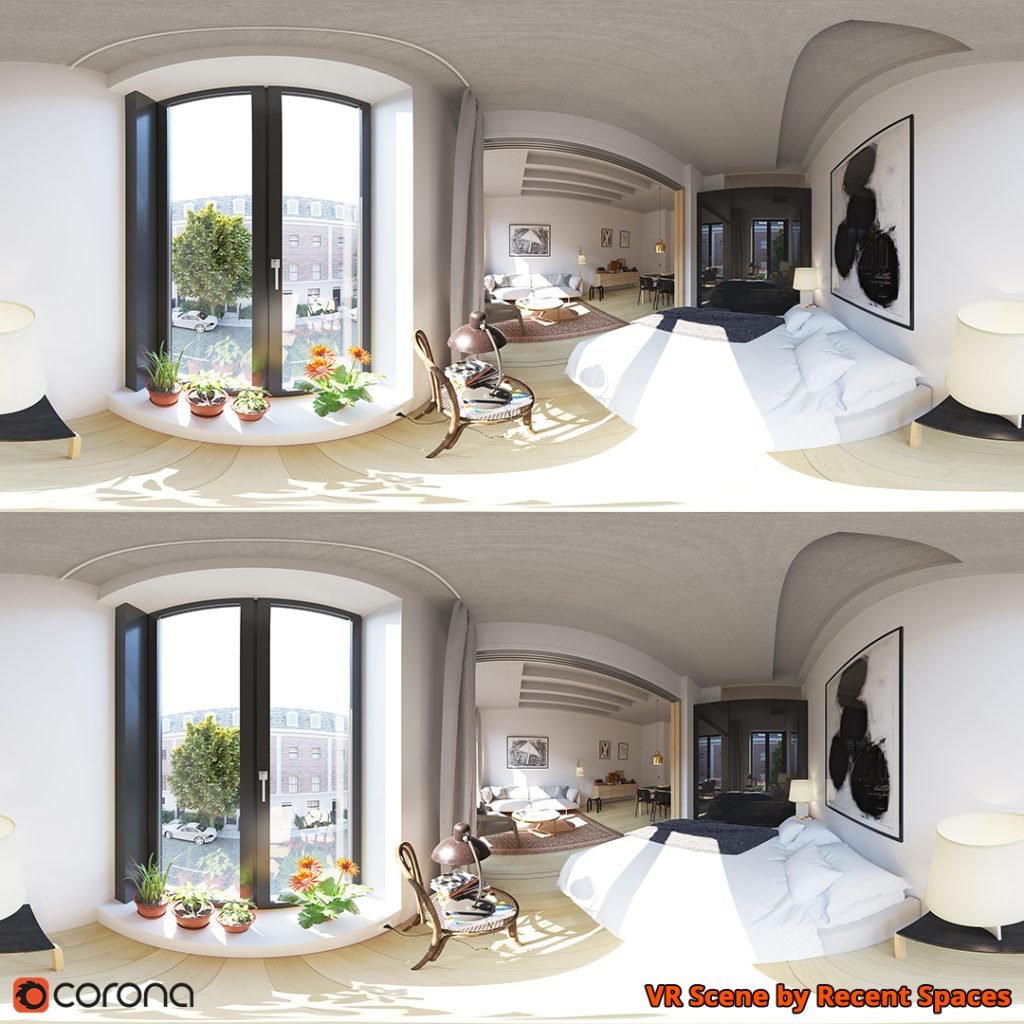 Corona Objects Switched to Nitrous in the Viewport
This will speed up viewport performance where there are a lot of Corona objects such as lights, proxies and scatter.
The tests below used a GTX 980 Ti with a Corona Scatter set to display 100% of the 100,000 instances in Wire box Previz mode – note the frame rate shown in each, as 1.4 far exceeds the GIF frame rate!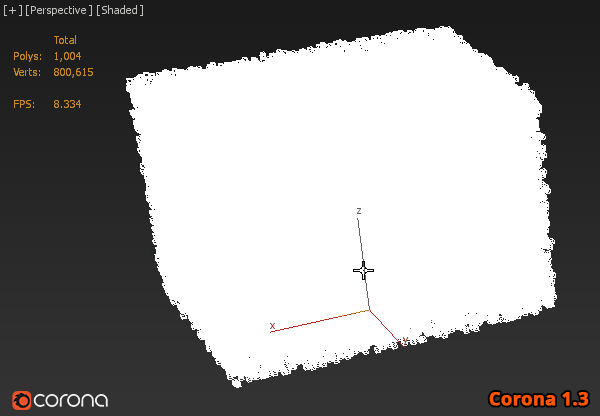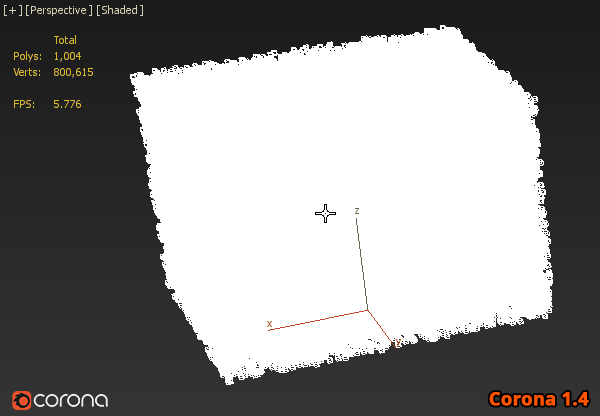 Corona Scatter Now Multi-Threaded
This gives a speed up of around 5 times on a typical quad-core i7 when generating instances from Corona Scatter.
Velocity Render Element Added
This gives you the option to handle some effects better in post-processing –  such as motion blur. The element offers both World and Camera space to match the needs of your post-process tools.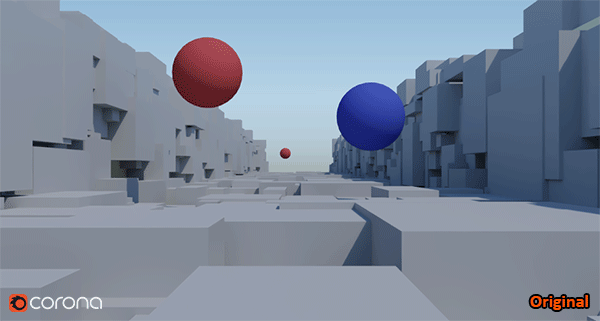 Beauty Pass Render Element
A new "Beauty Pass" render element has been added. This is useful if you need to render multiple denoising versions at the same time, which allows you to mask areas in post-processing to give different denoising levels in different areas of the image.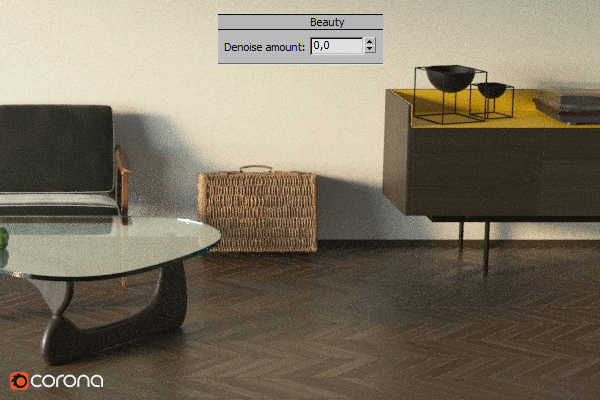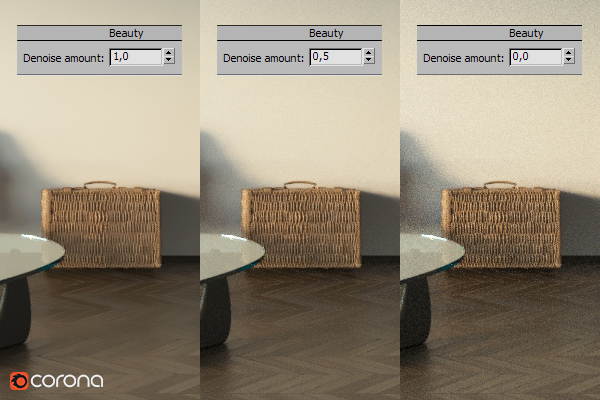 Smaller Improvements
---
Interactive Rendering supports render elements
Now you can check any render element in the IR.
3ds Max native normal texture map now supported
This removes the need to convert them to a Corona Normal Map.
Hue randomization added to the Corona Multimap
To allow for a more natural (or more extreme!) result, for example when applying colour to leaves, trees, grass, etc.
Corona Scatter option to show as point clouds in viewport
This will improve viewport performance when working with scenes with scattered high poly objects.
Other Improvements
---
General speed improvements of around 5 – 10%
Corona Scatter option to use density rather than absolute instances count
Corona Scatter option for manual updates for working with huge scatters in the viewport
New sharper image filtering
Panning in the Corona VFB is now much faster
DR / Network rendering

The DR server no longer requires admin UAC elevation, which previously caused problems with missing textures. An error message has been added if the DR server is run with UAC elevation.
Network rendering debug render element added
DR server is now a 32-bit application for easier deployment (no DLL depencies)
Added a '–noGui' option to run the DR server without UI

DirectX shader material now supported
Fixed some IES lights which produced excessive noise
The Interactive Renderer is now immediately refreshed when any parameter in the Common Renderer dialog changes
Autosave now saves both tonemapped version and raw version of the render, to allow both easily resuming the render and viewing the final result.
Falloff map evaluation now much faster
Added MultiMap batch load button
Stats panel and Render Stamp number formatting are now properly localized
Estimated time left is now printed into the Corona log file
.conf files now have human-readable properties for options such as GI solvers and render engines
The installer now unpacks both legacy and full versions in "Just unpack" mode
VFB smiley rotation direction now different for IR vs non-IR mode 🙂
UI Changes
---
Removed deprecated HD cache and Bucket renderer
Removed due to increasing incompatibility with new features and improvements.
Miscellaneous UI changes
Resuming a render now also loads existing statistics from the file (elapsed time, number of passes)

File selection dialogs now prompt when overwriting existing files
Added Render Stamp render element (allows saving of CPU, clock speed, passes, etc., at render time)
Better default autosave directory
All include/exclude lists now show the number of objects included/excluded
Clicking on the line between a light and its target now selects both light and target
Some error messages are now only displayed once
Merged multiple "zero scale object ignored" error messages into one, and re-classified it as a warning
Removed Internal Resolution Multiplier (this is replaced with highlights clamping option, and upcoming glare/bloom filters)
Bug Fixes
---
Using non-zero contrast no longer destroys HDR images
Previously, increasing contrast on an HDR image would cause highlights to get reduced, acting like another layer of highlight compression. This has been corrected.
Viewport display significantly faster when using Scatter with many instances where most of those are hidden
Viewport performance has been significantly increased when using Corona Scatter to create a massive number of instances but with most of those hidden.
The tests below used a GTX 980 Ti with a Corona Scatter set to display 0.1% of 5 million instances – again note the frame rate in each, as Corona 1.4 far exceeds the GIF frame rate.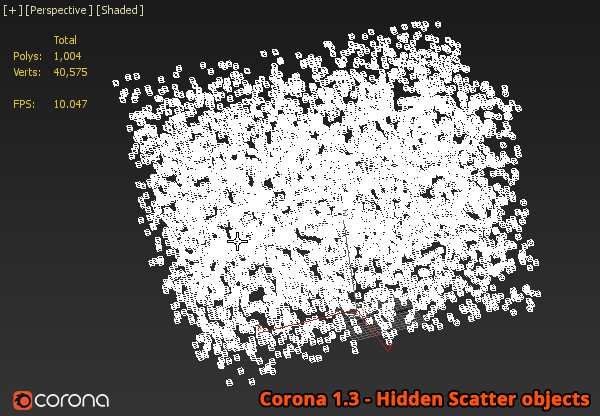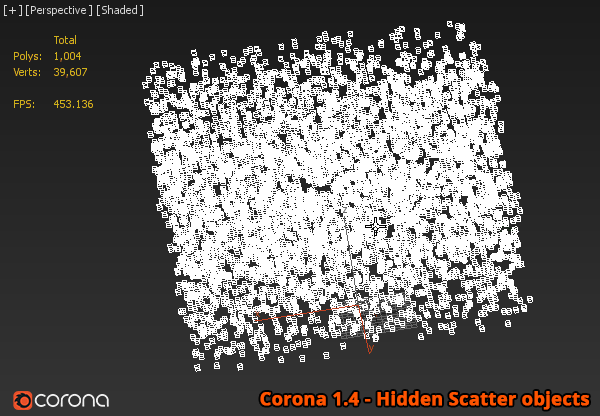 List of Various Bugfixes:
Fixed: Falloff map locks transformation of an object in Interactive mode
Fixed: Distance blend mode of falloff map uses world instead of camera origin
Fixed: Particle age causing crashes in Interactive mode
Fixed: Tooltips would not disappear
Fixed: Render Elements missing when using "render selected"
Fixed: Background blurring with repeated "render selected" uses when "Clear VFB" was off
Fixed: DR freezing during the parsing phase when using a very large number of Corona bitmaps stored on a network drive
Fixed: Google Chrome freezing while rendering
Corona Bitmap and Corona Sky now work as viewport background
Interactive Renderer now properly updates when render selected mode "Viewport Selection" is used and the viewport selection changes
3ds native light types are now properly scattered inside volumetric materials
Dramatic improvement to displacement quality in certain situations
Corona DR now properly renders frames with negative numbers
List of Minor Bugfixes:
Interactive Rendering

Fixed: Interactive Rendering not automatically reacting to displacement changes in some cases
Fixed: Incorrect zoom when using an orthogonal view + show safe frames + Interactive Rendering + a vertical image

DR

Fixed: Rare hang-ups of 3ds Max when rendering via Backburner
Fixed: Blank DR tab in some situations
Decreased logging frequency of messages in network rendering to solve some problems with Deadline

Corona Bitmap

Fixed: HDR maps sometimes loading incorrectly
Fixed: Bump mapping when used in combination with real world scale
Fixed: Visible banding when using 16-bit TIFF files
Fixed: Viewport representation of a Corona Bitmap gets blurred when using crop mode
Fixed: Issues with TGA support
Significantly lower memory footprint when using HDR bitmaps and single channel bitmaps

Fixed: Scatter "convert to geometry" sometimes produced incorrect results
Fixed: Scatter not updating properly in the viewport when scattering on an animation object
Fixed: Black spots with extreme motion blur
Fixed: Loading of mapping coordinates when legacy cbin proxy format is used
Fixed: Incorrect normals loading in Corona Proxy that sometimes happened when using the legacy cmesh format
Fixed: Problems with displacement subdivision in ortographic view
Fixed: Crash when exporting empty mesh as Corona Proxy
Fixed: Memory not being released when render elements were deleted
Fixed: Bokeh rotation was shown in radians rather than degrees
Material Editor previews no longer get stretched with non-unit pixel aspect ratios in the Global Render Settings
Third Party Plugins

Fixed: Crash with the Multiscatter plugin and Interactive Rendering
Fixed:

Forest Pack with Corona Multimap with animated camera and visibility clipped to camera frustum no longer changes color assignment to nodes
Download
---
And now enough reading and scrolling – time to download the new version from here:
DOWNLOAD LINK
https://corona-renderer.com/download/
What's Ahead?
---
You'll notice in the write up above that we already have plans for 1.5. Currently, we expect 1.5 to be less revolutionary and more evolutionary, so we anticipate a shorter development cycle for that.
Work hasn't stopped on the Cinema 4D and SketchUp versions, the programmers assigned to those platforms are still working uninterrupted. We'll continue to release news of those separately. Of course, the development of the features in this 1.4 release is also relevant for the development of those other platforms, so no need to fear that one is developed at the expense of another!
MacOS and Linux compatibility are also well underway. We will release MacOS version of Corona Benchmark in few days.
Thanks
---
Thanks again to everyone involved in Corona Renderer – to our devs, support, forum moderators, translators, beta testers, advisors, partners, resellers,  and our users.
Thank you!
Adam, Ondra, and the Corona Crew