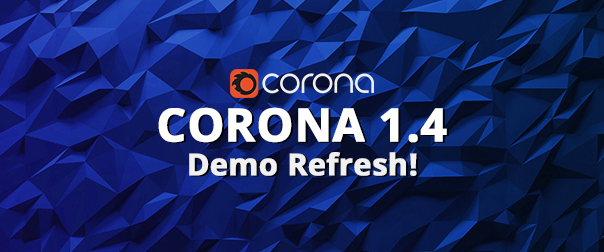 Corona 1.4 features some huge changes that transform both render times and workflow, making it almost like a different product.
For that reason, we have refreshed the clock on the demo – if you tried an earlier version and your demo expired, you can now try the demo of 1.4 and see just how far Corona has come!
Please note that this 'refresher' trial period will be 15 days for those of you who had an expired demo (new demo users still get the full 45 days). Also, this re-activation can only be done once per computer, so make sure you do that when you have plenty of time as you will be hooked once you start using Corona 1.4!
You can see all the changes in this release over on our announcement page – and now you can try those features for yourself even if you'd tested Corona before. Simply install Corona, and you can activate the refreshed demo period right from within Max. Enjoy!