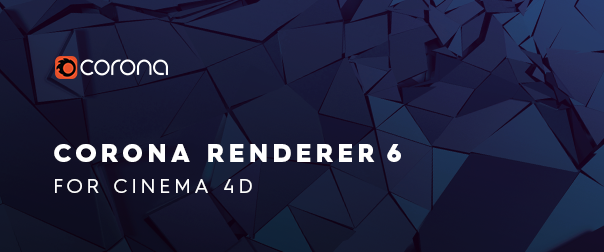 We're pleased to release Corona Renderer 6 for Cinema 4D! This time around we've focused on giving you the tools to attain greater realism and be more creative, while also speeding up your workflow.
NEW FEATURES VIDEO
For the tl;dr generation, here's the New Features Video for a quick overview of what is in this release:
DOWNLOAD
For those who already have an active license, or who want to try the latest version using the free trial, you can set the download going while you read the rest of the article! Grab it from:
Demo Refresh: If you have tried a previous version of Corona Renderer and your 45-day trial has expired, then you'll be pleased to hear that we have automatically refreshed the demo period to give everyone an extra 14 days! Simply download and install Corona Renderer 6 from the link above, and activate the demo license right within Cinema 4D. Enjoy!
QUICK FACTS
---
New Sky Model has better overall tint to the lighting in daytime, but most importantly supports the sun being below the horizon (as low as -2.85 degrees, or roughly 5.4 sun diameters) for dawn/twilight
Randomized tiling in the UvwRandomizer lets you avoid the "repeating pattern" look that even seamless textures can have
New Lens Effects give you vastly more control over bloom & glare
The Corona Distance shader lets you create "smart" materials that know how far away they are from objects in the scene. Use this to add waves around a coastline, wear-and-tear where objects meet, dirt and noise under window sills, and more
New Adaptive Environment Sampler removes the need for Portals, saving you the time (and pain!) of setting those up, while giving more accurate results
The VFB can now be set to use the same color space that Cinema 4D uses in the native Picture Viewer, perfect for when you are batch rendering or rendering an animation (as those always save from the Picture Viewer)
New Masking options that work in reflections and refractions giving you greater control in post
Node Editor Fixes giving greater stability, so you can safely make the most of what the Corona Node Editor adds to Cinema 4D
And of course lots of other quality of life improvements, bug fixes, and more!
COMPANY NEWS
WISHING ADAM WELL
If you've been following us for any length of time, then Adam Hotovy is a name you will be familiar with. You'll have seen him in talks, laughed and probably drank with him when meeting up at conferences, and of course seen his name in our history as one of our three founding members.
Earlier this year, health reasons meant that Adam had to change his focus in life, and although it was a hard decision to make, he had to step down from his role in the company.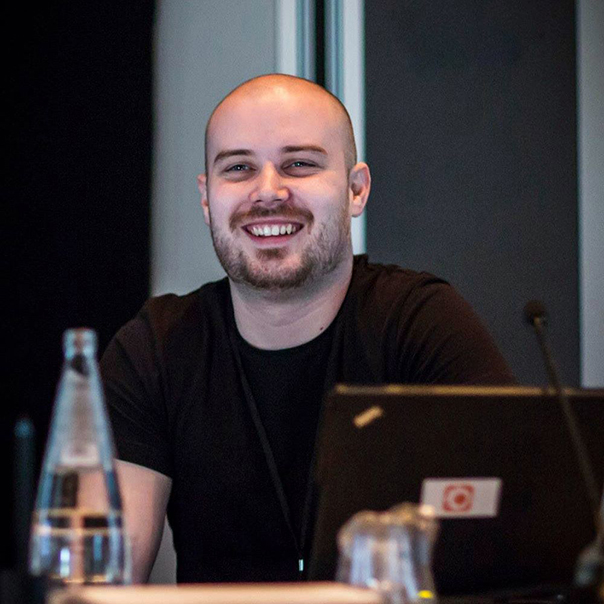 In line with Adam's "no bullshit" way of doing business, we have to shoot straight and say that we were sad to see him go from the daily running of the company, but also that we totally understand the need for the decision and think it was the right one. We ask you to join us in wishing him and his family well!
Adam, thank you for all you have given to our users, to us as individuals, to the company, and to the software. None of us would be here doing what we do today without you!
WELCOME NEW TEAM MEMBERS!
Join us in welcoming our latest recruits!
Kristýna Bártová, HR Specialist
Martin Dorazil, C++ Developer
Michal Navrátil, C++ Developer
Veronika Kučerová, Finance Accountant
Benjamin Rosas, Cinema 4D Support
Russell Traill, Marketing Specialist
Aleš Suchomel, C++ Developer
Petra Hapalová, C++ Developer
Jan Marek – QA Specialist
And all the Corona babies!

AND WE ARE STILL EXPANDING!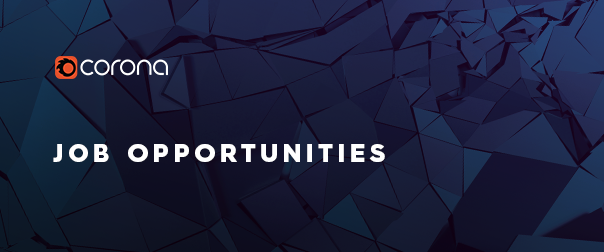 We are always on the lookout for the right people to join the team. Right now we are looking for C++ Developers – head to our jobs page to check out requirements and to apply!

CORONA RENDERER FOR 3DS MAX
Naturally we've been working hard on the Corona Renderer 6 for 3ds Max release too, and you can look forward to that next week!
MAJOR FEATURES
---
New Sky Model
The new Sky model provides greater accuracy, and most importantly, the sky continues to be accurately illuminated when the sun is below the horizon, down to as low as -2.85 degrees (or, approximately 5.4 sun diameters below the horizon), which enables dawn and twilight effects. You can see the difference with the sun below the horizon in the comparison below: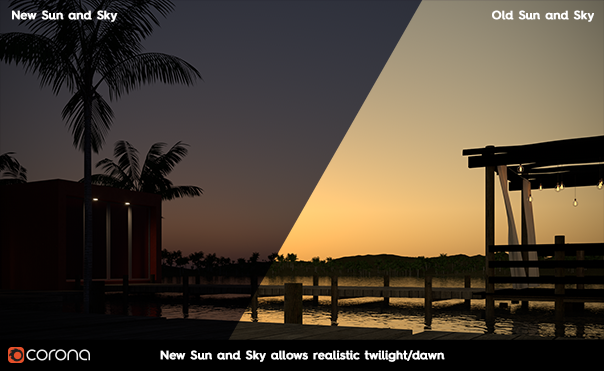 Even full daylight scenes look better however, with less green present in the lighting, giving the best procedural environment lighting yet:
The Textured mode in the Corona Sun also allows for realistic banding in the sun when it is low on the horizon, which looks great with the new sky: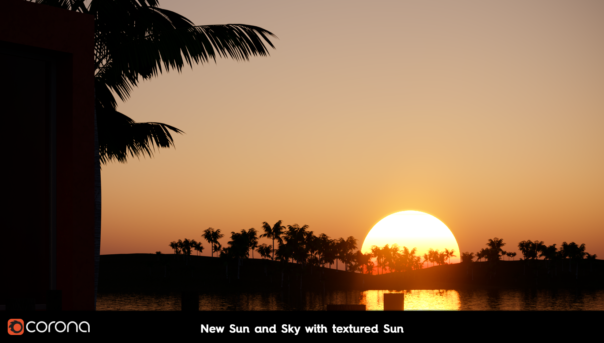 As before, the new Sky model works with multiple suns and skies, so that you can integrate it into LightMix and in one render get multiple times of day.
When using multiple procedural skies (new or old model) with multiple suns, you can connect each sky to a particular sun; all you need to do is connect each Sky to the associated Sun, as seen below: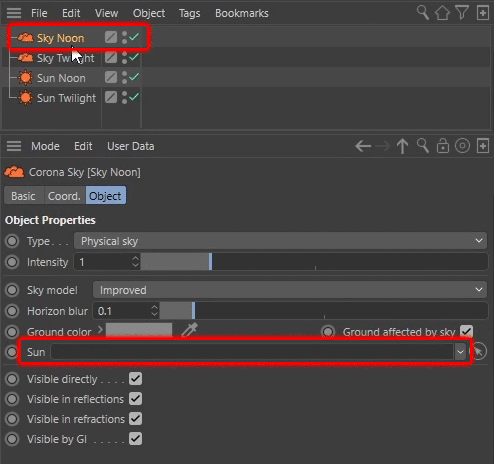 The Sun's turbidity will be taken from the Corona Sky that is linked to that Sun. Sky Turbidity is not yet supported with the new sky model, but this will be added in the next iteration of this model.
For more details, please read the helpdesk article.
Randomized Texture Tiling
Even seamless textures show obvious patterns when you repeat them often enough across a surface, and that's always very distracting to the eye and a real giveaway that an image is CG. Now, the UvwRandomizer includes Randomized Tiling to avoid this kind of look, and it works for all shaders, including displacement and bump.
For this to work, either the object has to have correct UVW mapping (via unwrapping, or the UVW map modifier), or you can use the UVW Randomizer in combination with the Corona Triplanar map, which will both randomize the texture and prevent seams and stretching without the need for UVWs.
You can see several examples below:
Room Scene:
Landscape Scene:
The UvwRandomizer also works with native shaders like the Noise shader (they must be in UV mode, of course). The example below uses the Triplanar map to avoid having to unwrap the model, and using a native Cinema 4D procedural shader as input:
The UvwRandomizer also takes into account the UV scaling in the Cinema 4D texture tag.
There's also a High Quality filtering option. This greatly increases the quality of the resulting blend, especially on tile boundaries, at the cost of slower computation. This is enabled by default. You can compare the difference this makes in the image below, both using randomization: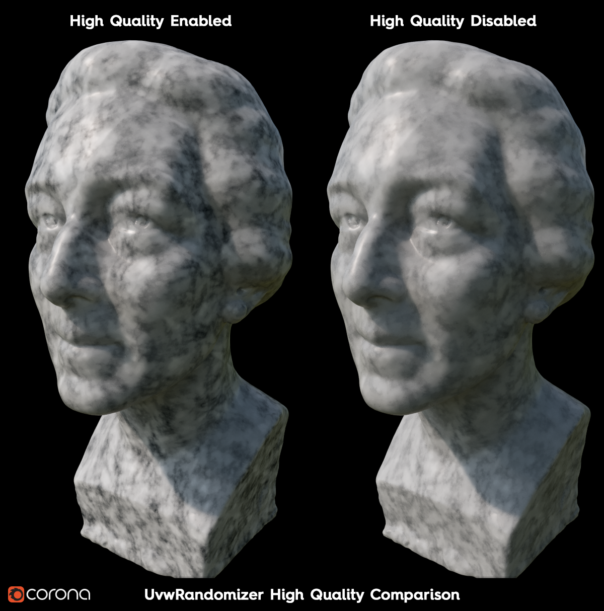 Below, you can see the material setup used for the statue:
You can find our helpdesk article here.
New Lens Effects
We've taken the cool features and power of V-Ray's lens effects, and then simplified the UI to make it easier to use! This means you now have more options, features, and control over the look of bloom and glare in your scene.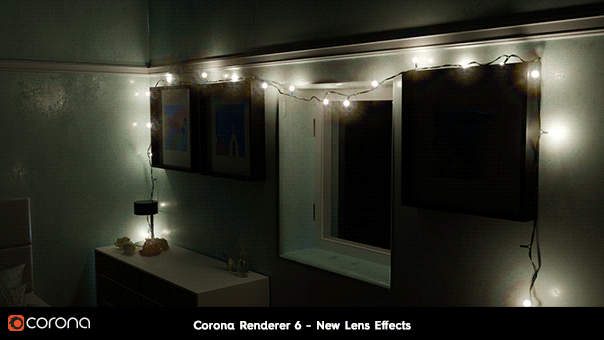 Here's another example – first, let's look at the old Bloom & Glare: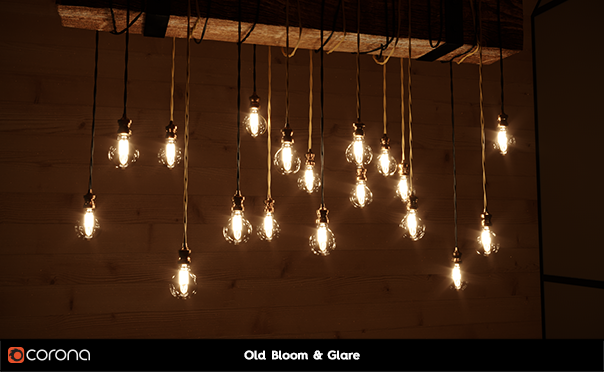 And now some examples of what is possible using the new Lens Effects (click for a full size version):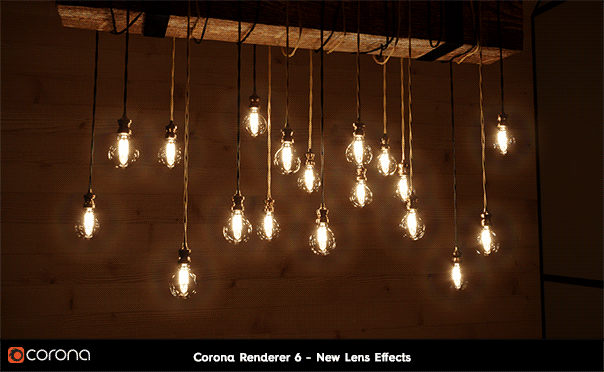 The Corona Distance Shader

The new Corona Distance shader generates a color gradient based on the distance to another object. It is also able to detect when the distance is on the inside of an object. This has an endless number of uses, limited only by your imagination! Some examples to get you started could be:
Modifying water around an object, e.g. to show displacement around a boat, ripples around a rock, etc. This would work with sand or ground too.
Add dirt, noise, corrosion or wear-and-tear where two objects meet, e.g. to add staining on a concrete wall under a windowsill, or to make mud more wet only under some rocks.
Various VFX effects, such as one object beginning to glow when it gets close to another, or a "force field" that opens up to let an object through.
This first example shows a very simple setup just to illustrate how Corona Distance shader works, and to show that it is dynamic and responds to animation of relevant objects in the scene.
It can be used to create ripples around a boat in the Displacement channel, following the boat if it is moved, so you can easily reposition it in the scene without having to update maps to match: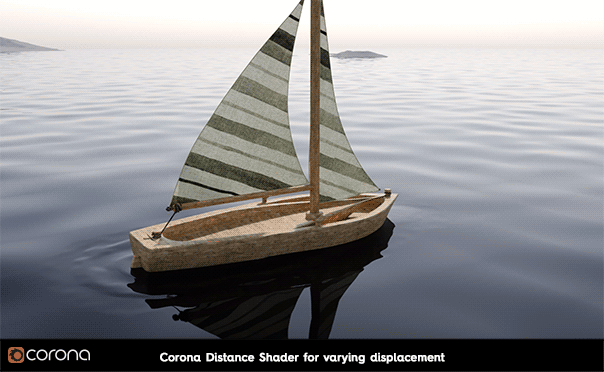 You can use it for VFX, as in the example below which uses one Distance Shader to shorten the grass, and another in a Corona Volume Material to add the "electric" effect: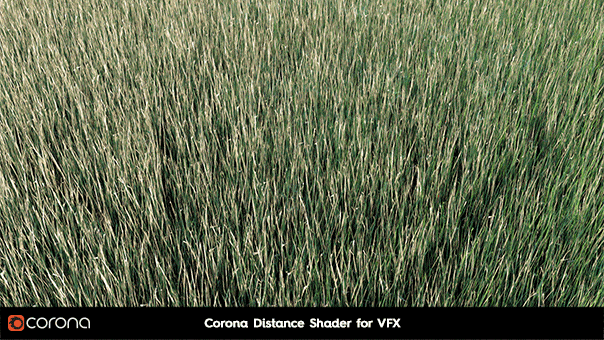 There are many ways the Distance Shader can be used. Below you can see the set up for adjusting the scattering of grass from the first image. The same Distance Shader is also used to scatter rocks around the edges of the path, to change the color of the grass near the path, and to change the color of the ground in the path, made possible by the Node Editor: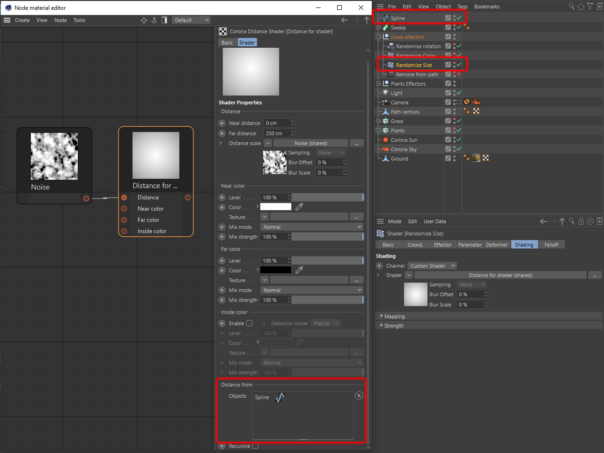 For comparison, below is the set up in the Winter Landscape scene, where the Distance Shader is applied to a Corona Volume material in "Inside Mode", which in turn is applied to a cube (a snapshot of the scene geometry is embedded in the image). You can see that this Distance Shader looks at the distance to two objects, the landscape and the lake.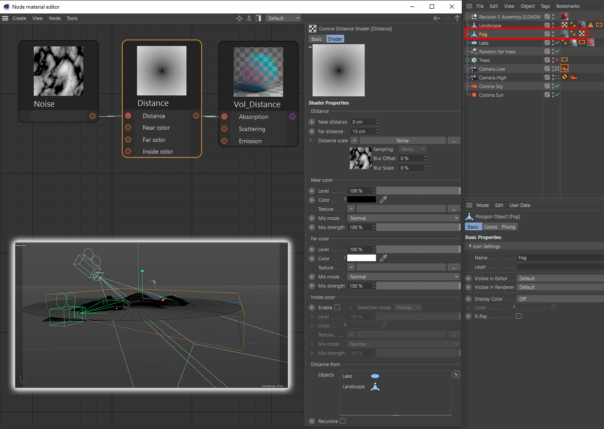 The output can be seen below. Other Distance shaders were also used to affect the snow and other features in the scene:
You can get started with the Distance Shader by following our helpdesk article.
Cinema 4D color space in the VFB
Whenever you see a render on screen, the high dynamic range data in the render has been interpreted through a color space to turn it into the RGB range a monitor can display. Cinema 4D's Picture Viewer has its own unique color space, and that means what you see in the Corona VFB, which uses our color space, was a little different from what was seen in the Picture Viewer.
Often this was not noticeable, except in images with lots of dark areas. Because batch rendering and rendering an animation sequence can only save from the Picture Viewer, this would become a problem for that kind of image – what you saved was not the same as what you had carefully set up in the VFB.
An example of the kind of image where this was an issue is shown below:
To resolve this, the VFB now uses the same color space as the Picture Viewer by default. This may mean that rendering an existing scene may now look slightly different in the VFB and when saved from the VFB.
No need to panic of course! There is a checkbox in the Corona Renderer preferences which you can disable for those times when you want to recreate the identical output for an existing scene. You can turn this checkbox on and off at any time, even after a render has completed, so no need to re-render if you change your mind as to which color space you want to use: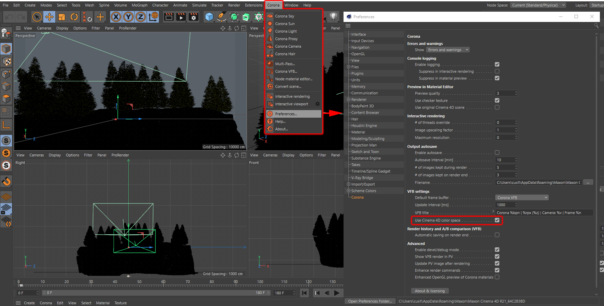 For our example scene, leaving the checkbox enabled we can now adjust the VFB until we get an image that matches what we want, now safe in the knowledge that saving from the VFB, the Picture Viewer, from batch rendering, or for an animation sequence, will all look the same.
(In case you are wondering, yes, both images in the comparison above are identical – that's what we aim to show!)
Please note that nothing has changed about the rendering process – Corona is rendering exactly the same as before, and this only changes the way the full-range color data created and stored in memory during rendering is interpreted for display on the screen and when saving to non-high dynamic range image formats.
We strongly recommend leaving the checkbox enabled, and only disabling it when a scene from a previous version looks too different and you have to reproduce the exact same results!
File Type options available when saving from the VFB
If the "Use Cinema 4D color space" checkbox is enabled, then when saving from the VFB, you will now be able to access options for the chosen file type (e.g. JPG compression, PNG alpha, etc.)
New Adaptive Environment Sampler
Let's say it together – NO MORE PORTALS!
Based on V-Ray technology, this new sampler means you never have to spend time setting up portals ever again – and you will still get even better results than Corona Renderer 5 with portals, saving you render time too!
The new Adaptive Environment Sampler is more accurate than when using portals, so you may see some changes to lighting and shadows in a scene from previous versions where portals were used. Noise may clean up faster in interior scenes, so as well as more realistic results, you may save render time too!
(Free Valcucine Kitchen scene from Amr Moussa / Studio Heisenberg, modified to include portals, downloadable from https://corona-renderer.com/resources/models )
In our example above, we turned off any filtering, denoising, blur & sharpen, etc. and only let it run for a small amount of time, to make sure the noise was as visible as possible so that you can compare the differences.
The new Adaptive Environment Sampler is the default in all new scenes in Corona Renderer 6 and newer, so you never need to think about setting up portals again.
Note 1: This is the Adaptive Environment Sampler, so it does not benefit render times or noise for non-environment lighting. This means that scenes where the environment lighting is the dominant light source will show the biggest improvement.

Note 2: The difference is most obvious with an HDRI as the environment lighting; there will be little or no difference with simpler environments such as a Corona Sky

Note 3: Portals have been completely removed from Corona Renderer, so when rendering a scene from before Corona Renderer 6, any portals will be ignored, and can safely be deleted
Node Editor Improvements
The Node Editor is something unique to Corona Renderer for Cinema 4D – it takes a whole different approach to "nodes" than the native C4D approach, and is something that was created uniquely for Cinema 4D (as Max already had the Slate editor to provide this level of functionality).
That said, the Node Editor has been overdue for an overhaul to address stability problems, and that is exactly what we've done! The underlying Corona Shared Shader powers the node editor functionality, allowing things like one shader to connect to many materials or to many inputs on one material (which means you can change all those materials at once by updating that one shader), and we've reworked the internals of that to improve stability and allow for future improvements.
PLEASE NOTE: Because the new node system saves data in a different format, if you save a scene using Corona Renderer 6, you will not be able to load and use it in earlier versions of Corona Renderer.
Stability improvements (fixes of crashes, materials rendering differently in the viewport and the VFB, parts of the node system not being updated, etc.)
Materials with shared shaders should now correctly save and load to and from the Cinema 4D Content Browser
Fixed nodes reordering themselves visually when connecting/disconnecting nodes
Fixed node editor previously allowed to create recursive connections with "Add existing…" menu, resulting in crashes
Any empty slot is now removed from the Layer shader after disconnecting a shader
Fixed problems/crashes when reconnecting a shader from a closed ports group into the same group once it was opened during mouse drag
The Cinema 4D Texture Manager now displays all bitmaps used within the node system
New Masking options in reflections and refractions
Masking render elements can now be propagated through refraction/reflection. To propagate them you have to set it in the material (Corona Mtl -> advanced -> propagate masks).
For more information, see this article.
In the example below, you can see a comparison with the new "Always" propagate masks option with the old method which never propagated masks in reflection and refraction. Masks were used to adjust the hue of the leaves, the book, and the mirror frame in post.
There were four objects that featured reflection, refraction, or both – the table top, the glass sphere and the glass vase (which shared a material, so have the same color in the masks and shared the same propagate settings), and the mirror.
With the new "Always" propagate option, those changes can be accurately applied to reflections and refractions of those objects too, while previously the masks would not allow selection of those reflections and refractions so they'd remain unchanged (unless you manually painted in masks – tedious!)
In this case, the mask used the Material ID, and below you can see the differences in the mask from the various propagate options: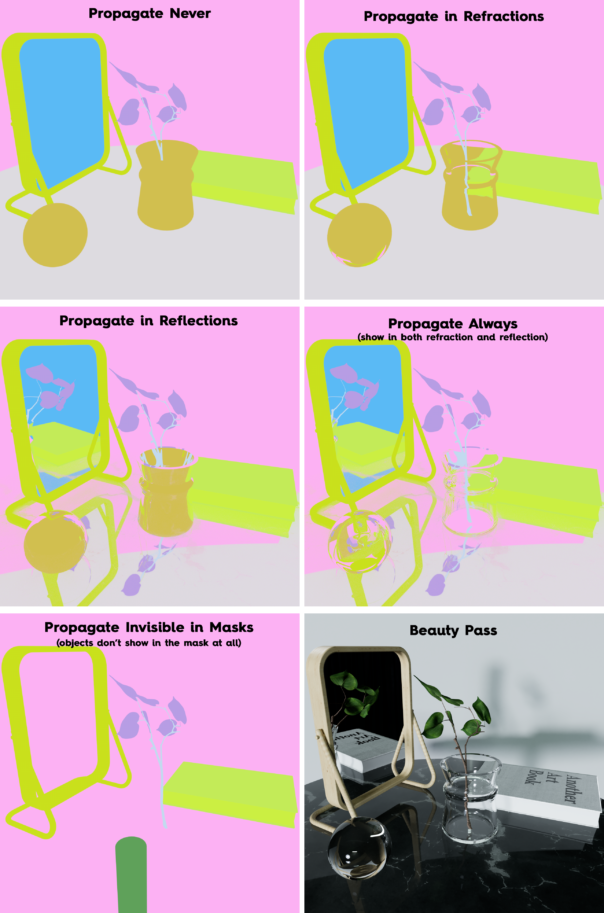 To accommodate the new material mask propagation options, the Corona Compositing tag now has the Visible In Mask parameter as a dropdown selection rather than as checkboxes, and the dropdown now includes a 'Based on material' option to allow the material mask propagation selection to be used.
SMALLER IMPROVEMENTS
---
Blue Noise Dithering
Used by default in all news scenes, this produces noise which is less visually distracting in renders with a low number of passes. This means it is intended to make IR more useful, with interactive renders showing less noise in the first few passes. There will not be a noticeable difference after the first 5 or 6 passes.
It is now possible to select the relevant light objects from the LightMix tab in the Corona VFB
Simply right click on the LightSelect layer and choose between selecting the lights that contribute to that LightSelect, or adding or removing those lights from the selection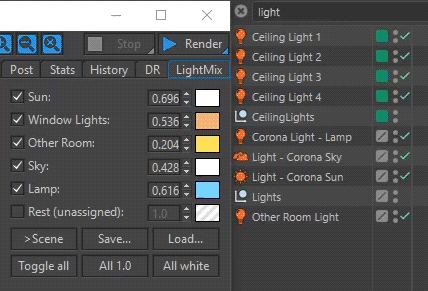 Added optional collection of anonymous product usage data
This data will help us improve Corona Renderer in the future – for example, it will let us know what the most common resolutions are that people render to, what features are used (to prevent us removing one that we think is redundant but is in fact still used by a number of users), to see what hardware people are running on, and so on.

It is important to note that this data is anonymous and GDPR-compliant – we do not store anything that identifies you as a person, and do not have a way of connecting the data back to you. Also, for those of you working under an NDA for your scenes and images from your clients, the aggregated, anonymous data that is sent to us would never be considered a breach of NDA as it does not contain any specifics about your scene, just overall statistics.

It is also important to note that this data is optional – you can disable the option both when you install Corona Renderer: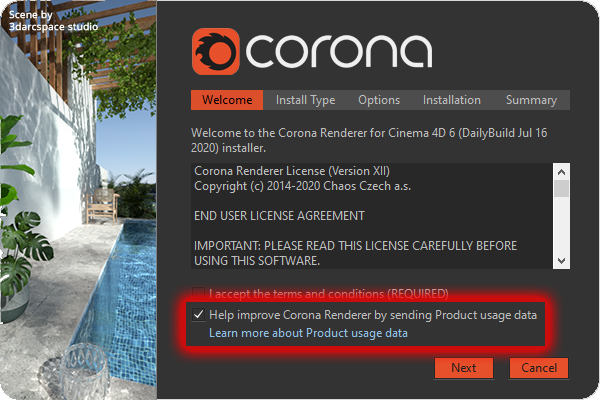 But you can also disable (or enable) it later from the Corona Preferences: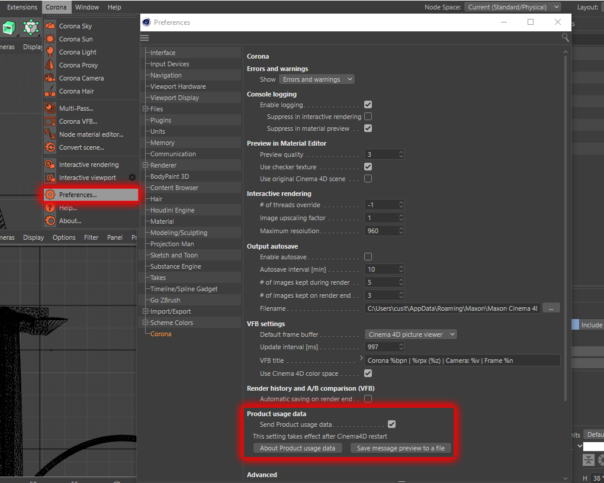 You can also save the data to a file if you want to see what data has been collected (note, this works even if telemetry is disabled, to let you see what data would be sent if it was enabled). For full information, please read the applicable section of our Privacy Notice.
4K Cache added (experimental only)
This offers faster precomputation and rendering on higher end machines, and the result is closer to path tracing than with the UHD cache in some cases. It is considered experimental in Corona Renderer 6 since there are still some bugs that we didn't have time to fix before the release. The UHD Cache remains the default – if you want to enable and test the 4K Cache, you can select it as an option in the GI Solver dropdown in the General Settings tab
Abbe Number – new lower limit
Previously, 10 was the lowest value you could set for the Abbe Number when dispersion was enabled. This has been lowered to allow values as low as 1.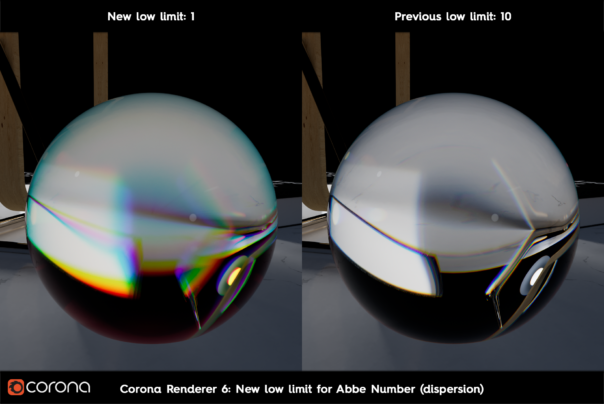 Added hue, gamma, temperature, and green-magenta tint parameters to the ColorCorrect shader
Added "Viewport resolution" option to the Corona Sky in shader mode, to allow adjusting preview quality in the Cinema 4D viewport
Changing post-processing on the active camera no longer restarts IR unnecessarily
Added render stamp token %ptg which is replaced with the scene geometry preprocessing time (in milliseconds)
Added support for volumetrics in the Components pass (in Multipass)
Introduced a new way to activate Corona – you can set your email & password or a path to the licensing server to environment variable CORONA_ACTIVATION:
– For email and password, use format "email:password"
– For licensing server address, use format "LS:address"
– See our helpdesk article for full information
Lowered memory usage when Denoising is not enabled
CoronaBitmap memory optimizations
– Memory usage has been optimized for textures whose dimensions were not a power of 2, which can save 20 – 30% total memory in a few real world scenes we tested.
– Memory usage was optimized for RGB textures that only hold gray colors, saving up to 66% memory for that particular texture
Naming of the Random samplers under Development/experimental settings changed to match naming in 3ds Max (previous "DMC" random sampler now called "New improved")
Dissolve with previous image added to Development/Experimental Stuff section of render settings, for future development
EULA updated

BUG FIXES
---
Caustics Fixes
A fix was introduced for caustics which became blurred at the edge of the screen
A checkbox was added in the Caustics Solver Settings of the Development/Experimental Stuff section which can turn off adaptivity in caustics – this should only be used in cases where caustics are giving unexpected results such as black squares in the image, as it will significantly reduce performance
Crash Fixes
Fixed crash in IR when rendering with a soft selection
Fixed crash when scene is reset while docked IR is running
Fixed crash when using WireColor pass in Multipass
Fixed random crashes when updating Sun/lights in IR
Fixed crash when rendering Corona proxy without geometry
Fixed crashes and problems with updates of Corona Sky in HDRI mode in IR, when C4D shaders are used under Corona shaders
Fixed crash when editing a Vertex Map tag linked to a Vertex Map shader that was used inside another C4D shader in IR
Fixed crash when objects with a normal map were added in subsequent frames in IR
General Fixes
Fixed rendering of the native Projector shader
Fixed occasional freezes when dragging connections in the material node system
Fixed issue where light mix/post-processing settings in VFB where not accepting values if mouse was outside of the VFB window
Fixed bug where object base material was being rendered transparently when another material was stacked over it with disabled tiling
Fixed environment override not being applied to a fully visible Corona Sky
Fixed bug where changing sky material visibility didn't affect the corresponding Corona Sky visibility
Corona and C4D sun visibility is correctly handled now, both in IR and in non-IR
Fixed bug with incorrect mapping of displacement when last material with no displacement uses different mapping than material with displacement
IR now reacts to movement of a keyframed camera
Fixed problem with Ray Switcher material not showing in viewport
Fixed problem with Components pass UI not showing correct values until values were changed
Fixed custom render stamp format not working in TR
Fixed "Batch load textures" on macOS that didn't allow a user to choose files
Corona Shared shader no longer appears in the options in the Node Material Editor (shader sharing is handled internally by the editor itself, so manually creating a Shared shader has no application and could only cause issues)
Fixed UHD Cache producing different results when Cinema 4D render regions were used
Fixed loading of post-processing presets in the Corona VFB
Fixed problems with NaNs in render caused by using textures containing NaNs in their file
Fixed problem with Bloom and Glare not refreshing in Corona VFB without moving mouse over VFB area
Fixed problem with material preview and its IR render not updating when deleting its shaders via node system
Fixed problem with non-collapsible tree with presets in multipass dialog
Fixed problem with camera offset not working correctly in viewport render and viewport IR
Fixed problem with non-working deletion of separate render history entries in Corona VFB on MacOS
Fixed problem where the Corona entry under Windows Apps & Features would remain there even after running the uninstall
WHAT'S AHEAD
---
For those who know us, you will not be surprised to know that work has started on our next projects! In the coming weeks, we'll be settling on our plans for the rest of the year, and you can watch for news over on the tentative roadmap.
DOWNLOAD CORONA RENDERER 6
---
No need to scroll back up to the top of the post to download, here's the link again for those of you dedicated enough to read everything first!
Thanks!
As always, getting a new version of Corona Renderer out to you is always a team effort. We'd like to thank our developers, and our support, business partners, forum moderators, translators, testers, advisors, partners, resellers, all at Chaos Group – and YOU, our users! We appreciate your support, and for letting us know what you want to see added, you are a vital part of what makes Corona Renderer what it is today, and what it will be in the future!
So to everyone involved, we'd like to say….
Thank you!
Cestmir, Ales, Jan, Viacheslav, Jozef, and the Corona C4D Crew