In past articles, we've explored the work that goes into VFX from the point of view of the CGI artist – this time though we take a different view of the process, talking with Michael Mizrachi about the director's point of view when working with lots of CGI, as happened in his recent work on the music video for "One Day Love".
One Day Love from Michael Mizrachi on Vimeo.
Read more about "One Day Love"!
Tell us a little about yourself
I'm Michael Mizrachi, 21 years old from Tel Aviv, Israel. I started making films when I was 6 years old on an old PC with Flash 8. Later I switched to Adobe After Effects and started shooting and directing VFX viral videos for YouTube.
In high school I made my first real cinematic film, "Moving", and decided to stick with the writer and director roles. High school was a framework which taught me that cinema is an art form. In 2016 I directed my first independent short "Hit Me", and that set the tone for my next projects.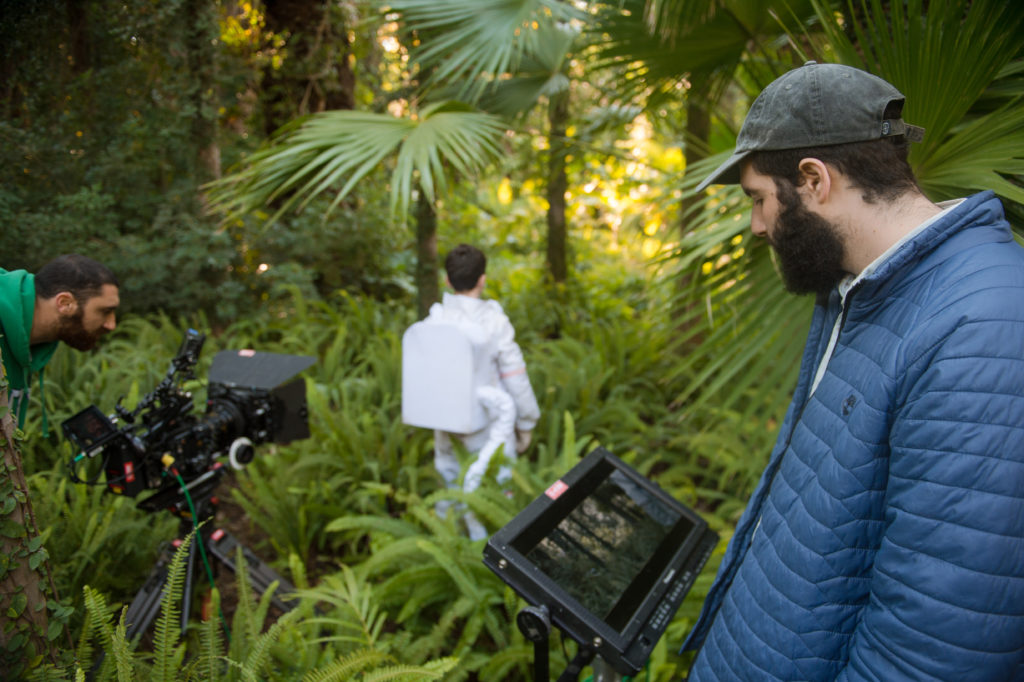 How did you get involved with this project?
A day after "Hit Me" was released, I got a Facebook message from Barak Feldman, a very well-known songwriter here in Israel. It was something like: "I saw your movie, I think we should work together". I think about a week later, I sent him a pitch about a kid flying into space with his quirky spaceship, and 2 years later the music video was released.
How did you come up with the theme and story for the video?
"One Day Love" was the theme song of a very popular daily drama series in Israel 14 years ago. Barak decided to make a new version of the song with Daniella Boss – who produced, played all the instruments, and sang in the new version. The new version was child-like and sweet and it immediately gave me hope; a hope for a better world, and a feeling that everything is possible. I wanted to embed that feeling into the video and tried to provide a piece that will function as a "happiness charger" – I felt people have to smile more!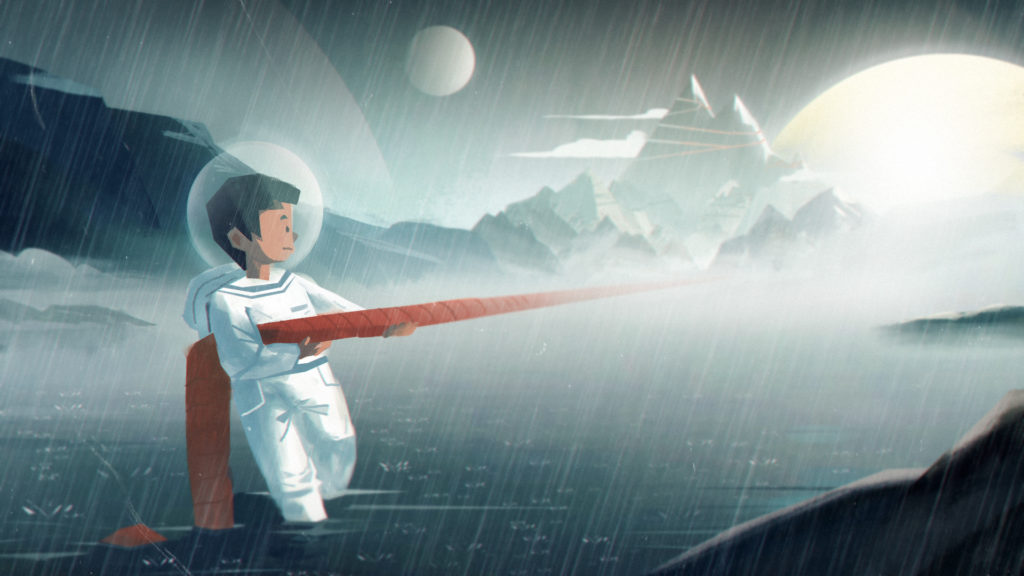 The music production and the sounds of the song made me imagine visuals of a tiny astronaut who is traveling through surreal landscapes and facing threatening challenges, all for an impossible mission that he takes upon himself – to make people feel uplifted.
For developing the visuals I worked closely with Yali Keren, an amazing concept artist from Israel. We made tons of concept art to explore the surreal world that I imagined. We drew a lot of inspiration from the video game "No Man's Sky", and from the movies "Interstellar" by Christopher Nolan and "2001: a Space Odyssey" by Stanley Kubrick.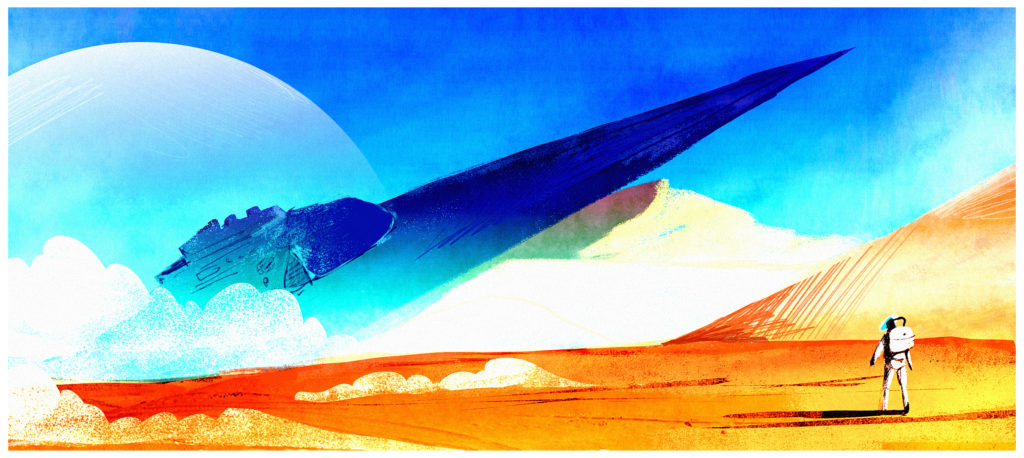 What are the challenges in directing something that has a lot of CG in it?
As a VFX artist I know the pros and cons of using digital effects, and I know the abilities I have… and that knowledge has actually made me use many more practical effects and use CG as little as possible in the past. Now "One Day Love" can totally contradict that approach!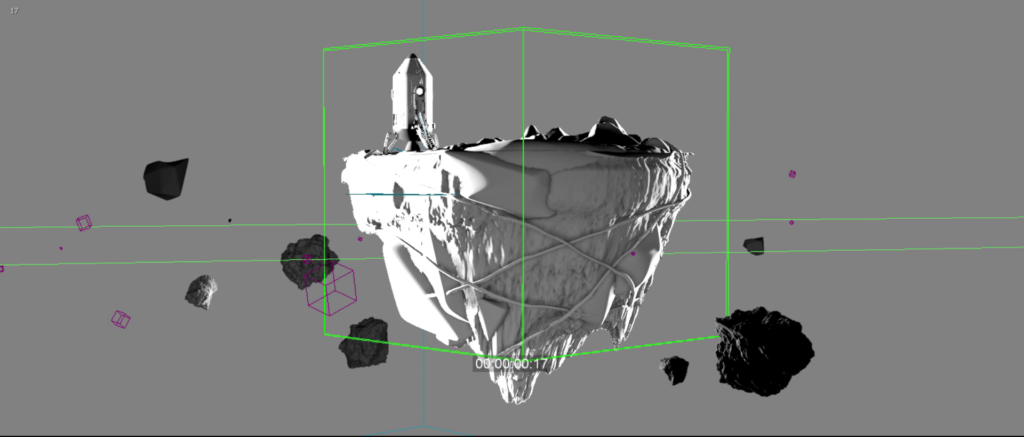 I have to be honest, I was very afraid at first. The project was enormous compared to my past experiences and I'd never worked with concept and CG artists before, so I worked hard to try to figure the right way to approach it. The budget was low, and I didn't know the right artists for the project, but I felt that the script required epic and realistic visuals, so I decided to overcome my fears and take all that on my shoulders.
I think that the biggest challenge in directing and producing CG based films is that you can't really control the result and you have to be open to changes, to be able to embrace problems and solve them as you go. Fortunately, this fluid and flexible process often produces much more complex and interesting imagery.
There were people from all over the world involved in the production of the video – what were the challenges in coordinating that?
"One Day Love" exists thanks to modern technology – Skype, Facebook, etc. While working with so many talented artists that have their own unique style, you have to keep the visual language coherent and consistent.
The best way to succeed is to work with concept art, to storyboard, and to make middle-of-the-night Skype calls to the other side of the globe! That's the way I found to narrow the gaps and to keep everyone on track (myself included!)
Because I was in Israel while working on the post-production with Martin Nabelek (CG Artist) while he was in Europe, we were talking on a daily basis via the social networks, sending screenshots to each other, and trying to convey our ideas with "Windows Paint" – it was hard and frustrating from time to time, but looking back, that was the best way to make it without actually meeting.
As a director, how much impact does a render engine have on your role, and how aware of the technology being used do you need to be?
Corona Renderer was just the right thing for the project. I didn't know Corona when we started; it was Martin who was familiar with the renderer and had created so many impressive works with it. He pushed for the project to be based around Corona Renderer.
While working on post-production, as a director, the renderer gave me a sense of the final product very quickly – Martin was able to send me quick renders that looked great, and later in the compositing stages we almost didn't touch the renders that came from Corona Renderer at all, the result was so believable.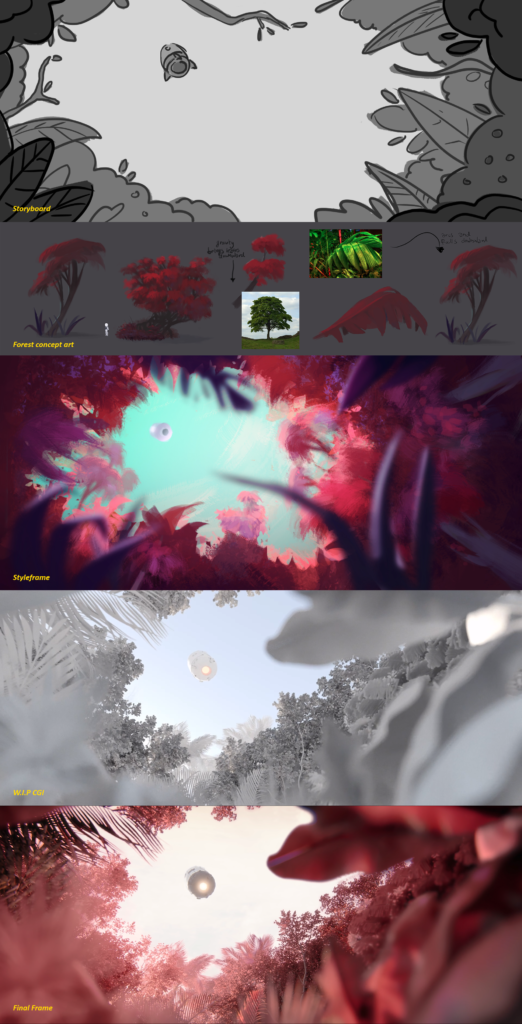 What is your approach for conveying the idea of what is needed to the CGI artists, since it can be hard to accurately describe things that simply don't exist!
I think that this part was one of the magical parts of the production. I worked with the amazing Tal Rachmin, who is a super-talented concept artist. Together we created "style frames" for every CG Shot – we translated the shooting script to a composition, decided how the light will fall on each object, and which textures will form the world.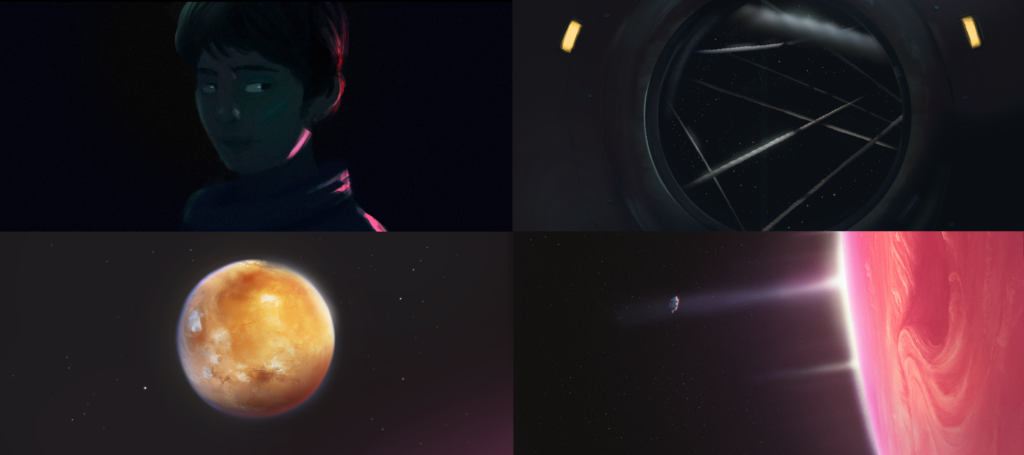 In advance, Tal made around 30 versions of the D.I.Y. child-like spaceship. We wanted to achieve a vintage look for a spaceship that can take off into space, childish but tough, cute but used – some contrasts in the look that holds the idea of the music video – simple but complex, playful but well thought out. You can see the development of the spaceship from initial idea, through to final model by Ludvík Koutný below: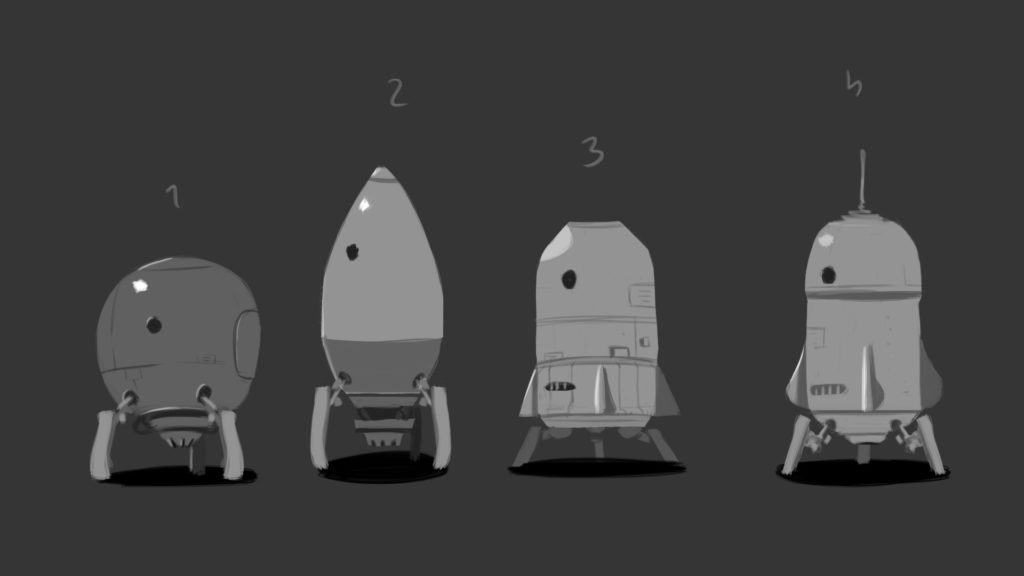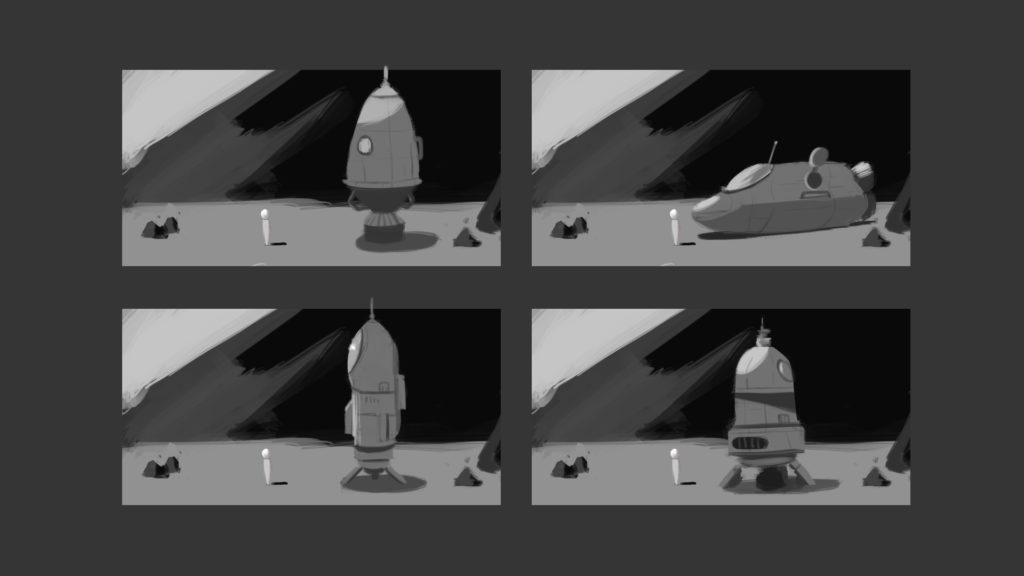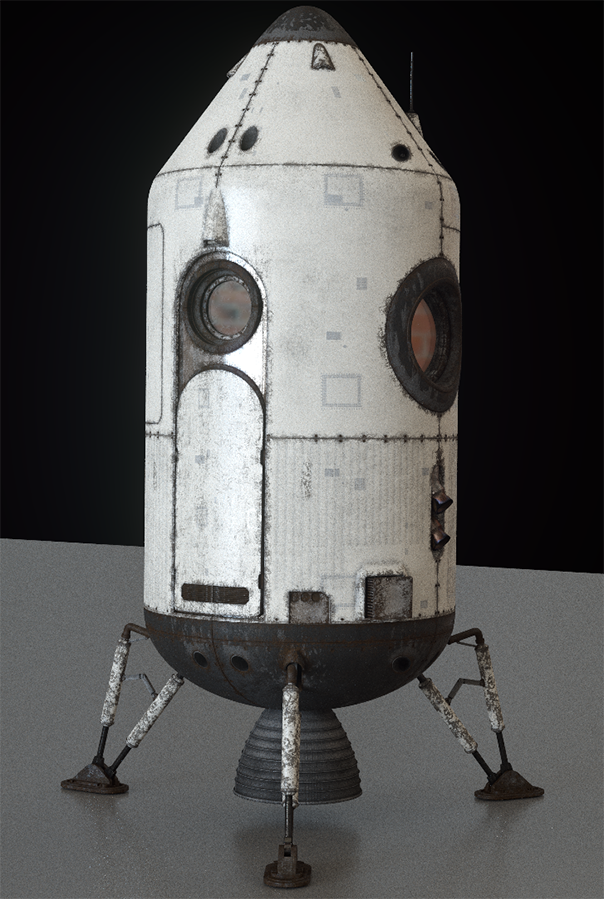 What was the workflow for integrating the full CGI shots into the video?
Thanks to Corona, we had 32bit EXR, which allowed us to do anything we wanted to in post – it was super easy to match colors and compose the CGI to the real shots.
What was the workflow for the composite shots, where there were CGI elements combined with real world footage?
The compositing workflow was different for each shot. Most of the CGI elements were made after we finished shooting and thanks to Corona Renderer we were very free with color correcting and matching. For example, for the zero gravity elements that are floating in the spaceship, we tracked the shot, Martin made the 3D composition, then Saar Oz, The genius VFX Supervisor of the music video, composed, matched the colors and combined the CGI to the real footage.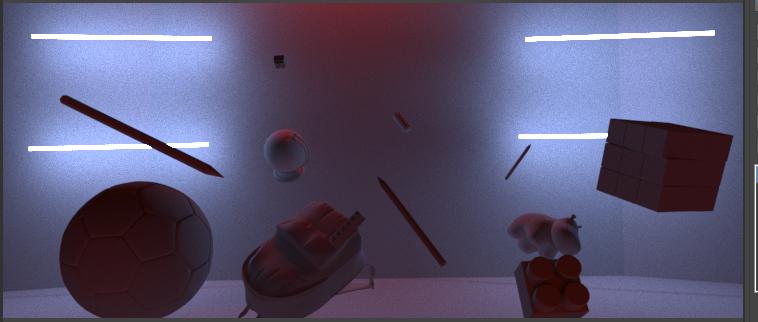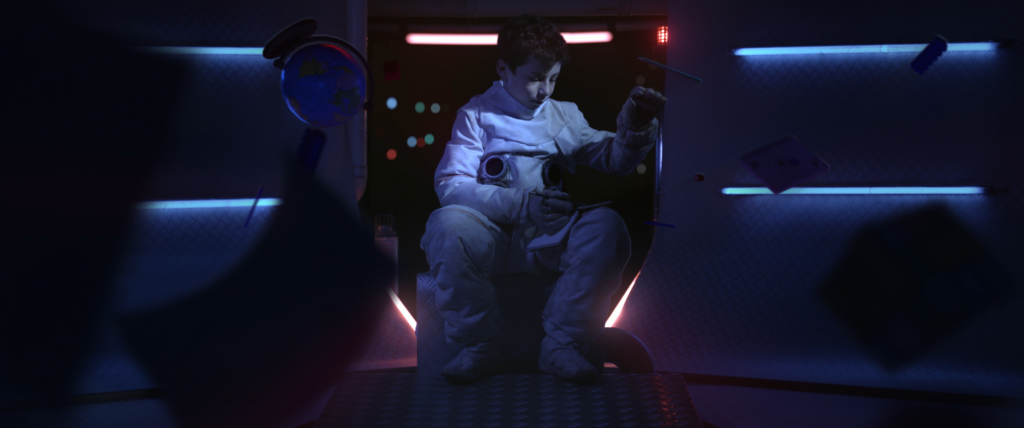 Saar and I worked with a not-so-popular method – we decided to explore every shot, even when we knew from the script exactly what should be in it. We wanted new ideas to pop up, and we wanted to put a lot of effort into the little details; that way if people watch the music video 10 times, they will notice something new each play.
That method did make it a long process, and we ran into many troubles, but I think that this attention to detail helped sell the effect that this was done with a big budget, when in reality that isn't true! In the end, it's all about the details.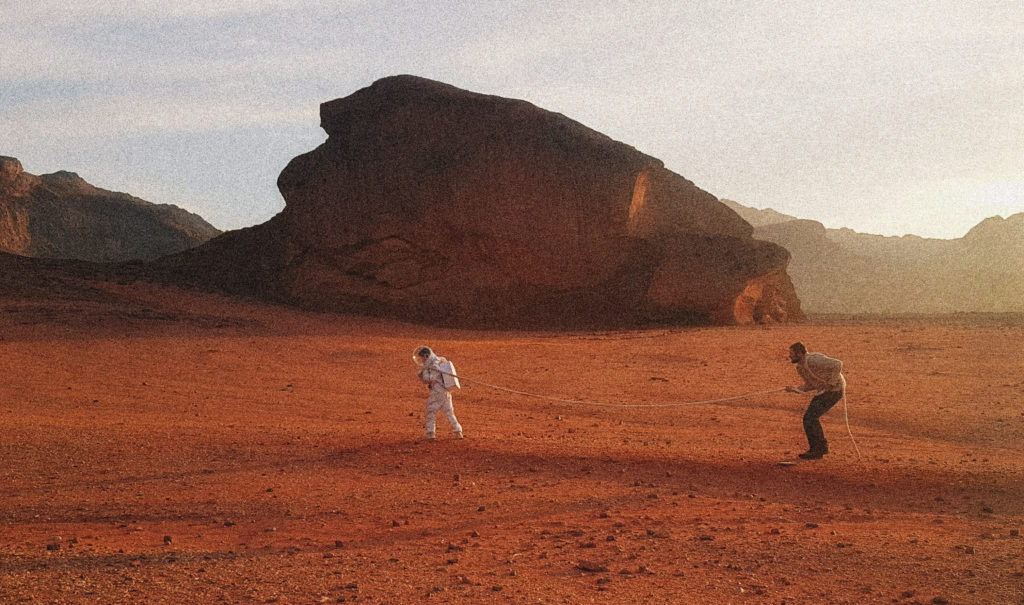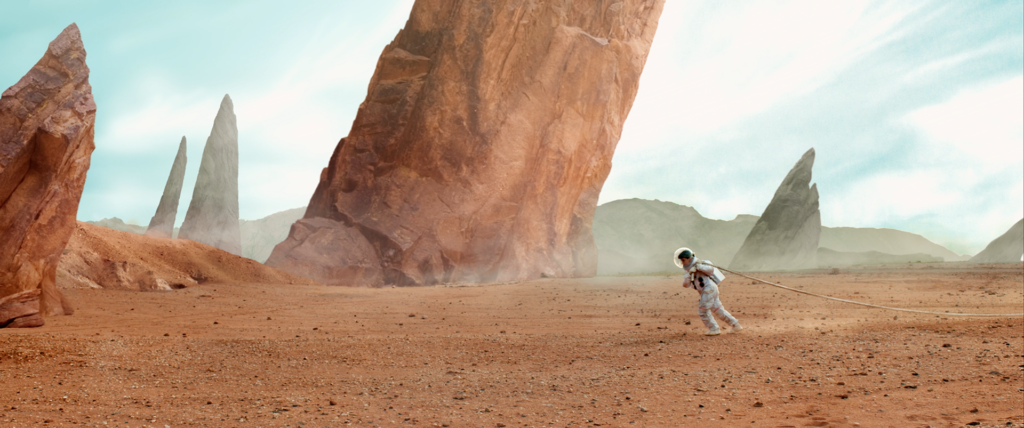 What are your plans for the future?
I'm working on a new short film inspired by Frank Ocean's album "Blonde." It's very different from "One Day Love" and I feel this is the most personal thing I've ever did.
Other than that I'm looking for a new project, something that will take my imagination to the next level, it could be a commercial, music video or a short film, I guess time will tell!
Thank you for reading!
Michael Mizrachi
Links:
https://www.Michael-Mizrachi.com/
https://www.instagram.com/electroulette/
https://www.facebook.com/MicMizrachi/
Martin Nabelek (CG Artist):
http://Nabelekm.com/
Tal Rachmin (Concept Artist):
http://midnightagent.tumblr.com/
Daniella Boss (musician and singer):
https://www.Daniella-Boss.com/
"One Day Love" on iTunes