Roadmap
Our roadmap for 3ds Max version is finally online on our trello board. We have published information about two upcoming versions so now you can see what is ahead.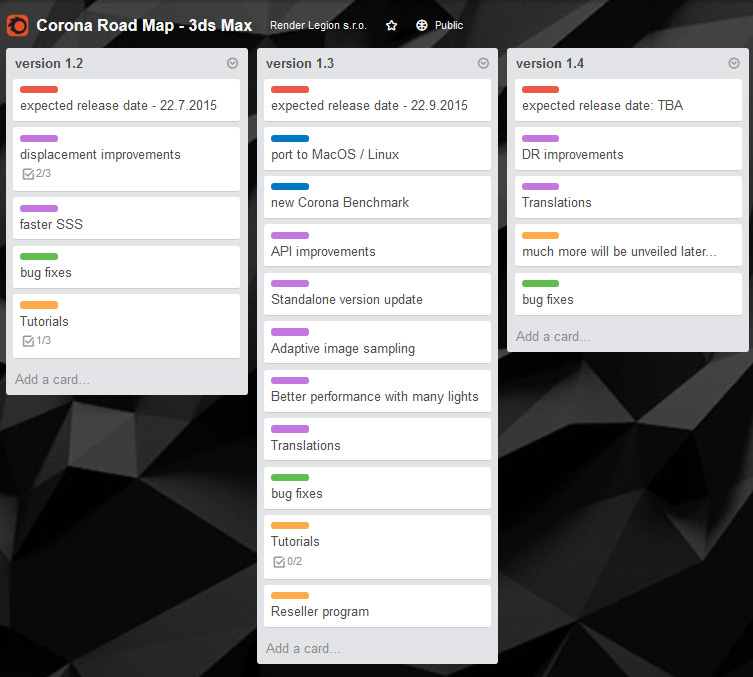 As you can see we intend to release the version 1.2 in less than 45 days after the release of the version 1.1. We would like to keep a similar release cycle also for the most of the future updates.
Version 1.2 will bring completely reworked displacement which should be faster, more stable, and less memory hungry thanks to adaptivity. It will also introduce 2 frequently requested features: displacement modifier and "keep edges together" option. We are also working on further SSS improvements. We are currently on schedule and making good progress towards the release goals.
Version 1.3 will be very unusual update as we would like to accomplish a huge task: getting Corona on Linux and Mac.  Standalone version will be also updated. That's why we think it will take us a little bit more time.
We would like to also release a new benchmark based on our latest rendering core. The scene is already done, here is its preview: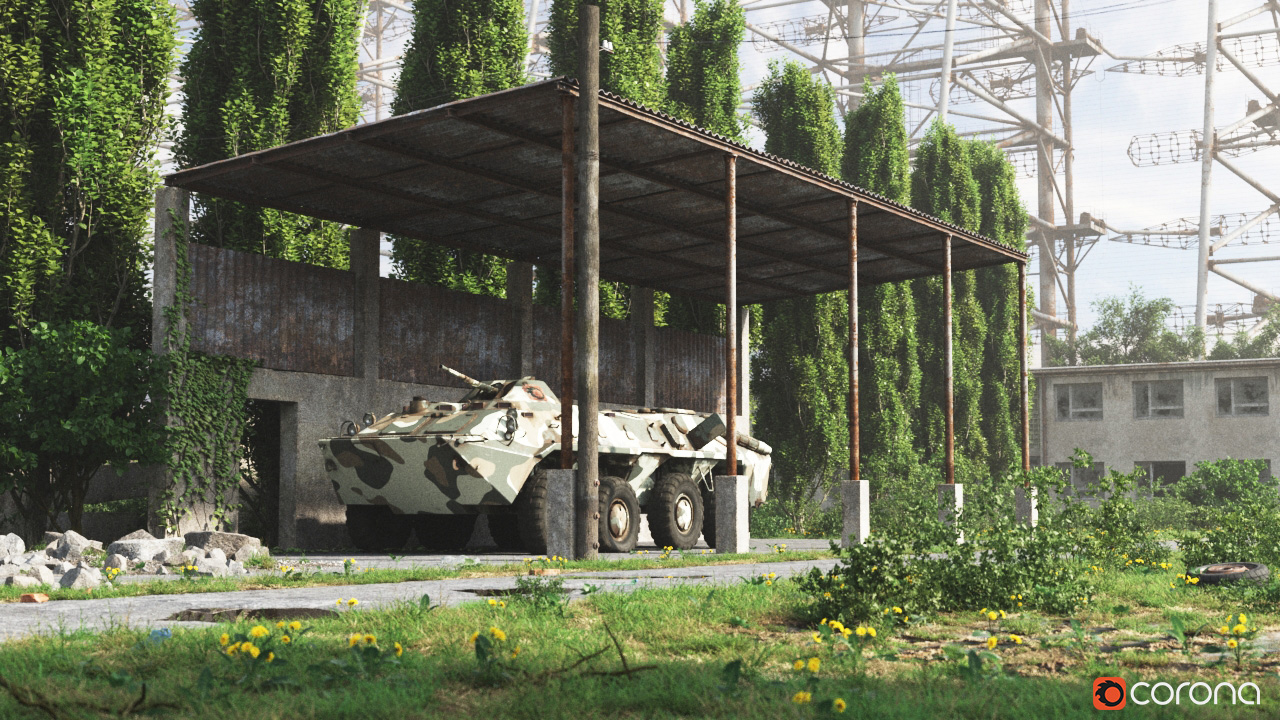 Version 1.4 is still far away ;). We do have more specific features planned, but let's keep them as a surprise.
We will also publish a roadmap for Cinema4D version  in next couple of weeks.
---
Payment Problems?
We are aware of some specific issues with the payment process via our online store. We are trying to resolve them with our store provider – FastSpring.com. If you have any problems with the payments/rebills, please contact us at support@corona-renderer.com and we will try to help you.
Also please read the following articles on our support portal regarding payments and automatic rebilling.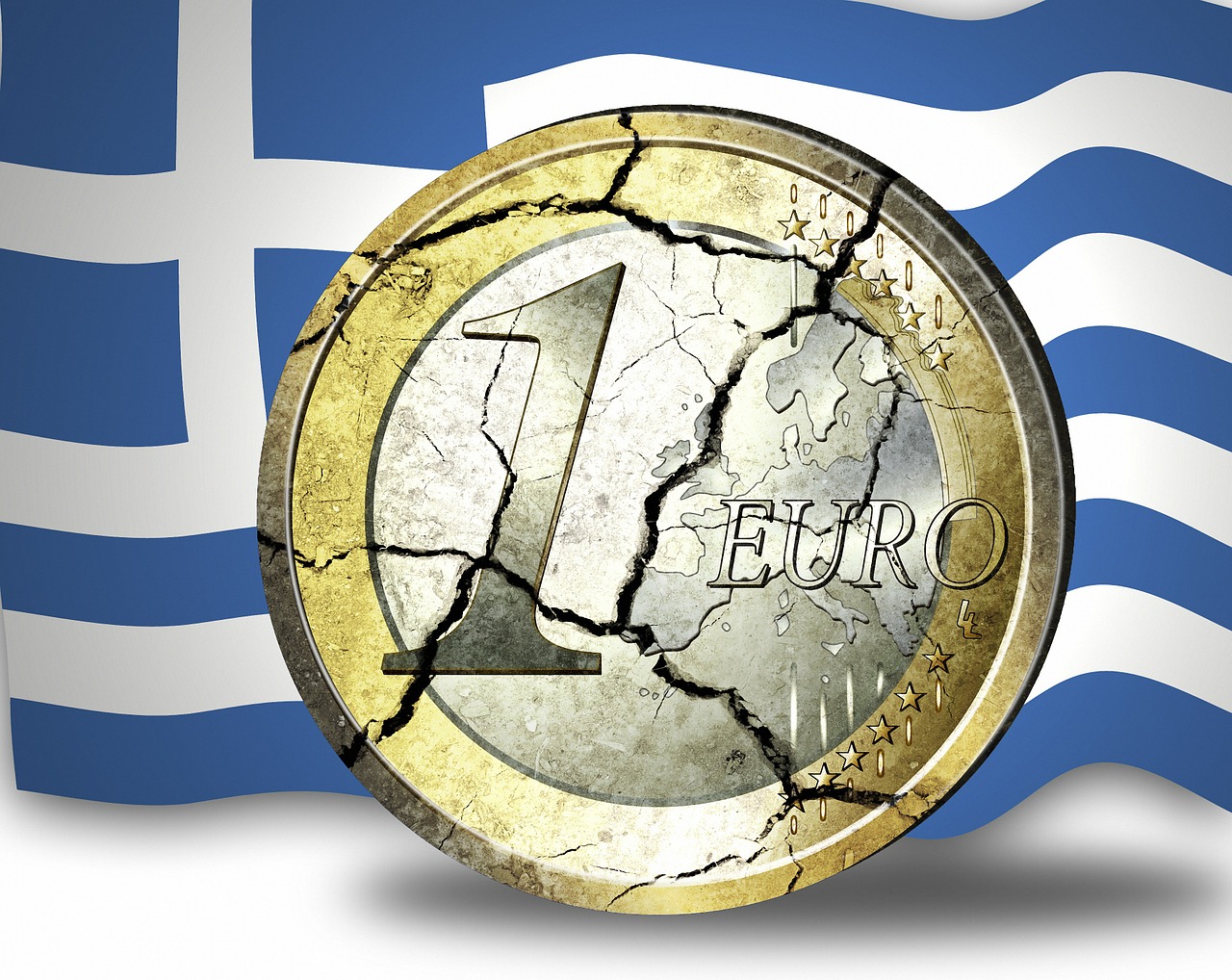 Greece
As many of you know, there are financial problems in Greece which directly affect some of our existing users on FairSaaS licenses (paid monthly). If you are among the affected users, please send us an email at support@corona-renderer.com and we will issue you a free license(s) until the problems with payment are resolved. This offer is time-limited and we reserve the right to verify Greek residency.
New Payment Options
Due to the fact that some of  the Visa and Mastercards from certain regions are quite regularly rejected by the FastSpring/bank system, we have decided to introduce bank transfer as a payment option. Bank transfers will be available as a payment option in the next couple of days.
We are also considering AmazonPayments, GiroPay (Germany), AliPay (China), WebMoney (Ukraine & Russia), iDeal (Netherlands), Sofort (Germany) and possibly Bitcoin! Please let us know, which one of them you would prefer.

Only issue with the alternative payment options is that they do not allow automatic re-billing. So when using them, you would have to buy new license manually every month. Which pretty sucks.
We are thinking of allowing these alternative payments only for the Box version and FairSaaS (paid yearly) for time being until we will figure out how we can use them for monthly payments.
Resellers
As one of the solutions for the above mentioned problems with payments, we have decided that we will open the reseller program after all. We will start testing the reseller system this month with few selected resellers. We hope that this step will help the users in certain countries and it will simplify the payment and ordering process.
The reseller program will not affect the final price of our products.
---
Personal Learning Edition
We are considering a personal learning edition of Corona Renderer. This version should allow hobbyists which do not qualify for Educational/Student license to get their hands on the latest version of Corona Renderer.
Exact licensing specification, availability (and price) will be specified later. But you are again welcome to tell us your opinion and suggestions.
---
New License Type with Lower Price?
Our data show that we have lost some users from certain countries where the price of Corona Renderer on FairSaaS is still a bit too high despite our efforts of making the software affordable.
We have two ideas how to sort this out: a new license type with some restrictions and lower price OR lower price on all existing products for certain countries and regions.
Would you be interested in a cheaper Corona Renderer license for one fixed workstation, with no render nodes nor floating licensing?
As for the second option: would existing users who paid full price until this point accept the fact that the very same product is available somewhere for less money than in their country of residence? (Lower price would be available only in few carefully selected countries.)
What is your opinion? Let us know.
---
Tutorials
We have recently published new series of tutorials. You can find them on our YouTube Channel. You can expect more tutorials in upcoming weeks.
You are also welcome to suggest specific tutorials on our forum.
---
To Our Customers
Thank you.  Thanks to you and your funding we are able to develop Corona Renderer and push it forward.
This time we do not finish our post with a cake, but with the picture of our EUE2015 gifts for visitors. The delicious Corona Cookies!
Adam & The Corona Team