Take a trip to the dark side! Even when 3D is just one step along the way, Corona is a powerful addition to your toolset. Jeronimo Gomez tells us how he used Corona's rendering passes to create the template for his image, and then used photobashing and over-painting to give the final result.

Read on to see how Jeronimo created his image…
Intro
"A Dark Jedi and a Renegade Princess" was created for the Star Wars Re-Imagined Contest on CG plus. Corona was a perfect choice for the production of this image, as it gave me the freedom to test different lighting ideas and compositions in nearly real-time. The speed of Corona helped a lot when I was under the gun, since I joined the contest very late in the game.
Process
I placed Daz models in the poses I had in my mind, made quick clothing for them in Marvelous Designer, modeled a lot of objects and some of the characters in Fusion 360 (C3-PO, R2, Luke's hand, the lightsaber) and exported the finished assets into 3ds Max.
I used an HDRI to give the scene a subtle overall ambient light, and then used Corona light materials to pretty much do the rest of the lighting. Corona's light materials were perfect for the lightsaber, R2's display and the lasers. I also created simple geometry panels with the light materials to place some lighting on the characters.
Corona's render output also worked out really well, as it was easy to set up all my passes for later compositing. After rendering everything I needed, I brought it all into Photoshop for the process of painting-over and photobashing.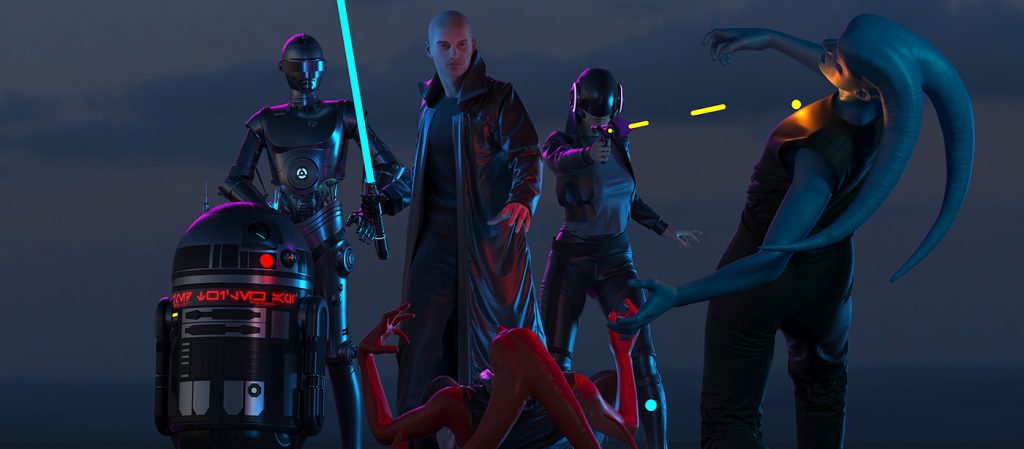 I would also like to mention that Corona's tutorial videos on YouTube helped out. They were quick and easy to understand when I needed them. Overall, Corona was fast to learn and use when I needed to quickly get in and out of a 3D environment, with all the passes I needed to get back into Photoshop and work!
Check out the full-size render and finished artwork comparison here.
Jeronimo Gomez
Jeronimo's Portfolio