Cinema 4D here we go!
First public build of Corona Renderer for Cinema 4D is here and we would like to give a warm welcome to new Cinema Coronauts.
If you cannot wait any longer, the latest official releases can be found on our download page,  but I would still recommend you to read this article carefully anyway, so you will know everything about this build, installation, features and limitations.
QUICK FACTS
---
 It is FREE for commercial use until 31. 12. 2014

Supports Cinema 4D R14, R15 & R16
No limitations, no watermarks
CPU based
Offers Biased and Unbiased Rendering
By default very slightly biased
Cinema rendering core is exactly same as 3ds Max Core – A7.1!
Needs activation (done automatically over internet)
ADD + NBP – Artist Driven Development & No Bullshit Policy
ABOUT THIS BUILD
---
As you might already know, this is the first public alpha build of Corona Renderer for Cinema 4D, so it will not be perfect yet. But with your help we can make it happen.
Artist Driven Development
Cinema 4D version of Corona Renderer also sports Artist Driven Development, so you – users – can give us your honest opinion, suggestions and much desired feedback and together, we can make Corona the best rendering solution available for Cinema 4D. Just let us know and we can start discussion.
Forum & Bug Reporting
You can express yourselves on our forum. But the best place specifically for reporting bugs is in our Mantis Bug Tracker – just create an account and you are ready to go.
Difference between Cinema 4D and 3ds Max version
As development of Cinema version is still fresh thing, we unfortunately cannot give you build  with exactly the same features as in 3dsmax at the moment, but we will work on this more in Q4 2014. One important thing to note is that the Corona rendering core is exactly the same as in 3dsmax and up to date – A7.1. But the matter of fact is, that Autodesk 3ds Max integration will be always a bit ahead as we consider it our main development platform.
User interface of Corona Renderer is very similar to 3ds Max version, so if you have been using 3ds Max version for a while, transition should be smooth.
IMPLEMENTED FEATURES
---
Rendering
Corona Renderer is added to available renders in Cinema 4D renderer list.
On default settings it set to progressive renderer with option of choosing bucket or VCM.
GI solvers available are Path Tracing or None for primary and Path Tracing, HD cache or None for secondary solver, same as in 3ds max version.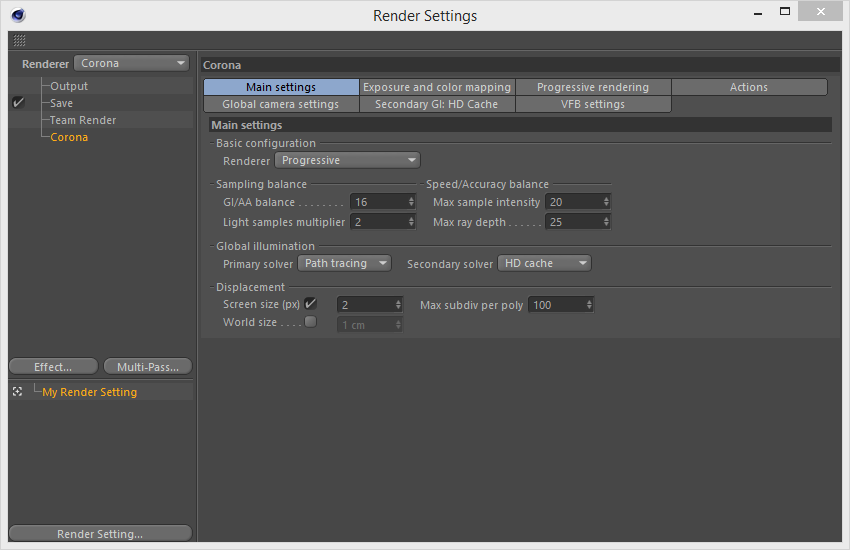 ---
 Camera
"Classic" camera in Cinema is fully supported, but users can add Corona Camera tag which support DOF and bokeh effects as well.
---
 Corona Material
Full interactive material preview in material editor
Basic material preview in viewports
Diffuse, translucency, reflection, refraction, bump mapping, displacement and emission material properties are available
Mix modes, extended support of 2D shaders, preview object …
Cinema 4D material has got only basic support at the moment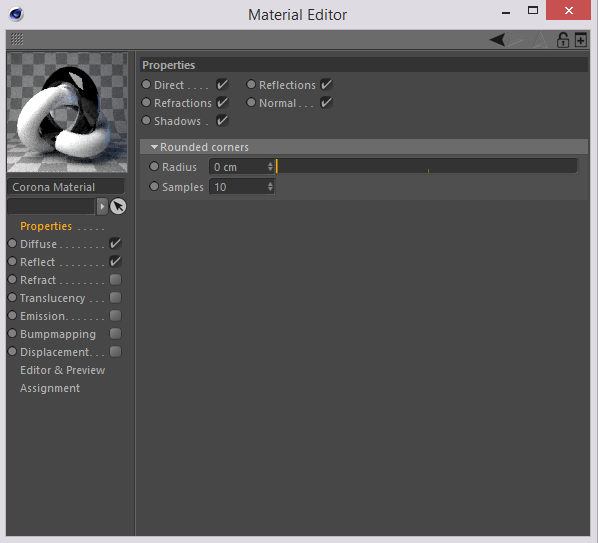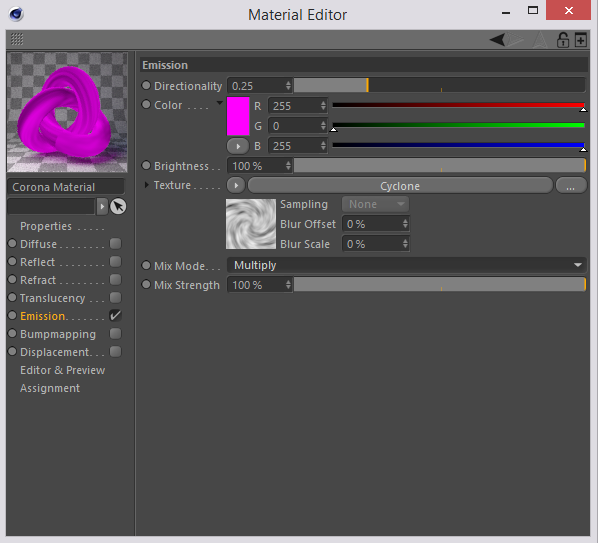 ---
 Sky & Environment
Corona Sky has been implemented which brings two options.
Physically correct Corona Sun with include/exclude objects option
Cinema 4D Sky textures are supported
HDRI textures are supported as well

---
Lights
Corona Lights – basic area lights, sphere, cylinder, cube
Include / Exclude list for Corona Lights
Viewport preview of Corona Lights
Experimental support for native C4D lights
---
Other Features
INSTALLATION & ACTIVATION
---
Installation is pretty simple, we have prepared an installer which will take you easily through the process of installation step by step. Activation does not require any kind of personal information and it is automatic in most cases, you only need access to the internet.
If you are one of the unlucky ones sitting behind firewall and automatic activation fails, installer will redirect you to activation page, where you will fill in your request code and get activation code in exchange. That's it.
Should there be some other problems, you can check the Installation and Installation Issues FAQ, and as a backup, the 3dsmax installation guide (some solutions are identical).
MANUAL & HELP FILES
---
Our mantra is keep it simple, so all Corona versions should use similar naming, UI logic and so on.
So any kind of help files you can find on 3ds Max version should be applicable on Cinema 4D version as well. At the moment you can find some useful help on our our Corona for Cinema 4D helpdesk, on our  C4D wiki page,  you can also use our online 3ds Max help tool or you can download something like "manual" in PDF. But the most important source of information is still our forum.
Everything clear? In that case, here is the download link again:
THANKS
---
Big thanks goes to the main programmer of Cinema 4D plugin – Ales Krivak and all our alpha testers.  Thank you for good work.
Adam