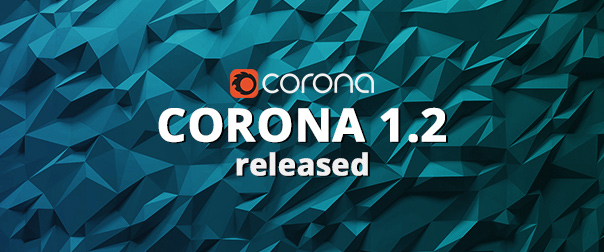 Here we go again. Corona Renderer version 1.2 for 3ds Max is being served piping hot!
This is our fastest delivery of the new version so far – it took us just 43 days from the release date of version 1.1. As we stated before, we prefer this strategy of releasing multiple smaller updates, so you always have the chance to use our latest tech. Hopefully everything will run smoothly 🙂
Quick Facts
---
Corona Render 1.2 is freely available to all our customers on FairSaaS (monthly, yearly), Box with Subscription and Educational/Student license.
Supports Autodesk 3ds Max versions 2011-2016.
Company News
---
We have updated our Corona Renderer for  3ds Max Development roadmap – as you can see, we have shifted MacOS/Linux port to version 1.4 and we will instead release another small update with additional improvements as version 1.3. Why this change? We still have more small, but very important and useful features we want to release as soon as possible. And to be honest, our team needs a bit of rest and most of the guys will take holidays. Ondrej, Adam and Jaroslav will also visit Siggraph which will eat a considerable amount of time from the schedule.
We are still working on alternative payment options – unfortunately this task takes a considerably greater amount of time and co-operation of many parties than expected, but it will be doable. On the other hand our Reseller program is progressing rapidly and we will soon take some resellers on board.
We were also discussing the future of Corona Renderer a lot, including side projects (which will benefit Corona users) and some positive changes in pricing and licensing policies. We just need a bit of time to implement the changes for the greater good of everyone. And we will certainly need more people to execute them.
This brings me to recruiting . We are still looking for reinforcements to our development team – especially light transporters, researchers and plugin developers. We have conducted a couple of interviews already and we will do couple more of them in near future. Below on the picture you can see almost the whole team from our Prague office (with some of our research guys missing).
New Features/Improvements
---
Ludvik has prepared a nice short video summarizing all the new features and improvements included in version 1.2.
---
Displacement Improvements
Corona Renderer v1.2 brings you a completely re-worked displacement which should be much more powerful, stable and less memory-hungry. The new algorithm also creates nicer meshes with less meshing artifacts. We are also planning further displacement enhancements in 1.3 as well.
Keep Edges Together
I am very happy that we can introduce the new "Keep Edges Together" functionality for displacement which many of you requested .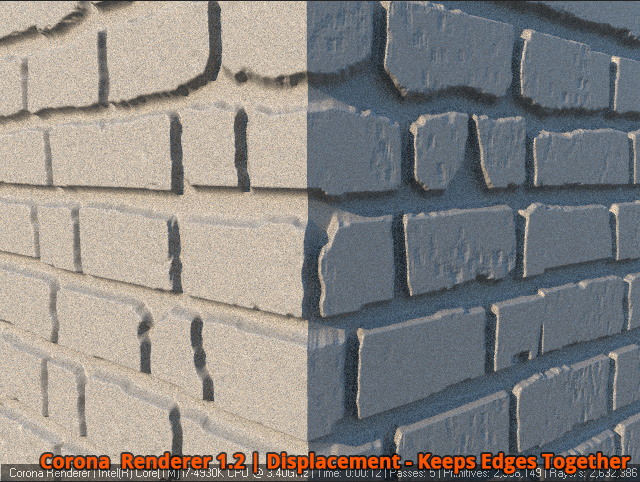 Corona Displacement Modifier
Displacement is now also available as a modifier – CoronaDisplacementMod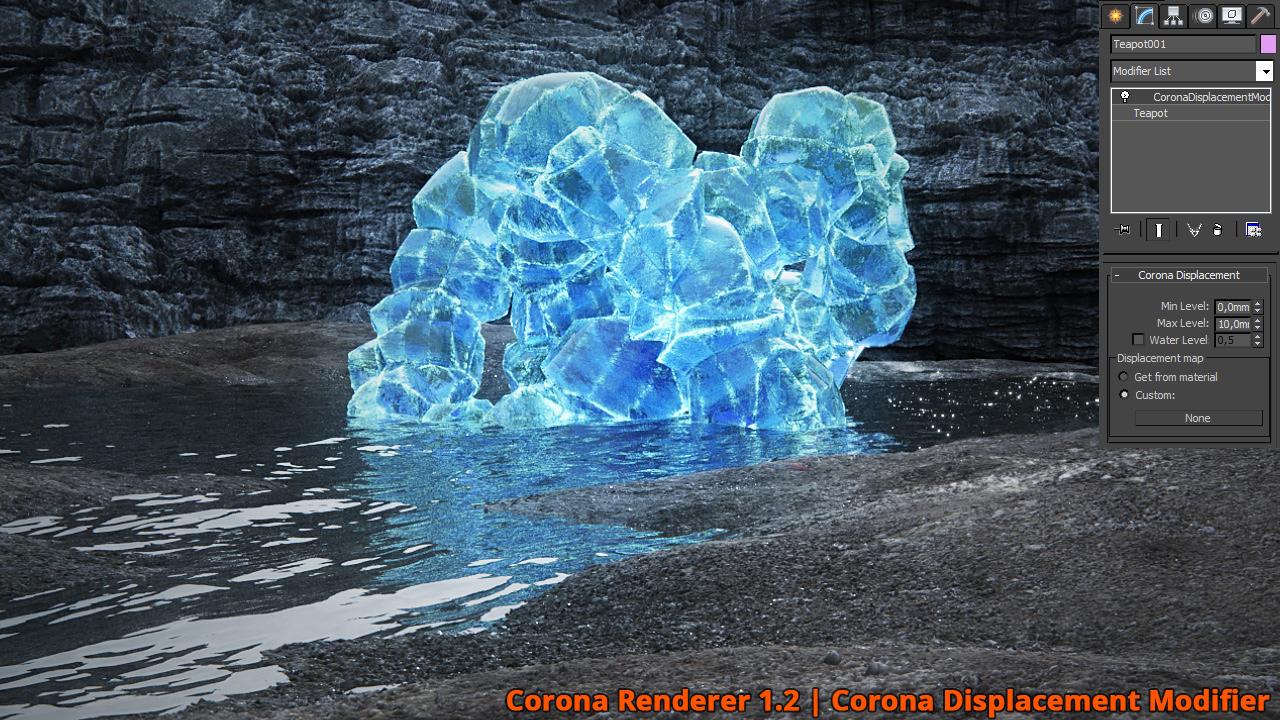 Displacement – Adaptivity
Displacement is now adaptive, which means that it does not "waste" polygons on places where it is not necessary. That results in less memory consumption.
There is one little drawback possible with new displacement – pre-computation phase can be a bit longer for some more complex scenes. But we will work on that.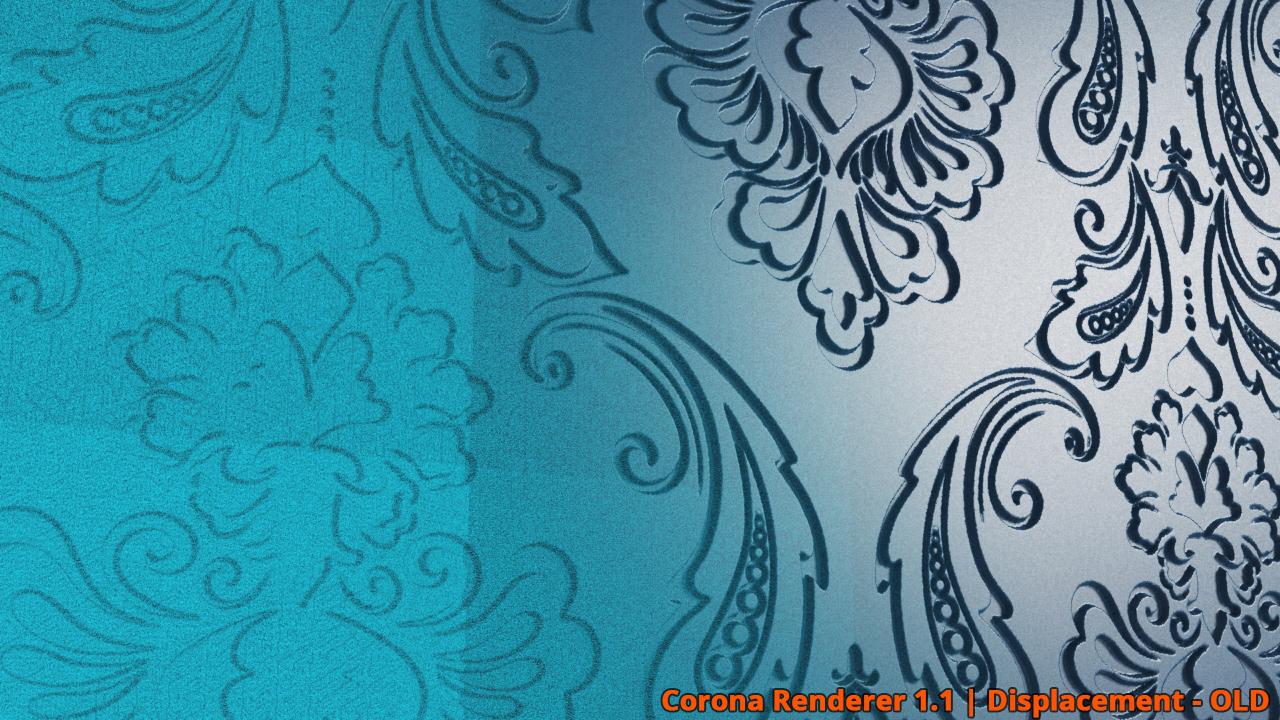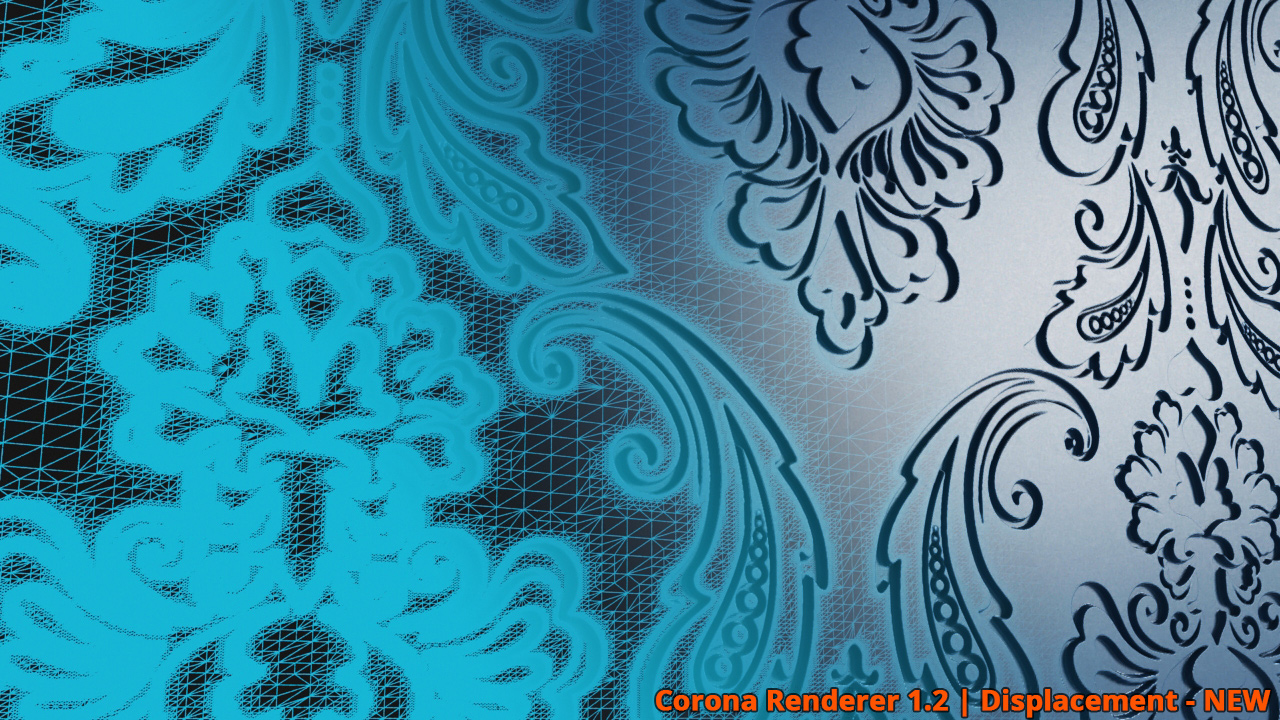 ---
CoronaBitmap improvements
As we have promised in our last release blogpost, we have continued improving CoronaBitmap. Some of the improvements/bugfixes are listed below.
Cropping visually in a popup window is now supported
Compressed TGA supported
Faster sampling of opacity maps
Fixed incorrect blurring of stretched textures
Fixed CoronaBitmap working incorrectly with CoronaScatter
Smaller Improvements
---
Added Support of 3ds Max Atmospheric effects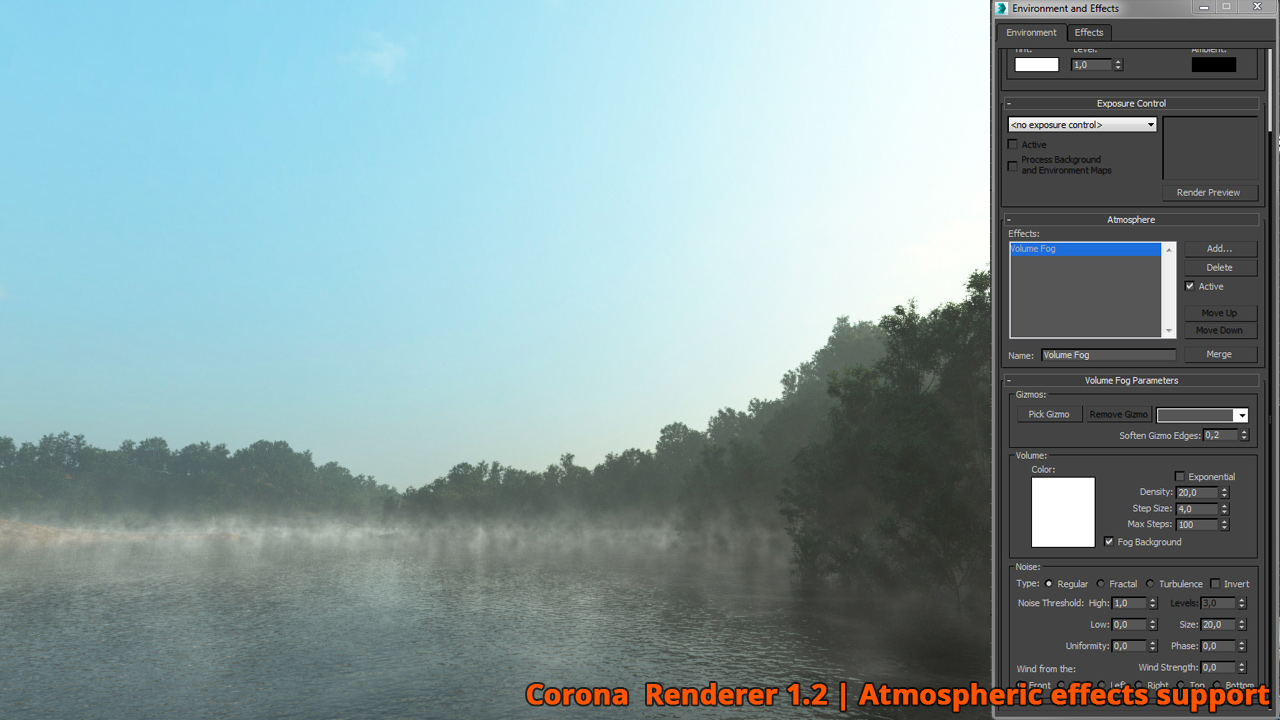 CoronaScatter supports VertexPaint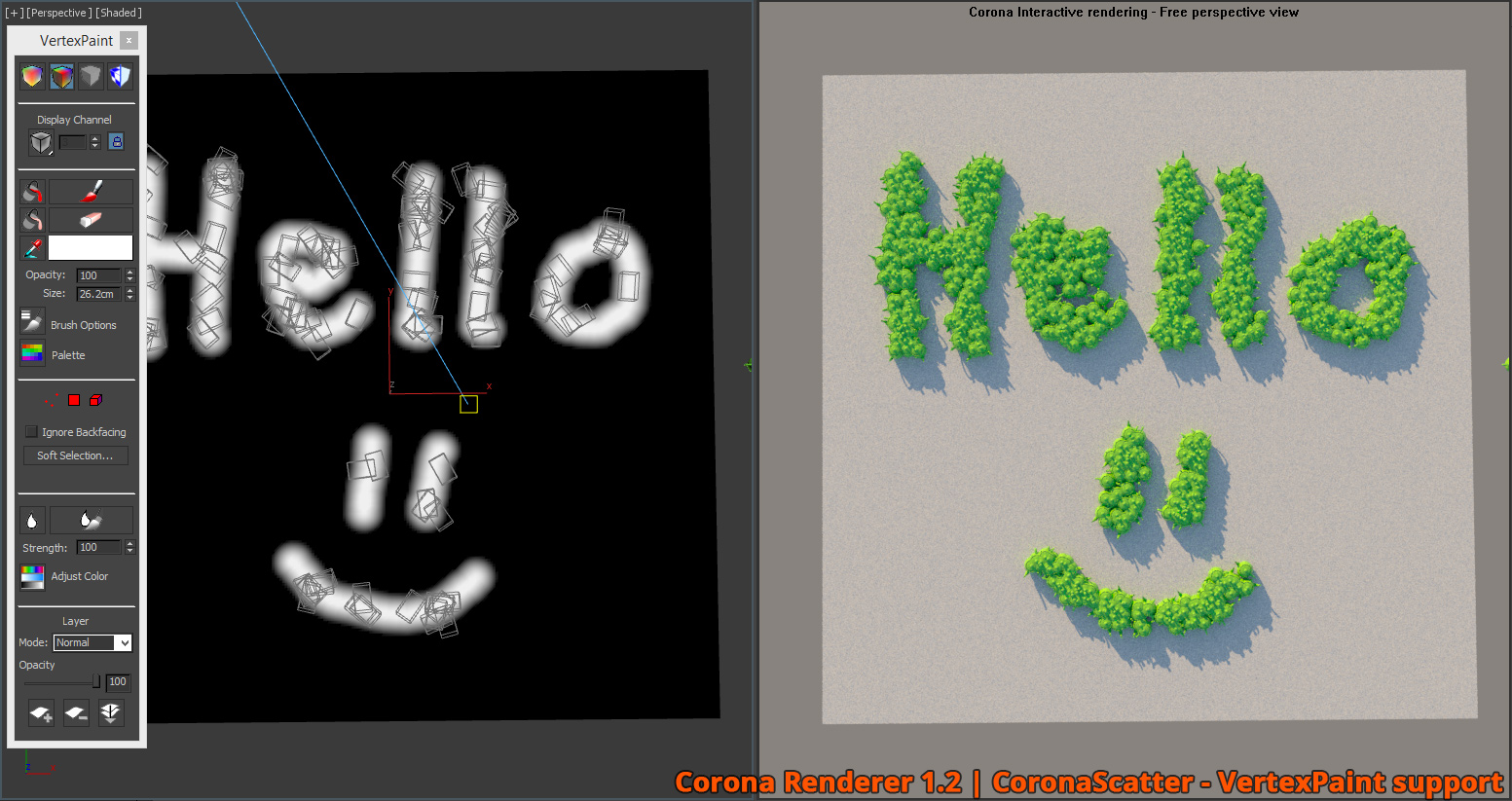 Corona Multimap Texmap Improvement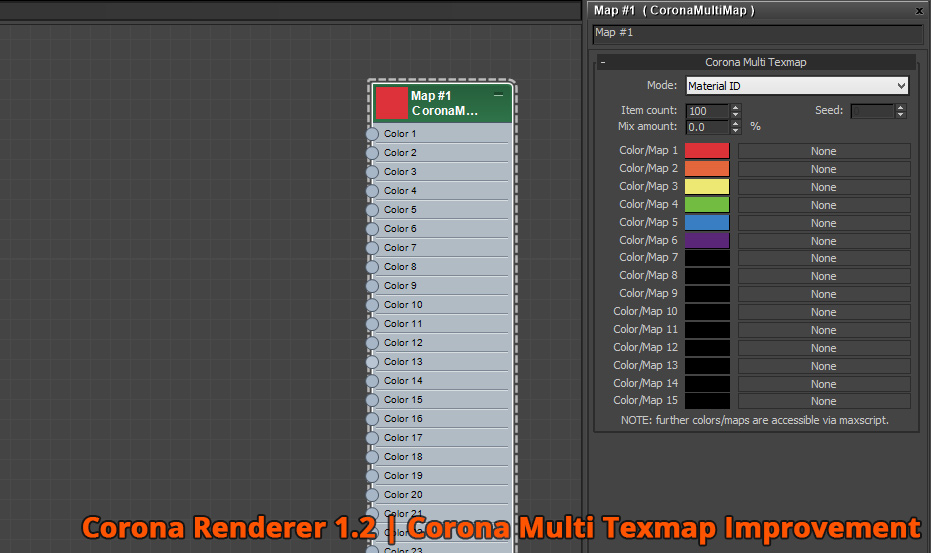 List of various improvements:
3ds Max 2016 Physical Camera is now supported
"Area to Render: Selected" is now supported
Added support for 3ds Max atmospheric effects
Added seed spinner to MultiMap
The standalone (simple) Corona Sun has been reworked. It is now targeted and displays proper illumination in the viewport
Textures in CoronaScatter now support vertex color as well as other extra mapping channels
MultiMap now has 100 maximum slots (some of them are accessible only via maxscript)
New improved proxy exporter script
Added "override enviro distance" option to z-depth render element
Added "override enviro color" option to CTexmap render element
UI changes
---
Implemented checkbox "Override EV" for CameraMod
Only active MultiMap submaps are now displayed in slate (based on number of submaps)
CoronaScatter now has an "enable" checkbox
New button "Duplicate to mesh" in Corona Proxy
Added "Remove selected" and "Clear" options to the material override UI via right-click menu
"Show VFB" action will now always bring Corona VFB to the foreground, even if it is already displayed under some other window
ColorMap is now the default selected tab in VFB. It is also shown first in the list
When dragging, VFB spinners now reset to the last value before dragging started when right-clicking (not to the parameter reset value).
Changed default motion blur segments to 6/3
Distributed rendering slaves now use all available CPU cores by default, even if number of threads is changed on the master PC. This behavior can be changed via a string option: https://corona-renderer.com/wiki/string_options
Fixed unexpected results when assigning geometry-based Corona texmaps (AO, wire, …) into environment slot or CTexmap render element
Bugfixes
---
Fixed saving VFB as monochromatic PNG
Fixed crashes caused by interactive + displacement texmaps
Fixed freeze when using subdivide modifier + geometry motion blur
Fixed problems with instancing sometimes being parsed incorrectly when using world space modifiers
Fixed crash when using empty RaySwitchMtl in global volume mtl slot
Fixed linked objects being incorrectly included in masks of their parents
Download
---
You can download Corona Renderer 1.2 after logging in to your customer zone or directly from our download section.