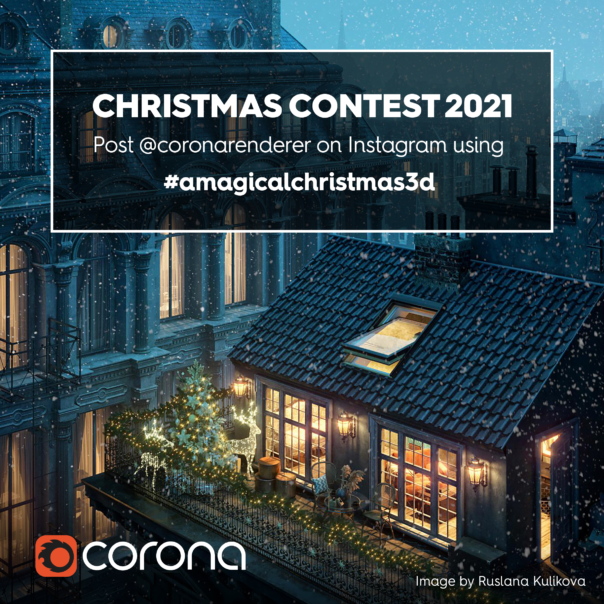 It's that most wonderful time of the year!
Christmas is coming up, and we'd like to offer one lucky winner an early Christmas present! Take part in our "Render a Magical Christmas" contest, and you could win a Yearly Corona License from us, and have your image shared on our official social media channels.
Sounds great! How do I take part?
First, render an image that shows the magic of Christmas, using Corona Renderer of course.
Second, post that image on Instagram with the hashtag #amagicalchristmas3d (yes, we know that's long, but we want to make sure the tag is unique!), and tag us in that post using @coronarenderer.
Repeat steps 1 and 2 as many times as you like, between December 1st and December 16th 2021.
Be sure to read the Terms and Conditions before submitting!
Judging
On December 17th, the Corona team will be having their Christmas party, and as part of that celebration we will be looking through all the entries and picking the team favorite! There will be one winner, who will receive a 1 year Corona Renderer subscription, and have their image shared on our social media channels.
Getting your prize
After the 17th, we'll post the winning image, linking to the winner's Instagram, and then we'll get in touch with you via Instagram to ask for the details we need to set up your license.