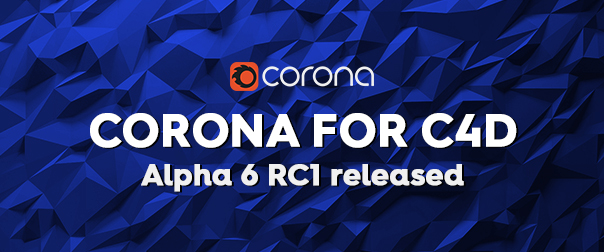 Alpha 6 Release Candidate 1 of Corona Renderer for Cinema 4D is out!
User experience design, the port to macOS, lots of cool new features from the Corona core, and stability improvements: these are some of the major things we've been working on since the release of Corona for C4D Alpha 5. And here we are, Release Candidate of Corona for Cinema 4D A6 is now out!
After some thorough testing by you, our users "out in the field", we'll release a final version of Alpha 6 in around 2 to 3 weeks. We wish you lots of fun playing around with the new Alpha. But remember: if something doesn't work quite right, we won't be able to fix it unless you tell us about it.
Let's take a closer look at just some of the new features in the A6 release. A full feature list and a complete list of changes will be published in a separate blog post which will accompany the official A6 release.
Read more!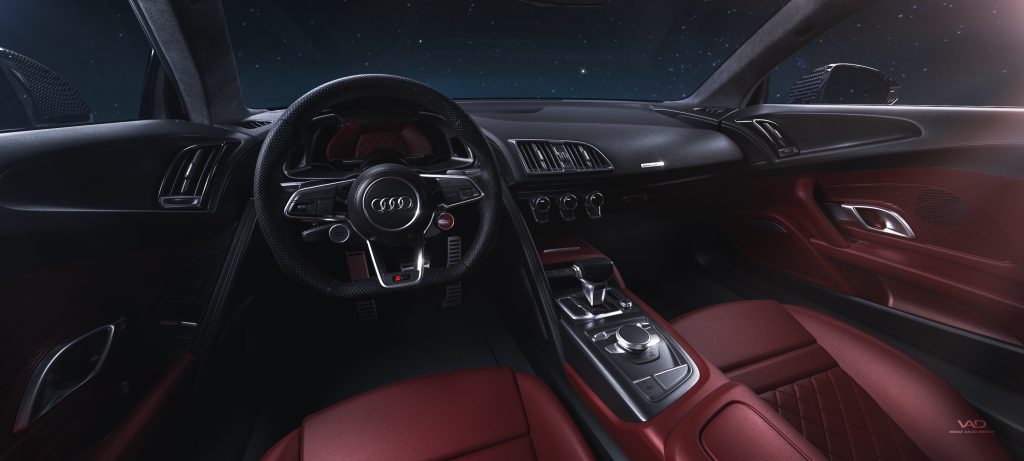 UX/UI design
Seamless integration of Corona into the C4D UI has been one of the main focus points for this Alpha. We deliberated on every single UI control related to Corona with the aim of making things as simple as they can be, and to minimize any unnecessary clicking around. This included a significant redesign of the Render Settings, Multi Pass rendering, Material Editor dialogs, etc.
Probably the most important achievement in this respect is the integration of the Corona VFB and the native C4D Picture Viewer: You can choose to use either, as both will update together in a perfect sync, and both will reflect any changes to settings that you make in the other.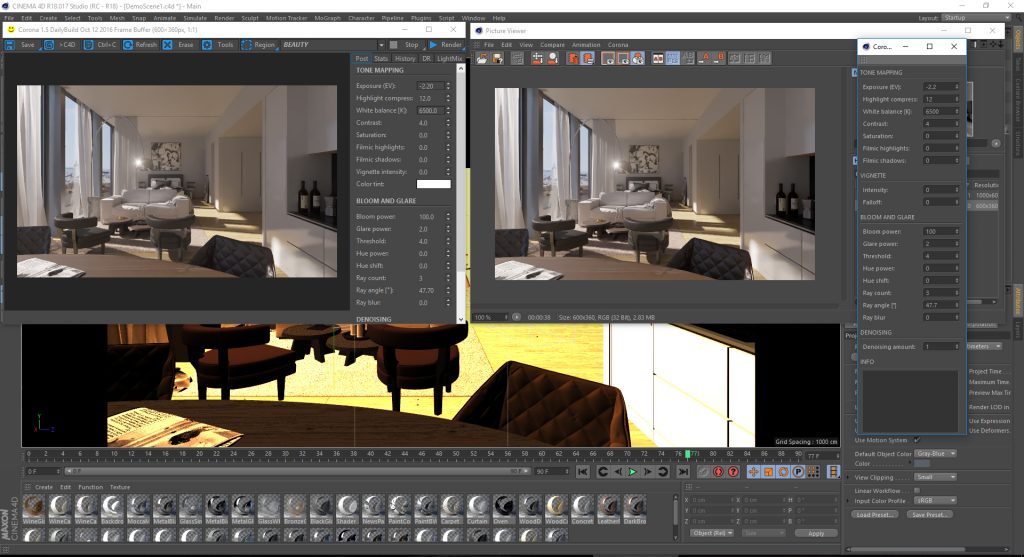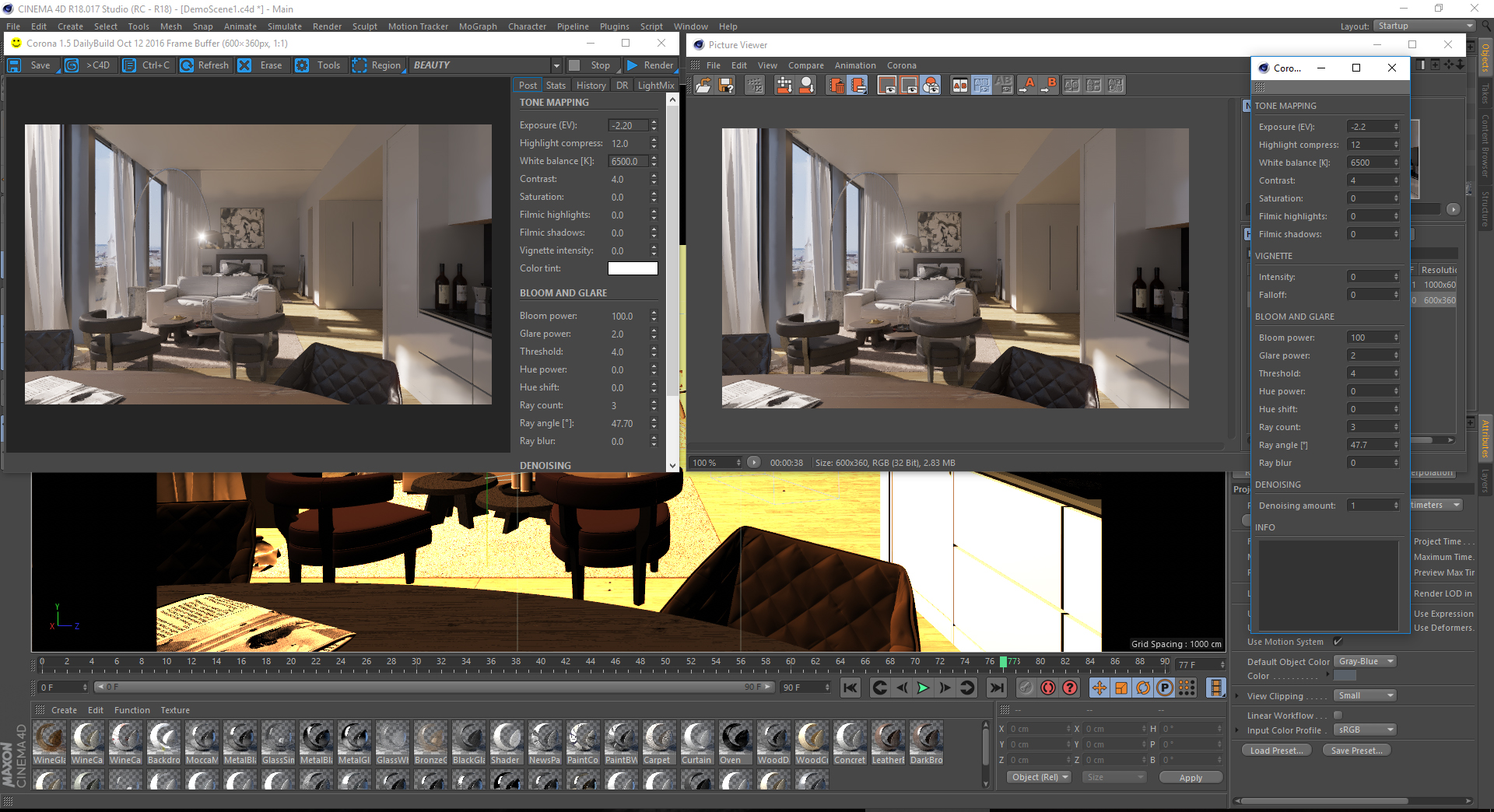 Making this work has been quite a major task, which required substantial redesign of the code for the Corona plug-in. But the result, we hope, is really worthwhile! It's an important part of our goal of making Corona Renderer the best integrated render engine in C4D.
It was necessary to get this functioning first and test if fully before going ahead with fixing Interactive Rendering. For this reason, we've decided to go step-by-step, release the Corona VFB/Picture Viewer integration first in A6, and leave the Interactive Rendering to Alpha 7 (due in two to three months at the latest). We do realize that the IR is long overdue by now, and it is top of our priority list right after the A6 release. Believe us, we can't wait for this to be done just as much as you do.
Port to macOS
Porting the entire code of Corona core and the C4D plugin proved to be quite a challenge and it took longer than anticipated. But once again, we've been able to appreciate just how perseverant our developers are. The port is now done, and everything works on macOS just the way it does on Windows. And if it doesn't now, it will in the final release – so long as you let us know ;-).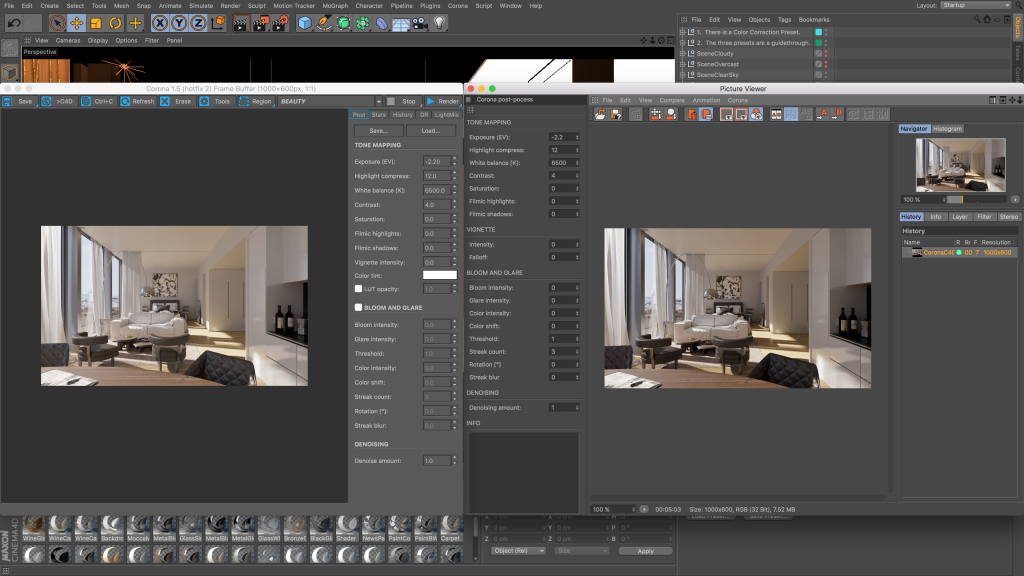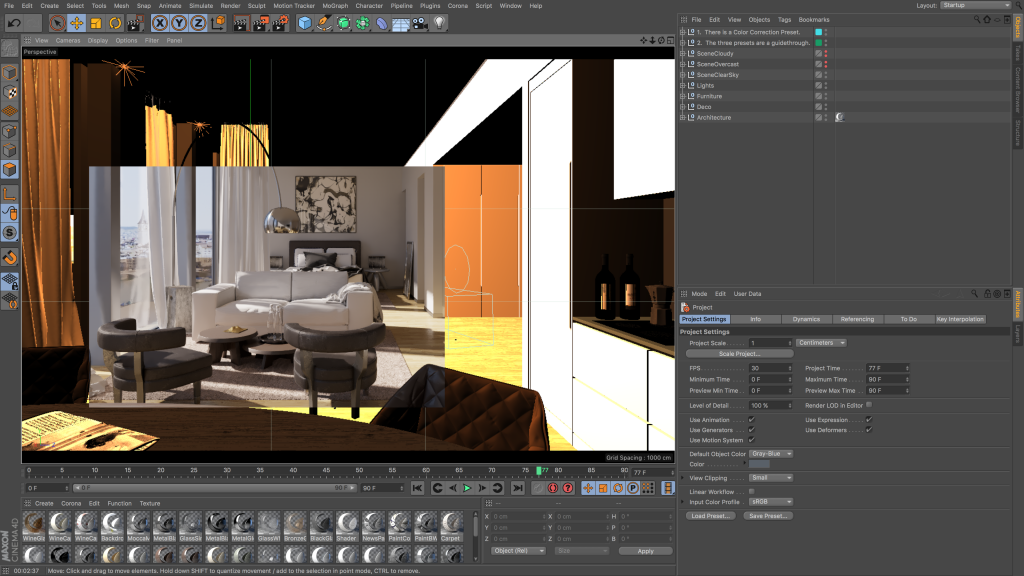 New features from the Corona Renderer 1.5 Core
Porting the latest feature set from the recently released Corona Renderer 1.5 over to Corona for C4D has been our other big focus for this release.
We've always said that Corona for C4D would keep close pace with the Corona core so that features available for 3ds Max will quickly make their way over to Cinema 4D too. After all, this is one of the reasons why we've kept development of the C4D plugin in-house! In fact, the C4D plugin is now being developed over a newer core version than 1.5, so this release is already slightly ahead of Corona 1.5 for 3ds Max!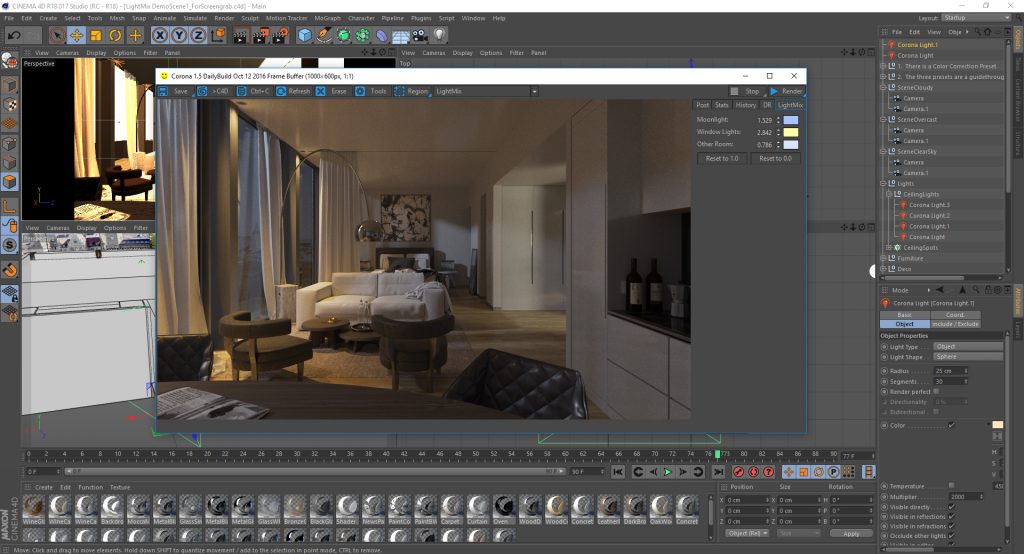 So what are some of the most significant new features from the 1.5 Core that appear in A6 RC1?
Interactive LightMix,
Bloom & glare, filmic tone mapping and other VFB post-processing features (accessible both through Corona VFB and C4D Picture Viewer),
PBR materials,
Image denoising,
Much faster displacement processing,
… and many, many more (complete list coming with the final A6 release).
If you aren't familiar with these features from Corona Renderer 1.5 on 3ds Max, the video below takes a detailed look at the VFB post processing, Interactive LightMix, and VFB history in Cinema 4D:
Did you know?
You can use the native C4D procedural noise shaders in Corona Materials, including in Displacement. These work "live and direct" with no need for them to get pre-baked to a texture map. The example below shows using a procedural noise in the Displacement channel: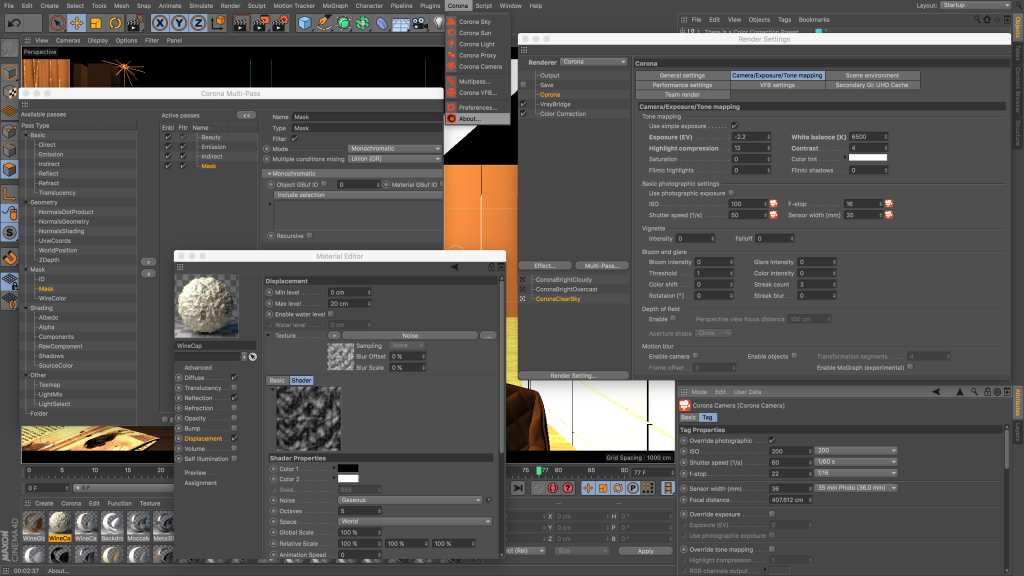 Stability improvements and bug fixes
Apart from porting and adding new features, we've been working hard on solving some of the issues that have plagued A5 and previous releases.  We've fixed a number of bugs and crashes in materials, shaders, and in the Team Render. Issues with bump and normal mapping have also been fixed. The plan is to keep working on bug fixing and nothing else, up until the actual A6 release.
We are extremely grateful to everyone who reports bugs & issues. If you experience a crash or other behavior that is clearly a bug, please report it on Mantis. If you're not sure that what you're seeing is a bug, you may discuss on the forum.
Thank you!
Aleš, Nik, Tom, Jarda and the Corona Crew
Resources
Our forums:
https://corona-renderer.com/forum/index.php#c4
Mantis bug reporting tool:
https://corona-renderer.com/bugs/
Free scene from Thomas Vournazos of Slashcube:
https://download.corona-renderer.com/c4d-a1.1-scene.zip