Cityscape Digital were recently appointed by Blue Abyss, the company behind the ambitious project to build the world's deepest indoor dive and astronaut training centre, as their VR Partner.  Cityscape Digital are producing a VR model and support imagery for design, communications and marketing needs.
As part of this work Cityscape selected Corona Renderer for production of the still press images. Using the latest VR and game engine based visualisation technology, Cityscape Digital is enabling a rapid iterative design process, where the client Blue Abyss, the designers and stakeholders can collaborate in an innovative way. As the design evolves, key target investors, users and general public will be able to explore the ground-breaking new Dive Centre long before it's built.
Cityscape Digital worked with Blue Abyss to produce a VR model for live presentations and roadshows giving a compelling first person experience. For the recent press releases, Blue Abyss wanted a video and a hero image to really capture the public's imagination. The video was produced using a live export from Unreal 4 and Cityscape selected Corona Renderer for the production of the hero image for the main press release.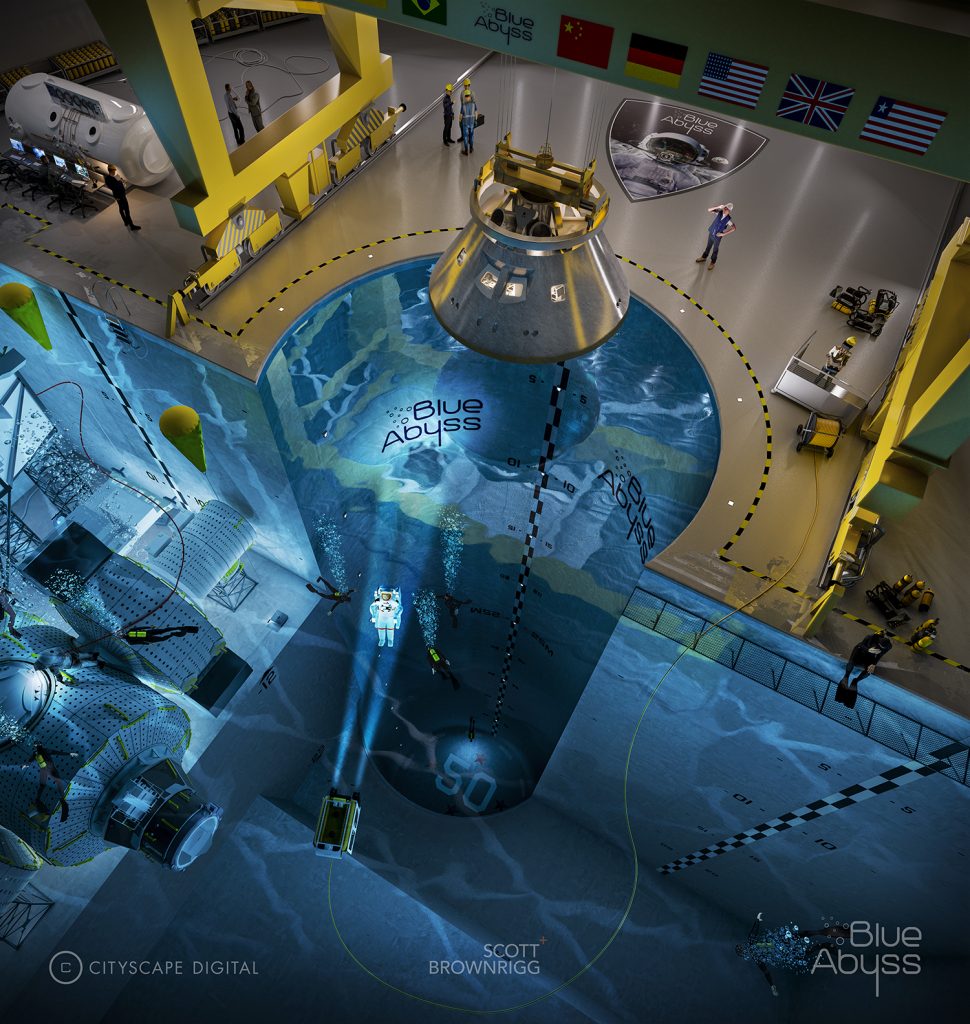 We had a chance to ask David Connolly from Cityscape Digital some questions about this exciting project!

– What unique challenges arose in creating these images?
There were a few things that come to mind:
1) Firstly, there was only a basic concept design for the facility when we started the project. We attended a kick-off meeting with Scott Brownrigg, who were the architects, & the client where they described what they had in mind. From this I started sketching the overall shape and size of the pool and began thinking about composition options . You can see the sketches below: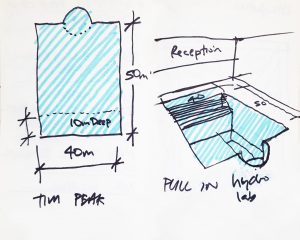 2) Secondly there was a very limited budget for the project so we really had to show as much as possible in one image, both what was happening above and below the water. Our client suggested a sectional cutaway image but we felt this would not have the same impact as a well composed single image.
Originally we looked at a half in/half out of the water shot like in this reference image: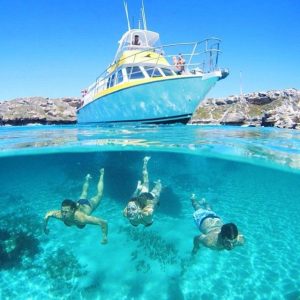 Eventually though everyone agreed on a square image format as it enabled us to go quite wide with the fov horizontally and also fit a lot in from top to bottom. Being able to see the Number 50 numerals at the bottom of the shaft was critical to explain the depth of the pool and together with being required to see as much activity as possible on the pool apron meant we really needed to go with an aerial shot.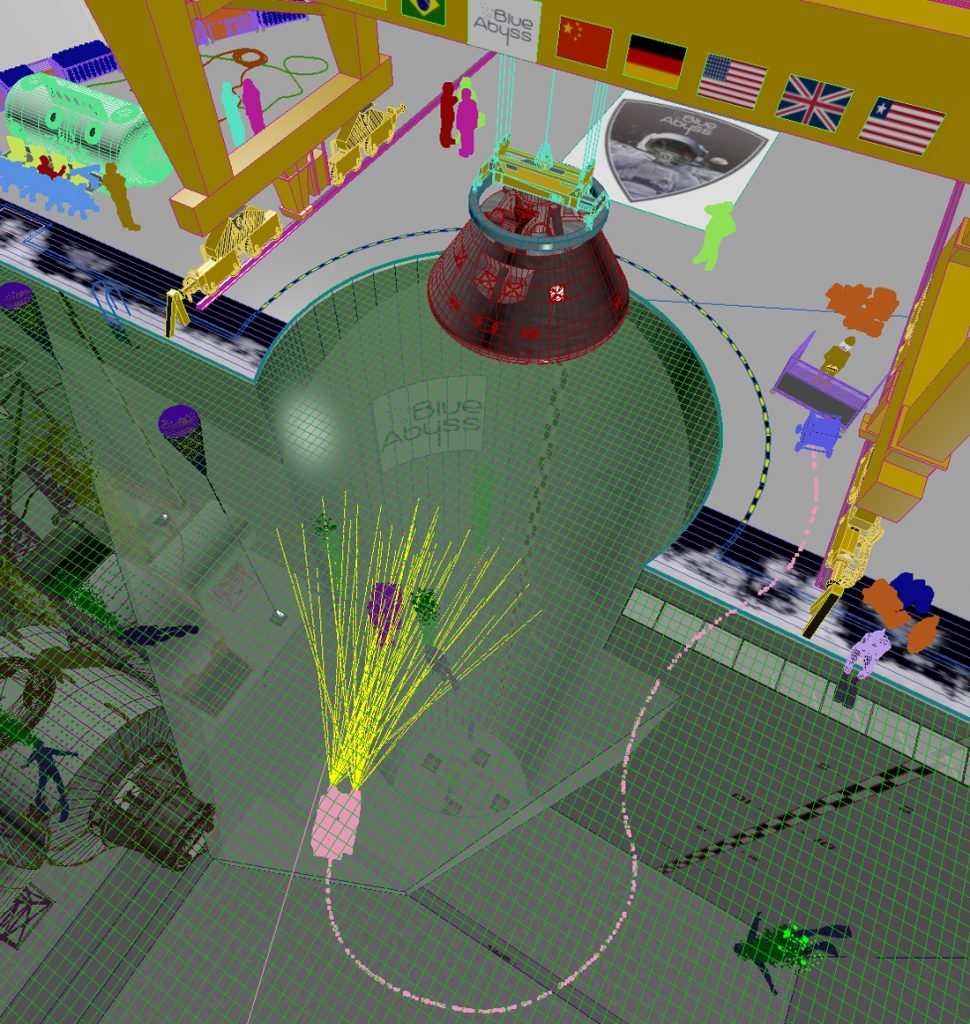 Key elements were strategically placed to help guide the eye around the image such as the cable from the underwater ROV unit. In it's most basic sense the facility is all about 2 things – what's happening below the water and the usage of the pool apron so we created a strong graphic separation between the blue of the water and everything else.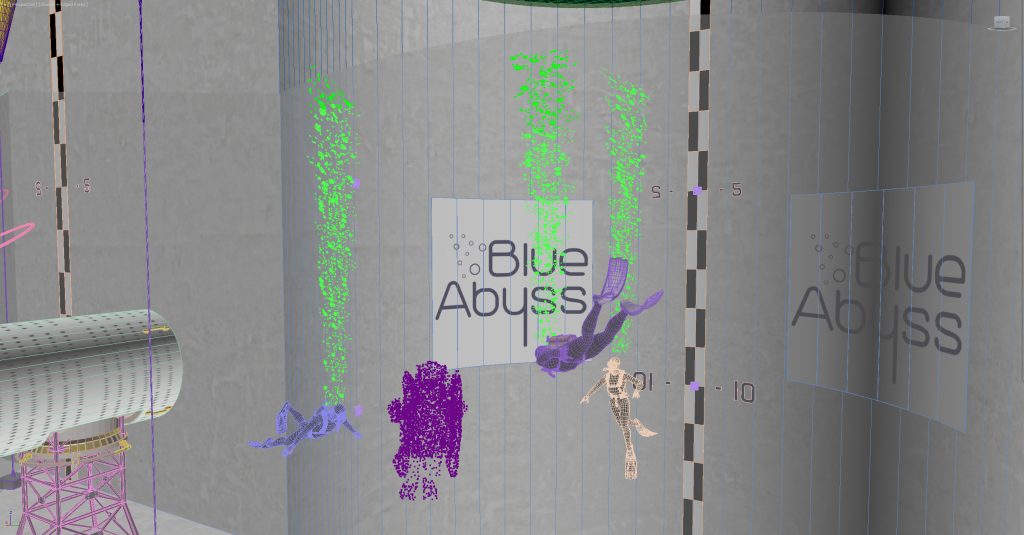 Once the main image had been delivered we had some time to explore the scene for additional viewpoints and create a number of vignettes like this one: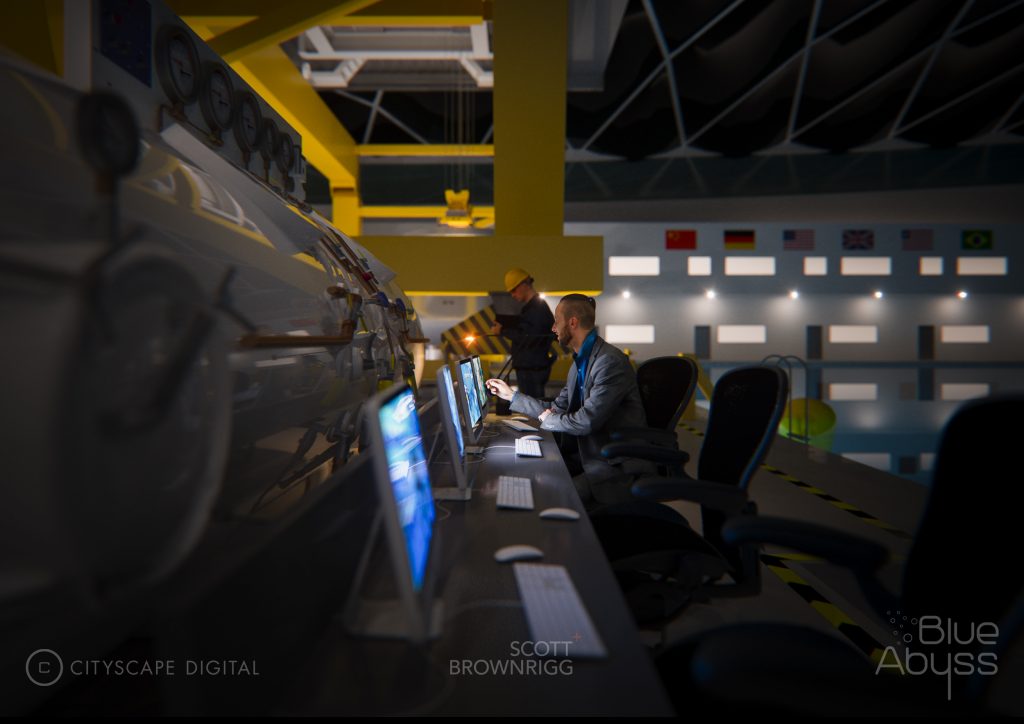 We also extracted some crops taken from the finished image which I think is a nice way to get some extra mileage from your images, takes very little time and delivers extra value for money for the client.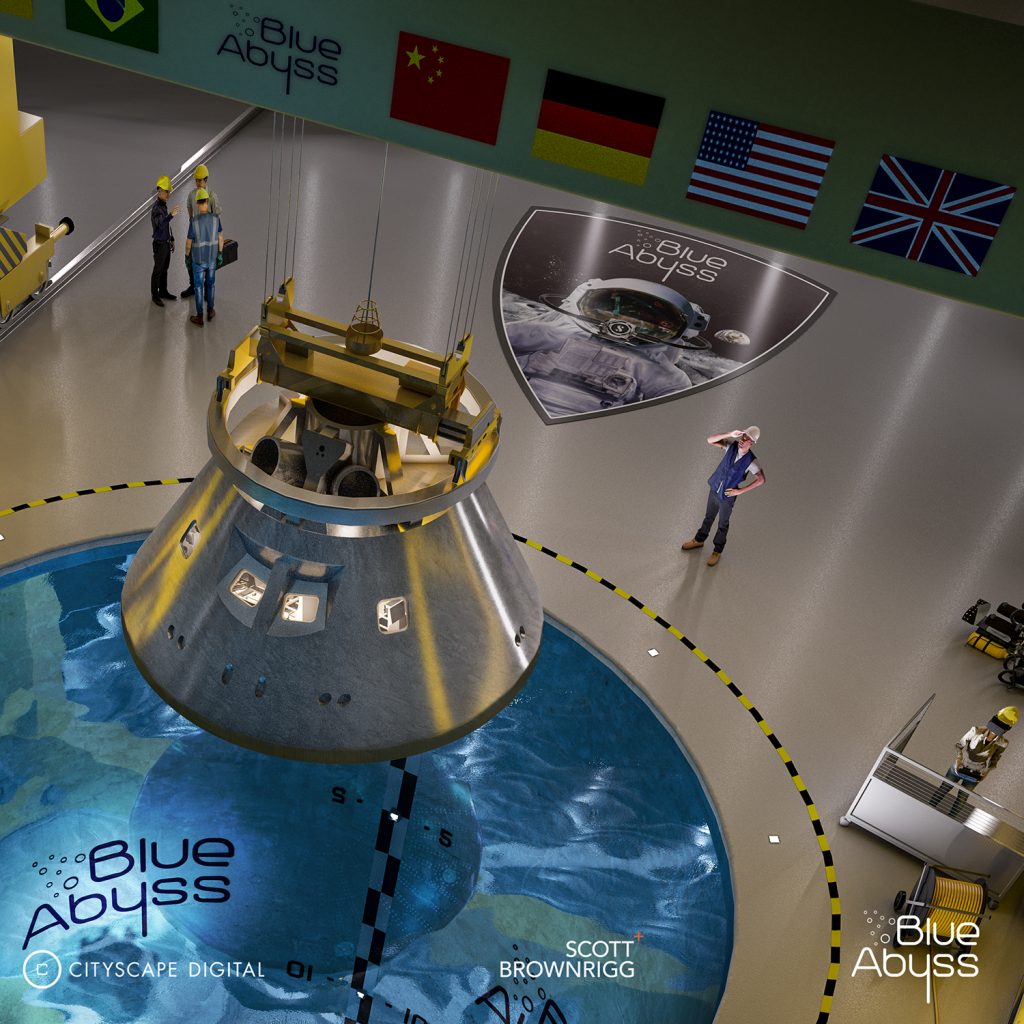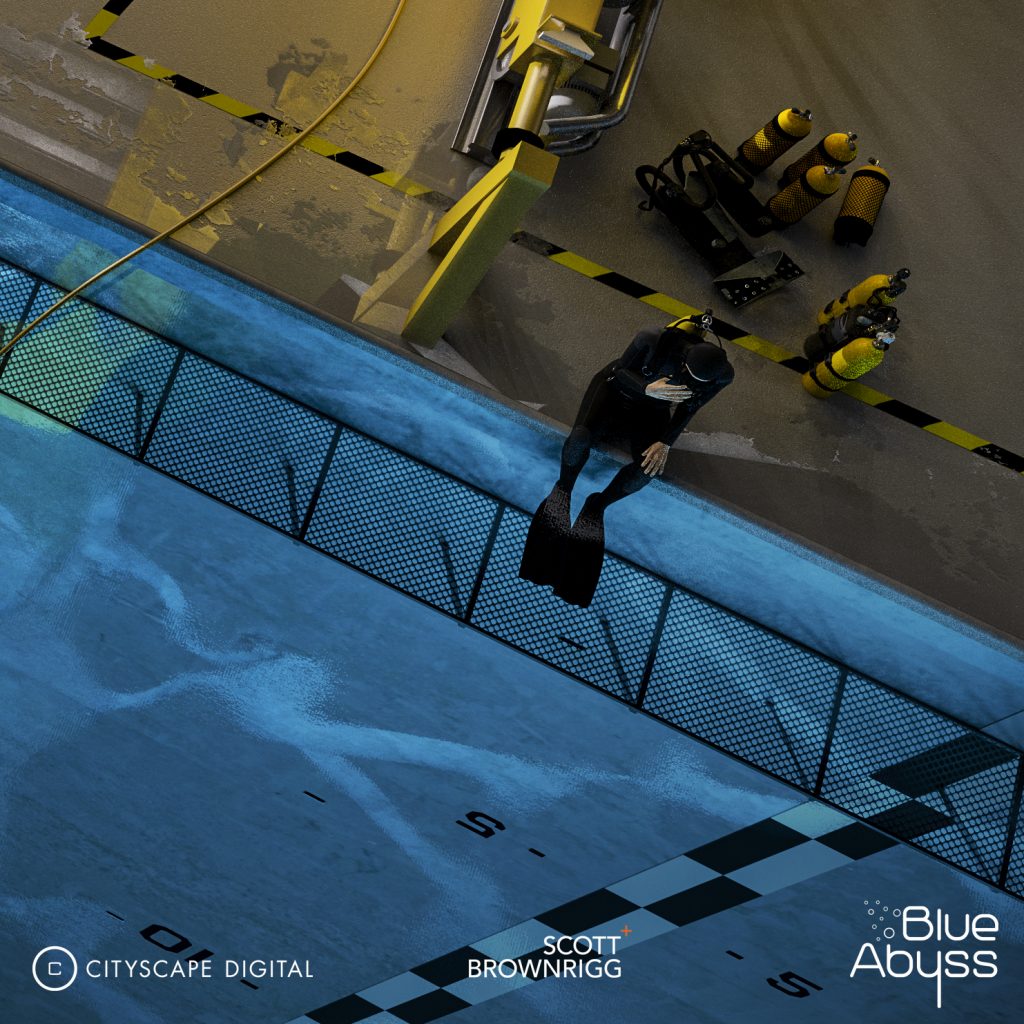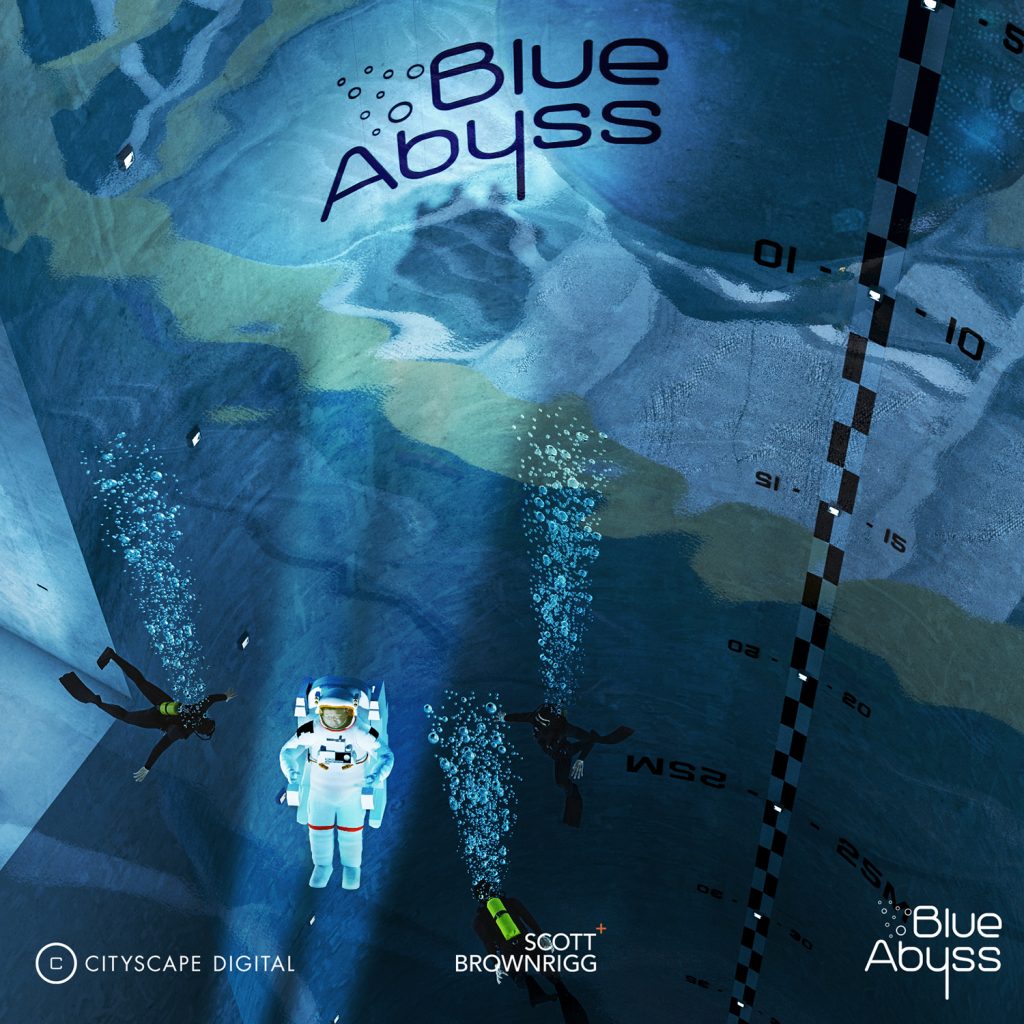 3) Although more illustrative than photoreal, the image would be scrutinised by Astronauts including Tim Peake and other Astronautical experts so all the technical details had to be correct, from the number of divers that must accompany astronauts underwater to the type of hyperbaric chambers we would be showing on the pool apron.
NASA have a similar facility called the Neutral Buoyancy Lab (NBL) in Houston Texas and there's lots of reference photography online which was very useful to create the space and give clues on what sort of details we should add.
For the shaft itself and other details like depth markers reference images from other similar deep water pools like Y-40 & Nemo 33 were used.
4) Timescale was about one week so we had limited time to model the various elements in detail. We sourced as many free models as we could and luckily NASA has a model library where we obtained a model of the ISS in Lightwave format:
We also used a NASA model of the Orion Space capsule to help set up early compositions. The crane was downloaded from Google Warehouse and optimised for the scene. Most of the other models were purchased from Turbosquid including rigged divers which we could pose (See attached) along with 3D people from AXYZ Design and Dosch Design.
– What lead you to select Corona for the hero images?
This project was ground breaking for the studio in some ways as we were using the Unreal engine with the client and Scott Brownrigg to design the facility in realtime so we felt we should use a cutting edge renderer as well.
I had wanted to test Corona on a live job for some time and this felt like the perfect opportunity to do so. I also heard that Corona was very simple to use and early to learn and I can confirm that is definitely the case! Although there were a few issues (Refraction not calculated on render elements & extra noise on objects with rounded corners effect used) on the whole I found it very enjoyable and I was able to work around these relatively minor issues. I loved the interactive rendering and being able to tweak the exposure and white balance while the image was rendering.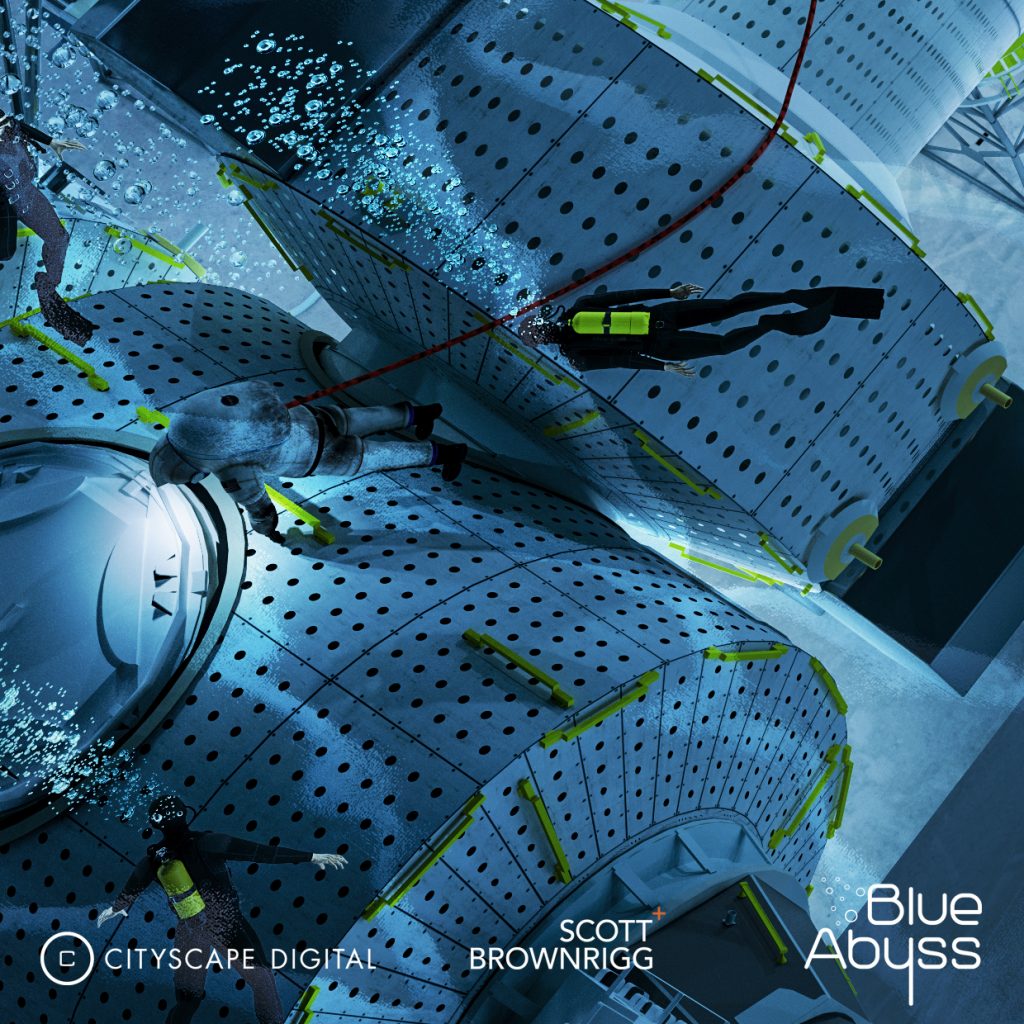 It was also faster than I expected. Although this was rendered with ver 1.3 and I couldn't take advantage of the new de-noiser the final image with a resolution of 5760×6500 was rendered in 5hrs 45mins (150 passes) with a dual xeon E5-2690 v3@ 2.60GHz.
– Were you able to re-use the assets between the VR and video (done in Unreal) and the still image sides of the project? Was there any particular conversion process?
Some of the assets we could bring through but a lot of the models we bought from turbosquid were far too high poly & we were limited to about a million tris. We did manage to get some of the ISS in after we had stripped some unnecessary high detail elements from it. Once we got past a certain point the models diverged as I had to start creating proxies of geometry which obviously could not be used in Unreal.
– Anyone from Cityscape Digital planning to go diving there once the pool is built?Definitely! I have my shorts and snorkeling gear ready!
David Connolly
Visualisation Artist
Cityscape Digital
Online articles & Links:
http://blueabyss.uk/index.php/news-section/blue-abyss-blog/665-one-step-closer
http://blueabyss.uk/index.php/facts-and-fun/item/10-a-glimpse-of-the-future