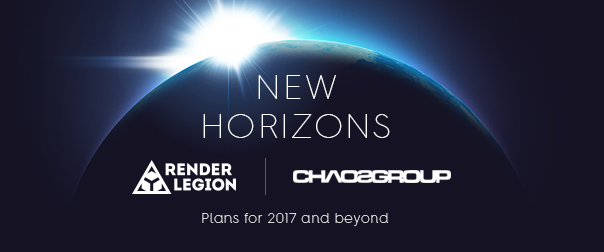 New Horizons for Corona Renderer
Today marks the beginning of a new era for Render Legion and Corona Renderer. We will be doubling our development team so that we can build more great software, and do so faster and smarter.
How? After a long 13 months of perfecting our plans, we have agreed to join forces with Chaos Group, which will make a massive long-term investment in Corona Renderer, paired with a vast amount of their technological IP which will help us to push Corona Renderer and other projects even further.
We firmly believe that by making this move we do the best possible thing for you, our users, to deliver the best tools in the shortest period of time while future-proofing the company.
We are happy that we were able to find a partner who is respectable, skilled and with a proven track record of creating great software, and who shares the same vision about the future of CG software.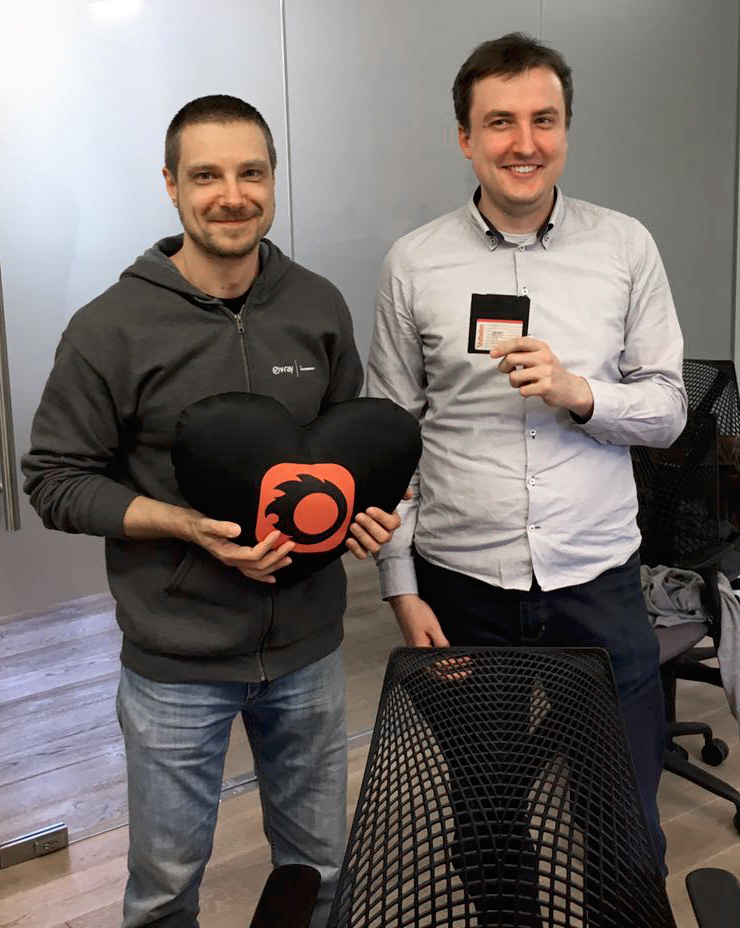 First things first
Corona Renderer is here to stay. We know this will be your first concern, so it's worth repeating – Corona Renderer is here to stay. We are continuing its development as usual. There is absolutely no plan to discontinue the development of Corona Renderer, in either the short or long term..
Render Legion as a company and all of us, the founders & developers, are staying too – only the shareholder of the company is changing. Ondrej, Jaroslav and I will keep our hands on the engineering and development of the software, and there are no restrictions on what we should or should not develop. Period.
Our vision
As some of you might know, Ondrej, Jaroslav and I started the company in May 2014 and our vision was to offer a great, easy to use and powerful rendering tool. I believe that we can say that we have achieved this, and that we are continuing to walk that path.
Our vision since 2014 has grown bigger and wider than we originally anticipated. We want to grow more, develop more and cover a wider spectrum of CG production software. In the last three years we have been learning how to sustainably grow as a company, how to keep high-quality, clean and powerful code while managing a far larger development team, and how to correctly conduct business, marketing and operations while staying financially independent.
Scaling the company
Last year, we started thinking about how to speed up the process, so that we could do more in less time. We realised that it was time to scale up the company. We found two main ingredients for successful scaling: A) Experience in the same field, and  B) Finance. Both of these two ingredients need to be in balance. One means nothing without the other. You can't dream of doing big things without financing, just as you can't dream of being big and successful while not backing your plans with experience.
We spoke with quite a few notable investors and venture capital funds in central Europe and we had their offers on the table – however none of them was able to offer us the experience and expertise that we were looking for.
So we shifted our focus to looking for a strategical partner instead, someone who shares our passion for CG graphics. We realised that such a partner could be Vlado and Peter from Chaos Group.
Chaos Group started from the bottom, just as we did; boot-strapped from the beginning, just the same as us. For us, having a partner who is not led by financial investors but by the developers is a major plus and one of the strong motivators for this move.
What can you expect in next couple of weeks or month?
There will not be many changes on the outside in the next couple of weeks. We will work closely with Peter & Vlado on setting up the plan on how best to use the IP and resources available in both companies to maximise the benefit for our users.
You can expect that Corona Renderer as well as V-Ray will benefit from each others IP. For example, some of Corona Renderer's 1.7 VFX features are co-developed with Chaos Group. Also Corona's new "faster sampler", that made the recent builds faster by tens of percent, is the well-known DMC sampler from Chaos Group. So already you, our users, are benefiting from these new investments in our company.
Very soon we will introduce compatibility between each other's assets. You will be able to use V-Ray proxies, materials and lights in Corona, and vice versa. Our goal is to remove or greatly reduce the need for converters, so that you will be able to switch between engines based on your needs with respect to the project you are working on.
Is there a space for two render engines under one umbrella?
We believe so. Corona and V-Ray are both able to create stunning images and they offer more or less the same features here and there. But what matters is the way you implement those features, how you approach the problem, and what kind of end user you tailor the solution for. Both softwares have distinctive DNA's, where some parts are the same while others differ.
We believe that Corona lives in a different part of the 3D user base than V-Ray, with some overlaps. We try to tailor the UI and functionality of Corona to users who prefer simplicity and are willing to sacrifice a bit of flexibility. V-Ray on the other hand better suits users who like to have full control and flexibility at their disposal, which is something Corona is unable to offer. From now on, both render engines can complement each other in your pipeline.
Sounds too good to be true
Ondrej, Jaroslav and I have been members of the CG community since the early 2000's, we live and breathe for the community, and we can understand that you may have some concerns about all that is happening right now. We can assure you that everything what we have negotiated and planned over the last 13 months with Peter and Vlado from Chaos Group is in line with our long term plans for Corona Renderer.
We believe that the cooperation of both companies will allow us to create better, faster and more interesting software in the near future which will benefit you, our users.
FAQ
What has happened?
TL;DR. Render Legion joined Chaos Group.
Will Chaos Group cease development of Corona Renderer?
Absolutely not. On the contrary, Chaos Group will invest in Render Legion, and as a result we will double the development team in the next 12 months.
Will Chaos Group cease development of V-Ray?
Absolutely not. V-Ray will continue its development as well, following their plans.
What is the benefit for our users?
By combining IP's and technologies from both companies, we can improve Corona and V-Ray. We can and will also work on some projects together. You can already try the first improvements brought over from V-Ray in our current daily builds.
What is happening to the Corona Renderer team?
We will continue the development of Corona Renderer as planned, and we will expand the team in the near future.
What was the purchase price?
We have decided not to disclose transaction details.Let's not make it all about the money.
Why did Chaos Group agree to acquire Render Legion?
To put it in Vlado's own words: "Render Legion is a brilliant team, and we share the same passion and vision. By working together, we can make both V-Ray and Corona better — in ways we couldn't do alone."
Why did Render Legion decide to join Chaos Group?
We were looking for a strategic partner who would like to help us grow and who shared the same vision in the CG field. Chaos Group was able to offer us important knowledge in this field, with the resources and expertise to achieve our goals. We believe that Corona and our other projects will be developed further, and with the greatest care and intentions.
Ondrej, Jaroslav and I feel like parents, and Corona is our baby. We want only the best for our baby, and we want to see it grow and be successful. We want to be proud of what we have helped to create. At some point in your life as a parent, you realise that you cannot give your baby all that it needs by yourself, and you want others to help you with the growth and development of your child. And that's what we did here. We want the best, and Chaos Group is the best for our baby.
Will Chaos Group integrate Render Legion into its own teams and processes?
The development team stays unchanged. We will be not playing chess with developers from the two companies, as we recognize how important is to keep well-functioning teams together, working on their own terms. But we will certainly cooperate in many ways – Chaos Group will help us with things where they have even greater expertise than us, such as sales, marketing and business development. We might also streamline some of our processes, so that we can both work more efficiently as a team.
Corona Renderer is cool. What will happen to the Render Legion culture?
Nothing. We will stay cool, posting memes and ponies on forums until we grow up one day.
What will happen to existing sites?
Forums, support, and our website will stay. We might change some parts of our website in the future, as it would be better to maintain just one system so that we can focus more on development, but that is something which we will figure out with Vlado and Peter.
I have other questions. Who can I talk to for more information?
You can shoot your question here in the comments under this article; alternatively you can write to support and your message will find its way to my inbox.
THANKS
We would like to say thanks to our customers, users, developers and other team members who helped and supported us in the past three and half years on our journey.
Today we are continuing that journey towards new broader horizons, and we want you to be part of it, as you always have been.
Thank you!
Ondra, Jarda and Adam